Play
by Idris Goodwin
Directed by Shawn LaCount
CompanyOne Theatre
Boston Center for the Arts
South End, Boston
January 26 – February 24, 2018
With Kadahj Bennett (Verb), Rachel Cognata (Peep One), Michael Knowlton (Pinnacle)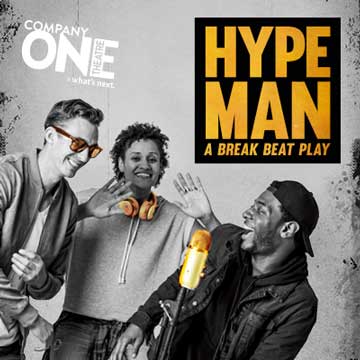 A terrifically edgy, interesting portrayal of a hip-hop ensemble in crisis, filled with issues about race, class, sex, professional success, compromise and integrity.
Pinnacle (Michael Knowlton) is a white rap star. Verb (Kadahj Bennett), his African-American friend from school days, and Peep One (Rachel Cognata), an African-American woman, are his back-ups, providing support vocals and beats. On the edge of going on a big tour and appearing on The Tonight Show, the band is confronted with a political and personal crisis – the unjust murder of a young black man and the demand to say something about it. The issue throws a wrench into the workings of the band and draws boundaries between its members. As a result, all of the implicit issues about race, sexuality, class, and cooptation by professional opportunity, come to the surface.
This wonderful ensemble piece about a hip-hop band and its internal crises is filled to the brim, right out of the gate, with issues. Pinnacle is the star and very self-consciously so. Verb and Peep One, who have stood by Pinnacle, are now put up against the edge by the young man's murder by police after a car chase in which he had been racing to the hospital to see his dying grandmother.
Verb wears a T-shirt supporting the cause at one of the group's concerts which gives rise to a confrontation with Pinnacle, who, despite his own grittiness, is now concerned about protecting his professional success. You're acting real Caucasian right now says Verb to Pinnacle, accusing him of not really being able to feel what black people go through even though he has adopted a musical and literary form that had its genesis in black culture.
A complex discussion about rap itself unfolds. A reference to young fans who say that we just listen to the beats not the words raises the whole question of the subliminal effect of lyrics. Peep One weighs in on the issue of misogynistic lyrics, using Dr. Dre (e.g. The Chronic [1992]) as an example. Peep One and Verb argue that the words matter, even if they go by quickly.
Pinnacle confronts Verb, arguing that Verb was himself wild and reckless back in the day, and now, all of a sudden, is acting like Malcolm X. When did that switch get flipped? asks Pinnacle. In response, Verb points out the occasion, in a confrontation with police, on which he, rather than Pinnacle, got thrown into jail. The switch got flipped, says Verb, when I was in a jail cell and you weren't.
Lured into the prospect of going along with Pinnacle's urging to keep the band together despite Verb's efforts to take a political stance against the murder, Peep One says to Verb a little longer won't kill us. Verb shoots back that a little longer has been killing ME, signifying the potency of the evolved tensions and his resulting alienation.
Ultimately Pinnacle is thrown into a situation in which he has to confront really losing Verb and Peep One, and the dramatic culmination which results resounds honestly and deeply.
Intense, complex, interesting, LaCount's play packs a lot into a seemingly small narrative. The actors all do a terrific job, conveying the intensity of the workings of a band and the complexities of the racial, sexual and class relationships involved. The energy is high and the acting on all fronts convincing and moving. There is also some terrific rap in this play, filled with blindingly fast lyrics and engaging beats.
The play program, by the way, is richly annotated – chock full of all sorts of issues germane to the play: white rappers, social protest in song, and history of hip-hop.
– BADMan