Play (1991)
by Tony Kushner
Directed by Eric Tucker
Central Square Theater
Central Square, Cambridge, MA
September 7 – October 8, 2023
Scenic Designer: Deb Sivigny; Costume Designer: Daniele Tyler Mathews, Lighting Designer: John R. Malinowski, Sound Designer: Kai Bohlman
With Barlow Adamson (Roy Cohn), Kari Buckley (Harper Pitt), Zach Fike Hodges (Louis Ironson), Maurice Emmanuel Parent (Belize, Mr. Lies), Alexander Platt (Joe Pitt), Eddie Shields (Prior Walter), Helen Hy-Yuen Swanson (The Angel), Debra Wise (Hannah Pitt, Ethel Rosenberg)
A continuation of the production of the now classic play about AIDS, the first part of which was performed last spring at Central Square, with some standout performances.
At the end of Angels in America, Part I, Prior Walter (Eddie Shields) is deathly ill with AIDS, Louis (Zach Fike Hodges) has left him and is on the verge of consorting with Joe Pitt (Alexander Platt), Harper Pitt (Kari Buckley), Joe's wife, has a pretty strong idea that Joe is messing around with men, and the notorious Roy Cohn (Barlow Adamson) has AIDS but is keeping it a secret.
Now, in Part II, Louis makes more direct moves on Joe, Harper communicates directly with Joe about what's going on, Joe's mother, Hannah, comes to New York to see what's happening with Joe and oddly meets and connects up with Prior. Roy Cohn spews personal invective at Belize (Maurice Emmanuel Parent), who tends him at the hospital, rants generally about the world at large, and, meanwhile, Belize tries to support Prior who desperately suffers the absence and betrayal of Louis while his own health continues to fail.
The writing of Part I, and the production given it by Central Square which began last spring and is now being continued in repertory with Part II, is moving, compelling and convincing. The acting in the spring production was superb, and one expects it to continue in that vein in its renewed run this fall. The spareness and eloquence of the production of Part I as directed by Eric Tucker accentuates the considerable strengths of the script of Part I and conveys it supremely effectively. In short, it was, and presumably remains, a brilliant production.
Part 2 of Angels in America is more problematic, mostly because of the writing. Its narrative certainly has strong points, but there are sections which wander and do not add up to much. There is a long speech by the Angel (Helen Hy-Yuen Swanson), delivered, in this production, with a consistently vituperative tone, which, despite its insistent and authoritative demeanor, rambles on and on and makes little sense. Apart from this sort of narrative shortcoming in particular parts, in general, Kushner's attempt to fuse domestic and world politics with the story of a personal tragedy shows many more of its cracks here than in Part I. The connotation of Perestroika highlighted by the title is of limited applicability in the script, despite some references to Gorbachev. The term signifies the breakdown of the central Soviet government but it's not too clear what that has to do with Kushner's drama. Glasnost, a term signifying openness and transparency which appeared at the same time in the disintegration of the Soviet Union, would have been more appropriate.
There's plenty of fuss made about Roy Cohn (Barlow Adamson) and how bad he is, and how Joe Pitt connects to Cohn figures into the plot. But all of that comes through in a kind of hollow way as a sort of narrative setup. That Roy Cohn is a total schmuck and is a homosexual infected with AIDS does pack a punch, and Barlow Adamson does a great job of conveying the character's truly offensive and tragic sides. But the narrative is, at best, suggestive rather than evocative. Kushner seems to want to say something about the loosening of strictures in the Soviet Union and how it relates to AIDS in America. The Roy Cohn theme fits it with the overall irony of a McCarthyite Red-baiter getting AIDS at a time when the Soviet Union is falling apart, but the connotation is not so clear. Frankly, I would have preferred Kushner spent a lot more time exploring why Louis leaves Prior and let the Roy Cohn piece be an embellishment rather than as much of a centerpiece.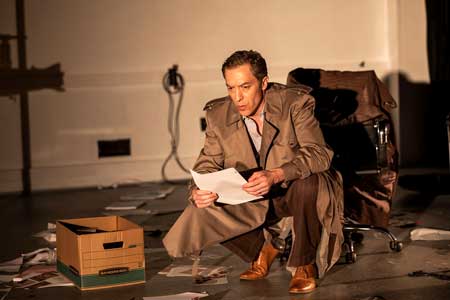 As a piece of writing, Part 2 falls short of Part 1 by a considerable margin. Despite that, there are some great performances in this production of Part 2. Eddie Shields, notably, carries the ball in the central tragic role with consistency and dramatic verve. He doesn't let up for a second and his performance gives tragic grandeur to the production. He holds his pained stance with elegance and a suspended sense of awareness that contrasts vividly with Louis' helter-skelter escape from relationship.
Debra Wise is wonderful in her multiple roles – at the beginning, in a long speech, as the declaimer of an oration on the Soviet position, and in the main part of the play as Hannah Pitt, Joe Pitt's mother, and as Ethel Rosenberg. Wise is fabulously dynamic and capable of diverse performances and comes through vividly in all of these roles. Some years ago, she offered a tour de force solo performance of Homebody at Central Square Theater. Overall, though wordy as well, that play is better and more economically written than Angels in America, and Wise gave it her all. It was memorable.
As Belize, Maurice Emmanuel Parent is a total gas. He is way out there and it's wonderful. He conveys warmth, energy and humanity in this vitally connecting role, tying his various narrative strands with Prior and with Roy Cohn together with considerable verve and passion. Parent maintains in his character a telling cautionary glare that radiates, to the correct recipient, considerable warmth, and to those less fortunate, like Cohn, a riveting coolness. To boot, Parent does a very dramatically evocative dance a la Grace Jones in semi-drag.
As Joe Pitt, Alexander Platt is convincing and well cast for this role of the Mormon lawyer who can't resist his homosexuality. His character was played by the great Nael Nacer in Part I. Whereas Nacer boiled in the role, Platt simmers, gradually revealing the extreme pressure under which he maintains his superficial and covert identities.
As Louis, Zach Fike Hodges does a decent job with a difficult role that is not as well written as it should be. Throughout, one gets the sense that Kushner wants Louis to be more sympathetic than he is. Louis comes across as actually a quite unlikeable character, though Kushner keeps trying to make him a mouthpiece for all kinds of noble political stances. But Louis can never quite shake the impression that he is cowardly and selfish. When he tries to come back to Prior, the attempt seems lame and hollow and it falls short. Hodges works with this as best he can, but, in the end, the role is victimized by the script's failure to explore Louis' complexities, and that shortcoming comes into vivid relief in Part II.
Eric Tucker's staging Part II works to some degree, though when the characters get roller skates it seems like we've already seen the wheels in so many productions of his that it gets a bit old. It's not even clear what point the use of roller skates was trying to make. Was one supposed to feel endangered and off-balance? If so, it is an interesting experiment that does not quite work. In some of his other productions, like that of Jane Austen's at the American Repertory Theater a few years back, these ambulation techniques work brilliantly. Not so much here.
I don't know why directors like Tucker won't make cuts in Kushner's script, especially in Part II. Part I is three and a half hours, which, because of the good writing and the excellent production, goes down quite well. Part 2 runs to four hours, which, given the weaker writing, seems like a much longer and tedious experience.
Despite the unwieldiness of this script, this production is very much worth seeing for some of the very good performances by a set of terrific actors. But, if one could only see either Part 1 or Part 2 this fall, I would highly recommend Part I.
– BADMan (aka Charles Munitz)