Play (1991)
A Gay Fantasia on National Themes
by Tony Kushner
Directed by Eric Tucker
Central Square Theater
in conjunction with Bedlam
Central Square, Cambridge, MA
April 20 – May 21, 2023
Scenic design: Deb Sivigny; Lighting Design: John R. Malinowski; Costume design: Daniele Tyler Mathews
With Steven Barkhimer (Roy Cohn), Kari Buckley (Harper Pitt), Zach Fike Hodges (Louis Ironson), Nael Nacer (Joe Pitt), Maurice Emmanuel Parent (Belize, Mr. Lies), Eddie Shields (Prior Walter), Helen Hy-Yuen Swanson (The Angel), Debra Wise (Hanna Pitt, Ethel Rosenberg)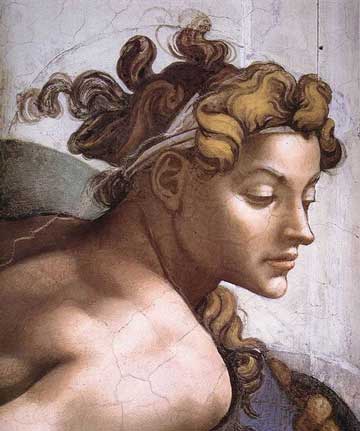 A stunningly good production of the drama about gay life in America during the early years of the AIDS epidemic.
Louis (Zack Fike Hodges) and Prior (Eddie Shields) are a young gay couple in New York. Prior begins to show symptoms of Kaposi's Sarcoma, an early indicator of AIDS infection. Though very much in love with Prior, Louis, riled and upset, seeks escape from his own anxieties. Joe (Nael Nacer) a Mormon lawyer on the way up in Republican circles, is married to Harper (Kari Buckley), but things are not all happy with them. Joe is connected with Roy Cohn (Steven Barkhimer), who tries to lure Joe into a job in Washington. It's the mid-1980s and Ronald Reagan is president, and conservative politics, conservative religion, the already challenged life of gays in America and the onslaught of the AIDS epidemic blend to make a searing fusion of polar energies and to set the stage for this tragic drama.
Set upon an almost bare stage, this production is so inventive and well done that it pulls a theatrical rabbit out of a hat, making for a compelling and thoughtful account of the now classic Tony Kushner tragedy. Indeed it is a tragedy throughout its core, portraying closeted gays caught in an unwelcoming society, the onset and follow-through of a then untreatable disease, the collapse of relationships, the infection of ideology, and fear all around. However, much of Kushner's dialogue is quite funny and in its many irreverent and witty lines calls forth the attendant absurdities.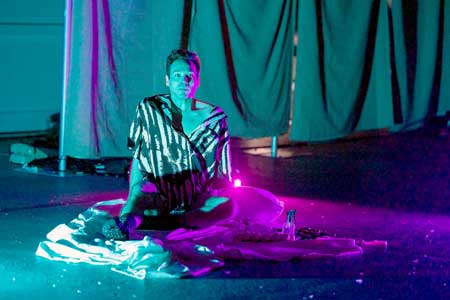 With hand-held lights deftly carried around the stage by the actors, magic is often wrought by casting a single light upwards upon a face. It happens repeatedly, and though seemingly simple and low-tech, is highly effective. Lighting Design, supervised by John R. Malinowski, also involves lights set above and around the stage, and the whole effect is magical.
The whole production follows this scheme. The set is elemental, but operates inventively with sheets held up to represent beds, rolling chairs used to transport the characters elegantly around the stage – a technique used effectively by Bedlam in several of their other productions – e.g. their interpretation of Jane Austen's Sense and Sensibility – sheets that cover some of the actors mid-stage until it is their turn to appear, and so on. Overall, the effect is appropriately elemental, forcing the viewer to get to the emotional core of the drama without embellishment.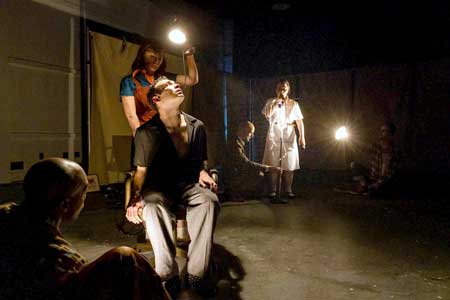 The cast for this production is so promisingly good that one could not imagine the production not working, but the superb direction by Bedlam artistic director Eric Tucker and resultant acting all around even exceed one's high expectations. This is the sort of production in which there are numerous stars and luminaries who have graced Boston stages with their abundant talents for decades, but it is also the sort of production in which everybody shines, vividly giving the sense of a troupe working together harmoniously.
It is only appropriate to sing their praises in unison.
Steven Barkhimer, a well-known, often comedic, actor does a great job with Roy Cohn, a character who is so warped and absurd that comedy must fuse with tragedy, and Barkhimer pulls it off expertly. (In other performances, director Eric Tucker takes on this role, but I saw the one with Barkhimer.) The role is indeed substantial and Barkhimer executes it with eloquence and grace.
As the intellectually acute but emotionally frayed Louis, Zach Fike Hodges does a terrific job, making him at once vulnerable, loving and appealing, and at the same time, pathetic. His eloquence in a diversionary over-the-top speech about democracy late in the show – in a sizable Kushner word-salad – is noteworthy.
As Prior, Louis' afflicted lover, Eddie Shields, a compelling and passionate actor who has been seen in multiple productions in Boston over the years, is outstanding. His dancelike gestures, his capacity to interleave explosiveness with incredible vulnerability, his coyness and brokenness all merged in a singular portrayal, bring one inside his tragic character vividly and persuasively.
Nael Nacer, one of the most dynamic and versatile actors on the Boston stage, gets a chance to display his whole range as Joe Pitt, and then in funny and extreme ways as a character in one of Prior's hallucinations. (Steven Barkhimer gets this comedic chance as well.) Nacer's portrayal of Pitt is sad and contained, but Nacer oozes unease and simmering sadness born of self-enforced repression, making the smoke seep out of his pores. It's masterful.
Debra Wise – who did an unbelievably good single-woman performance in Tony Kushner's Homebody at Central Square Theater in 2017, provides multiple services adeptly and convincingly here – as a rabbi, as Ethel Rosenberg, as a doctor, and as Joe's mother.
Kari Buckley does a great job as Harper, Joe's wife, gradually emerging from a shell and challenging Joe's unfair projections to confront what's going on at the root of their marriage. She also doubles as a government official who meets with Joe and Cohn late in the play, capably demonstrating her versatility.
Maurice Emmanuel Parent, a long-time and highly welcome presence on Boston stages, is heartbreaking and hilarious as Prior's and Louis' friend Belize, offering compelling solace and uplift in the midst of Prior's personal and physical challenges.
As the eponymous angel and in a variety of other supporting roles, Helen Hy-Yuen Swanson performs capably and effectively.
This is a long play – just around three hours – but there are two intermissions. Though the writing is, in some sense, all over the place, the production is so well done and so engaging that it does not seem as long as it is. And this is only Part I! Central Square is planning a production of Part II of Angels in America next fall, to be eagerly awaited!
Overall: A spectacular production!

– BADMan (aka Charles Munitz)