Play (2019)
by Jackie Sibblies Drury
Directed by Pascale Florestal
Speakeasy Stage Company
Boston Center for the Arts
South End, Boston
February 17 – March 11, 2023
Kira Troilo, EDI (Equity, Diversity and Inclusion) consultant;
With Yewande Odetoyinbo (Beverly), Dom Carter (Dayton), Lyndsay Allyn Cox (Jasmine), Victoria Omoregie (Keisha); also with Russell Garrett (Mack), Maureen Keiller (Bets), Jon Vellante (Jimbo), Gigi Watson (Suze)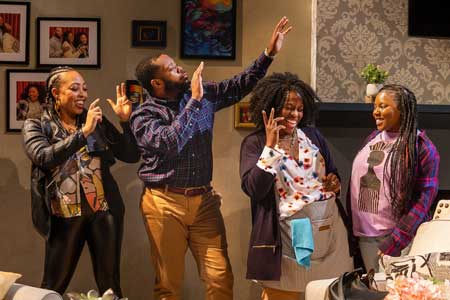 More of a theater event than a play per se, an unsettling reflection on racism that starts with a domestic comedy and takes off from there.
This theater adventure might actually be termed an existential reflection on racism, and it begins, in its first act, with a domestic comedy set in the house of an upwardly mobile black family. A meal is being prepared for an aged mother's birthday and the sister, Jasmine (Lyndsay Allyn Cox), and brother of the matron of the household, Beverly (Yewande Odetoyinbo), are meant to arrive soon. Keisha (Victoria Omoregie), the daughter of Beverly and Dayton (Dom Carter), speaks of her friend from school of whom we sense some degree of disapproval by her parents. Such is the narrative foundation of the play, which then, without going into detail, takes off in unexpected directions with far more than a punchline in its line of sight. By the end of the hour and forty-five minute production one feels as though one has been put through a narrative and experiential ringer, and the result is interesting, evocative and, to say the least, unexpected.
One cannot say too much about the nature of this sort of production which knocks down theatrical walls at every turn. If there is a fourth wall to the stage, this play attempts not only to take it down but to make a collective project of pulling it apart. What starts off looking like a more contemporary variant of The Cosby Show turns into something that is more reminiscent of a production by the wall-busting and iconic The Living Theater. To say more would be to give the experience away, which would ruin the effect for those who do decide to see the play.
There are some long and interesting speeches along the way, even before the one that forms the ultimate capstone of the piece in Act III. That capstone speech alone is pages long, is passionate and evocative, and calls forth much from deep corners of rage and resentment. But other speeches in Act I, though thematically in a different dimension than that ultimate speech, have an eloquence and verve that sets the stage for it. There is one about root vegetables which is extended, varied and noteworthy. When the intermediate Act II rolls around, the nature of the speeches changes entirely, and those, delivered from the theatrical corners, embellish the original narrative in a distinctive and unsettling way. And all of that builds, like preliminary stages in a dramatic pyramid, to what comes forth in Act III, a theatrical inversion of significant proportions made emblematic by that one, long, devastating soliloquy.
The effect, one would say, is more existential than theatrical, but, in the age of dramatic experimentation, why bother splitting hairs about such definitions? This play makes its point in a dimension that is orthogonal to that of the narrative, and that is its main dramatic gesture and the source of its potency. I was actually pretty interested in the characters and interactions in Act I, but the evolution of those, such as it was, unfolded in quite a different narrative space.
The actors all do a good job, though their ranges of responsibilities vary significantly from the fairly humdrum and expected to the outlandish to the strikingly evocative. Carrying the ball from the first through the third acts is Victoria Omoregie as Keisha, who gives it her all, and more.
Director Pascal Florestal directed a very different show at the Speakeasy last spring, Once On This Island, a delightful musical and one that has a significant message about racism. In Fairview, Florestal deals with much different material, but carries it off with the convictions of a committed cast and crew who work together to build the pressure and explode the message with notable force.
Kira Troilo, an EDI (Equity, Diversity and Inclusion) consultant throughout the production, led a post-performance discussion between audience and cast gracefully and thoughtfully.
– BADMan (aka Charles Munitz)