Musical (1990)
Book and Lyrics by Lynn Ahrens
Music by Stephen Flaherty
Based on the novel My Love, My Love by Rosa Guy
Directed by Pascale Florestal
Musical Direction by David Freeman Coleman
Speakeasy Stage
Boston Center for the Arts
South End, Boston
March 11 – April 16, 2022
Choreography: Jazelynn Goudy; Scenic Design: Erik D. Diaz; Costume Design: Chelsea Keri; Lighting Design: Aja M. Jackson; Sound Design: Andrew Duncan Will
With Peli Naomi Woods (Ti Moune), Kenny Lee (Daniel), Becky Bass (Narrator), Jonathan Gallegos (Monsieur Beauxhomme),Kira Sarai Helper (Narrator), Lovely Hoffman (Mama Euralie), Christina Jones (Erzulie), Reagan Masso (Little Ti Moune), Malik Mitchell (Papa Ge), Davron S. Monroe (Agwe), Yewande Odetoyinbo (Asaka), Anthony Pires Jr. (TonTon Julian), Kira Troilo (Andrea)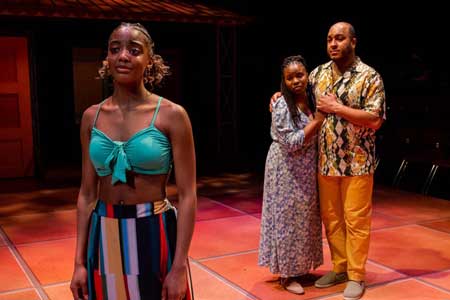 An exuberant and beautifully produced piece of story theater about a love affair across classes and racial divides on an island in the French Antilles.
Ti Moune (Peli Naomi Woods), a girl from a poor family, saves Daniel (Kenny Lee), a rich kid – a grand homme – who has just had a car accident. As she nurses him back to health, she falls in love with him. He responds to her advances, but it is clear that, despite inhabiting the same small island as she, he comes from a different social and economic world. As she enters that world by Daniel's side, she comes to realize that their relationship is complicated by these different social contexts.
Despite its difficult theme about class difference and racial prejudice, this musical is wonderfully lively and engaging, and this production particularly exhibits its significant strengths.
The music is certainly appealing, though not earthshattering in its uniqueness, hovering between engaging island rhythms and more standard forms of musical theater boilerplate. That being said, a lot of great shows contain significant amounts of boilerplate, so it is certainly not a condemnation to identify it; nonetheless, when the island melodies return, often with exuberant dancing beautifully choreographed and executed, one receives them most appreciatively.
The choreography by Jazelynn Goudy is particularly well done, often with a full complement of the cast and with an infectiously spontaneous gusto. A dance solo by Woods as Ti Moune in the final chapter exhibits her considerable capacities in conveying delicacy while also being able to get down and catch the groove. Generally, Woods is a capable and appealing in the focal role of Ti Moune and carries the vocal demands admirably, though, at times in the higher registers, she appears to strain a bit.
We Dance, a lively and terrific starter, featuring the large cast in a lively dance to greet the audience. While chanting We dance to the earth, we dance to the water, the cast also sets the narrative theme of the stridency of class differences on the island. In One Small Girl, Ti Moune's parents, Mama Euralie (Lovely Hoffman) and Papa Ge (Malik Mitchell), with support from young Reagan Masso as Little Ti Moune, beautifully harmonize in recounting the story of discovering her as a young orphan and rearing her into young adulthood. Waiting for Life features the adolescent Ti Moune (Woods) with moments of sweet singing, supported by lovely dancing, and is capped by And the Gods Heard Her Prayer with richly wonderful singing by the "gods" Asaka (Yewande Odetoyinbo), Agwe (Davron S. Monroe), Erzulie (Christina Jones) and Papa Ge (Malik Mitchell). Rain features the cast appearing with tinsel-adorned umbrellas, a fun, efficient and effective staging device, and sung nicely by Jonathan Gallegos. Pray features Ti Moune and Papa Ge – in beautiful and resonant voice – arguing about her sacrificing herself to save Daniel's life and anticipates the full cast returning for a great, insistent group dance and chant. Mama Will Provide offers some additional great dancing, with some especially persuasive bird simulations.
The company generally seems to have a great time, a testament to the cast, to Pascale Florestal's adept stage direction , to David Freeman Coleman's thoughtful musical direction, and to the fabulous musicianship of the orchestra. Along with the well-conveyed relevance and intensity of its messages about racism and class discrimination, the production is wonderfully conceived, colorful, lively and fun, very much worth catching.
– BADMan (aka Charles Munitz)