Play (1593)
by Christopher Marlowe
Directed by David R. Gammons
Actors' Shakespeare Project
Charlestown Working Theater
Charlestown, MA
February 22 – March 19, 2017
Set Designer: Sara Brown; Lighting Designer: Jeff Adelberg; Costume Designer: Rachel Padula Shufeit; Sound Designer: David Wilson; Violence Designer: Omar Robinson
With Maurice Emmaneul Parent (Edward II), Eddie Shields (Gaveston), Alex Pollock (Mortimer), Nigel Gore (Lancaster), Jennie Israel (Isabella), Nile Hawver (Kent), Steward Evan Smith (Spencer), David J. Castillo (Prince Edward III)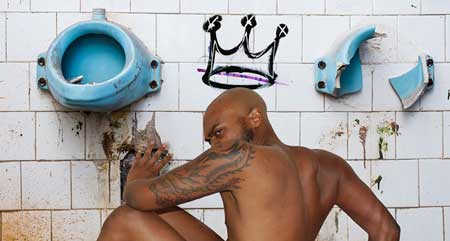 An historic tragedy about a king whose attachment to a male lover inspires rebellion in the ranks.
Edward II (Maurice Emmanuel Parent) is married to Isabella (Jennie Israel) without passion but he is totally entranced and engaged with Gaveston (Eddie Shields) his male lover whom he brings back from exile in France. Edward is willing to bestow power on Gaveston but his lieges, Mortimer (Alex Pollock) and Lancaster (Nigel Gore), are furiously opposed and eventually seek the re-banishment of Gaveston. Kent (Nile Hawver) hovers in the middle somewhere while Prince Edward III (David J. Castillo), the young son of Edward II and Isabella, waits in the wings.
It is amazing that Christopher Marlowe, who died in a bar brawl at the age of 29, produced so many good works in his short tenure as a playwright. Like John Keats, who died at 26, he was far more productive at a young age than should be allowed, though we are fortunate to inherit the results of his prodigious talents.
Interestingly, the cadence of the language in Edward II is like Shakespeare in many ways, but also easier to follow because most of it is plot-oriented and not as full of poetry. Also, Marlowe's phrasing is far less elliptical than Shakespeare's. It's not as stunning, therefore, but it also provides a more direct line to understanding.
The curiosity of this play is, in particular, its focus on a homosexual romance in the throne room. The presence of a male erotic interloper provides an additional flavor of intrigue and embattlement to what a more ordinary heterosexual dalliance would offer. Lancaster's and Mortimer's rage combines frustration not only that Gaveston makes his way into the bed and the heart of the king but that he's also a guy insinuating himself into the halls of English power.
One of the great strengths of this production is its attention to the sensuality of the relationship between Edward and Gaveston, and gives several elongated, almost wordless, scenes to depicting the intensity of their physical involvement. These beautiful and graceful scenes offer welcome pauses among the raft of words employed otherwise in disputes about power and authority.
Rather than seeming lurid, the relationship between Edward and Gaveston, as depicted here, is poetic and transcendent. Though Gaveston is portrayed initially as a sensual seducer of sorts, the trajectory of the relationship is towards something more clearly honest and open. The final scenes in which Edward and Gaveston climb a fire ladder towards the light of heaven accentuates this evolution and emphasis.
Maurice Emmanuel Parent is effective as Edward, appropriately conflicted about his heart and his position. His scenes with Eddie Shields, who plays a slinkily desirable Gaveston, are vividly passionate.
Alex Pollock is a seriously menacing Mortimer, really creepily so in the final stages of the second half.
It is always great to see Nigel Gore, whose many turns with Tina Packer several years ago in Women of Will at Central Square Theater were unforgettable. He is a potent and intense Lancaster.
Director David R. Gammons has managed, within the relatively limited confines of the spaces of the Charlestown Working Theater, to create the sense of a tragic political drama with enough kinetic action to supplement the steamy passion. There is quite imaginative use of the space at hand, and interesting lighting and sound add considerably to the effects. Bathtub scenes employing full frontal male nudity notably embellish this production but tailor it to a select audience.
– BADMan