Circus, Performance
Creation and staging by Shana Carroll and Sebastien Soldevila
Les 7 Doigts de la Main (The 7 Fingers)
in conjunction with ArtsEmerson
Cutler Majestic Theater
Theater District, Boston
July 12 – August 7, 2016
Musical Direction: Sebastien Soldevila; Acrobatic Apparatus Design: Yanick Labonte, Acrobatic Design: Jerome Lebaut; Acrobtic Coaching: Francisco Cruz
With Sidney Iking Bateman, Melvin Diggs, Mishannock Ferrero, Anna Kichtchenko, Heloise Bourgeois, Nella Niva, Emile Pineault or Anna Kachalova, Matias Plaul or William Underwood, Pablo Pramparo
The small, imaginative, Montreal-based circus is back with some great moments stitched together loosely with a theme based on cooking.
The Montreal based Les 7 Doigts de la Main (The 7 Fingers of the Hand, now seemingly abbreviated to just The 7 Fingers) blew onto the Boston scene in 2011 with PSY, its intriguing and innovative take on stage-circus based loosely on a therapy theme. Its central motif, having something to do with psychology, was enough to give the circus acts enough connective tissue to hang together. Like Cirque du Soleil, the paterfamilias of modern-day Montreal circuses, The 7 Fingers has made great hay with this general approach – create a narrative, don't make it too intrusive but let it inform the design and texture of sets, costumes and what follows and present great circus acts in the midst of it.
PSY was a tremendous success in this regard, and, unlike Cirque du Soleil, The 7 Fingers did not require a tremendous amount of machinery, setup and infrastructure to make it happen. Nevertheless, the circus acts were stunning and the whole thing seemed like an exciting and different approach to integrating circus with theater. In 2013, director Diane Paulus had the wisdom to bring in some members of the troupe to spice up the narratively anemic Stephen Schwartz musical Pippin for its run at the American Repertory Theater and its subsequent run on Broadway.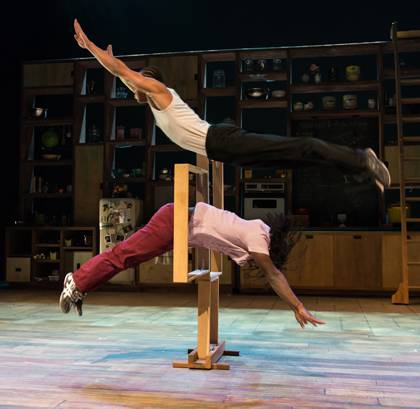 Cuisine & Confessions has entertaining and powerful moments, and wonderful circus acts. Its overall dramatic structure is a bit loose even for a troupe which thrives on conveying a relaxed narrative. The opening of the troupe's 2014 production of Traces also had some of the same tendency to overly casual narrative, but eventually its acrobatics were so superlative that those eventually trumped that initial slackness.
Here, the theme of cooking provides something that appears to hold things together, but there is a bit too much meandering about for it to enable as much dramatic intensity as it might. It works well when the props become useful in the acrobatics. There is a moment when juggling with whisks and bowls becomes breathtakingly captivating. If there were more of those moments and fewer of the stretches when the pace gets overly slackened by comedic shenanigans, it would work better.
Nonetheless, some of the ongoing gags work pretty well. There is a repeated and actually quite funny routine about one of the troupe members making a romantic pitch for someone in the audience. It is entertaining in its mythical charms and attains the end of engaging the crowd. Intermittent rapid-fire patter in Spanish by Pablo Pramparo is also very amusing in its completely blinding incomprehensibility. Other attempts to involve the audience onstage are somewhat less successful – it's not a bad gimmick, but for a show of under ninety minutes a bit more actual circus and a few fewer gags would work better.
The quality of the choreography in the acrobatics is stunning. Not only does the cast twist and writhe in some unbelievable ways, but they slither and slide and glide next to and over one another beautifully and gracefully.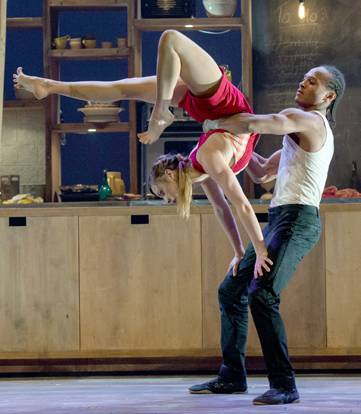 There are several acrobatic acts which are noteworthy. A routine in which Melvin Diggs and Sidney Iking Bateman jump, dive, slither and careen this way and that through what look like stacked picture frames is frequently startling and unbelievable. Anna Kichtchenko, who bends every which way, is a wonderfully graceful and amazingly flexible acrobat and contortionist. She executes beautiful floor routines and performs a striking act involving a rope of knotted tablecloths upon which she twists and climbs and unravels herself with astonishing control.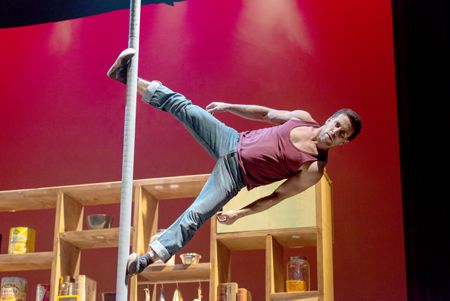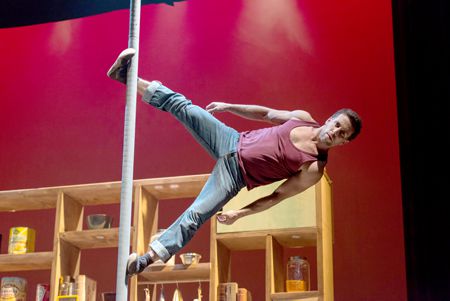 Some of the pole antics are striking. Several of the troupe scamper up the single pole and slide down rapidly, sometimes face first, stopping just before crashing on the floor. Standing out sideways from the pole, Matias Plaul is startling.
With no exact preparation for how it fit in, Plaul relates, near the end, the story of his father's disappearance in Argentina during the 1970s during the awful years in which people were taken from their homes and never heard from again. In the midst of the telling, he runs to the pole and performs some balletic movements evoking the traumatic feelings associated with the loss. It is extremely effective and the most dramatic part of the evening. It is a little strange to have that tragic drama perched within a narrative that is otherwise whimsical and light. Though itself strong and evocative, it doesn't really make so much sense in the context of the rest of the show.
There is a lot of fuss about baking banana-bread during the performance and serving it and spaghetti to those of the audience who want it after the show. It's a sweet and funny idea, not bad in principle, but again seems a bit too much energy and effort directed to something besides the acrobatics and other circus arts which make the troupe's performances distinctive.
– BADMan