Musical (1972)
Music and Lyrics by Stephen Schwartz
Book by Roger O. Hirson
Directed by Diane Paulus
December 5, 2012 – January 20, 2013
Circus Creation: Gypsy Snider of Les 7 Doigts de la Main
Choreography: Chet Walker in the style of Bob Fosse
Music Director: Charlie Alterman
With Erik Altemus (Lewis), Andrew Cekala (Theo), Charlotte d'Amboise (Fastrada), Rachel Bay Jones (Catherine), Terrence Mann (King Charles), Andrea Martin (Berthe), Patina Miller (Leading Player), Matthew James Thomas (Pippin)
Players: Gregory Arsenal, Lolita Costet, Colin Cunliffe, Andrew Fitch, Orion Griffiths, Viktoria Grimmy, Olga Karmansky, Bethany Moore, Stephanie Pope, Philip Rosenberg, Yannick Thomas, Molly Tynes, Anthony Wayne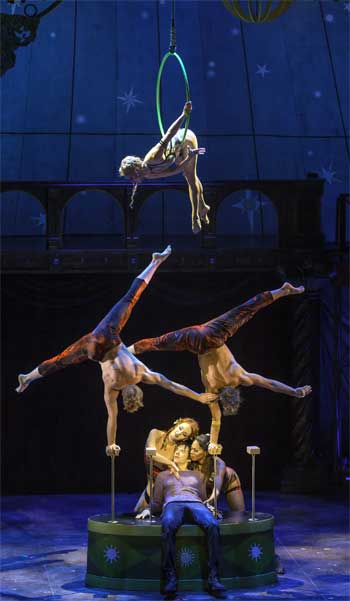 A revival of the 70s musical, putatively about Charlemagne's son, but mostly about growing up, enhanced by the wonderful circus arts of Les 7 Doigts de la Main from Montreal.
Pippin, Charlemagne's son, disillusioned by his father's harshly dictatorial policies, confronts his authority and faces dramatic subsequent choices about happiness in life.
Stephen Schwartz, known most recently and most widely for his runaway Broadway hit, Wicked, started writing Pippin when he was a drama student at Carnegie-Mellon University in the 1960s. It evolved and turned into a Broadway hit in 1972.
Diane Paulus, the new impresario at the American Repertory Theatre, has revived this musical using the great acrobats of Les 7 Doigts de la Main as dramatic chorus, a very wise choice.
ArtsEmerson brought Les 7 Doigts to Boston last year in a fabulous show called Psy, which was a thematic takeoff on therapy. It was a very witty circus scenario, like those of Cirque de Soleil in some ways, but on a more intimate scale. The circus technique itself was masterful.
For me, Les 7 Doigts really makes the show here as well. They are so good at what they do, so graceful, strong and talented in a variety of gymnastics, balancing and other assorted routines (including a woman spinning an unbelievable number of hula hoops at once), that they set the stage on fire.
There are other good things about this production.
Patina Miller, who plays the Leading Player, has a slinky magnetism that keeps things rolling nicely. She is muscular, graceful and authoritative, and, except for certain times when a bit too histrionically over the top, a compelling focus. She reprises the role that Ben Vereen famously realized in the original Broadway production and brings vividly to life the Bob Fosse-esque choreography that Chet Walker has consciously re-envisioned for this production.
That slinky, strutting sexuality, inspired by Fosse's original and brought to life by Walker and Miller combines here with the masterful gymnastics from Les 7 Doigts to spice up this heartfelt and well-meaning, but rather straightforward, rendition of a gotta-be-me tale.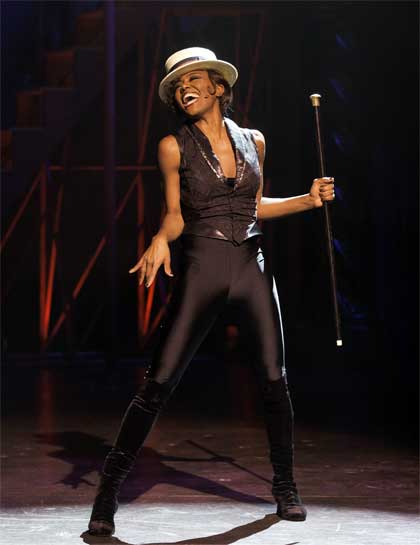 Andrea Martin, who plays Pippin's grandmother, Berthe, has the showstopper number, and she is superbly entertaining. She captures the aging soul with a youthful spirit perfectly, with enormous pizzazz and humor.
In addition to Miller's strutting and the elevated antics from Les 7 Doigts, the dancing and the choreography, overall, are very good, and the stage remains quite alive throughout.
Matthew James Thomas, as Pippin, is perfectly fine as the clear-throated innocent, and Rachel Bay Jones as Catherine, his somewhat senior paramour, has a sweet sentimentality that is affectingly charming.
The costumes, particularly of the acrobats, overseen by Liz Perlman of Somerville's CostumeWorks, are colorful and fun.
The production, generally, is entertaining, lively and a good night out.
I must say, however, it is a bit of an adjustment to see what is now slated to be a Broadway show of this popular ilk getting its preliminary workings out at the American Repertory Theatre, which, for so many years, devoted itself to a different kind of endeavor.
Diane Paulus, in her tenure of several years as artistic director, has made various sorts of attempts to draw new audiences into the theater, and this, Broadway-oriented fun musical represents, indeed, yet another popularist strategy.
She did successfully produce The Gershwins' Porgy and Bess at the ART last year (I still find it hard to use that unusually amplified title) in an energetic and interesting adaptation starring Audra McDonald, which also went to Broadway. Nevertheless, that variant of the Gershwin masterpiece was considerably less showbizzy than this early endeavor by the tuneful, though far more rudimentary, composer, Stephen Schwartz.
The narrative of Pippin , though heartfelt and earnest, has relatively little structure and definitely gives the feeling of being an early work. The Charlemagne thing is really just a loose template for a show about a young man growing up and making choices.
The focal songs are inspirations about living courageously, a theme that gets bounced around in one way or another until the acrobats leave and the lights go down.
The music, like the book and lyrics, is not particularly memorable or sophisticated, but provides a kind of bouncy support for this earnest narrative. Though not a master of contrapuntal invention, Schwartz is a talented inventor of catchy tunes. And, though not an Ira Gershwin or Cole Porter, he is an author of witty-enough lyrics to keep one's attention.
When I first heard his score for Wicked, I found it rudimentary and not particularly striking. But, as I listened to it more, I found that it was catchy and appealing. I found the same true of Pippin. On first hearing it, I was struck by its considerable musical distance from Mozart, but, several days later I found myself humming its blockbuster song.
Somehow, forty years ago, the chemical interaction of a rudimentary narrative in emperor's clothes, some bouncy tunes about living one's life courageously, a spicy grandma, and Fosse's salty choreography produced a hit.
The night I was at this production the audience rose enthusiastically to its feet, seemingly ready to make this a hit once again.
This time, the old combination of ingredients also includes a real magic potion, enough to make a shining prince out of a terrestrial leaper – the amazing feats of Les 7 Doigts de la Main – which should continue to make audiences leap out of their seats as well.
– BADMan