Musical (1997)
Music by Jeanine Tesori
Book and lyrics by Brian Crawley
Based on on The Ugliest Pilgrim by Doris Betts
Directed by Paul Daigneault
Speakeasy Stage Company
Boston Center for the Arts
South End, Boston
January 9 – February 6, 2016
Musical Direction by Matthew Stern
Choreography by David Connolly
Musicians: Matthew Stern (Piano/Conductor), Emma Boroson (Keyboard), Max Wolpert (Violin), John Bumstead (Cello), Tom Young (Guitar), Caleb Pringle (Bass), Josh Goldman (Drums)
With Alison McCartan (Violet), Dan Belnavis (Flick), Nile Scott Hawver (Monty), Audree Hedequist (Young Violet), John F. King (Preacher, Bus Driver), Michael Mendiola (Father), Tyla Collier (Music Hall Singer), Kathy St. George (Old Lady, Hotel Hoooker),Stephen Markarian (Virgil, Billy Dean, Bus Driver, Radio Singer), Patrick Greeley (Leory Evans, Radio Soloist,Bus Driver), Carolyn Saxon (Lula Buffington, Almeta),
A lively and very well produced musical about a young woman on a bus journey through the South in 1964 to visit a faith healer.
Violet (Alison McCartan) has had a bad scar on her face from childhood and is deeply self-conscious about it. She embarks on a journey to see a faith healer (John F. King) who she feels can cure the ailment and make her whole again.
During the journey, Violet recalls through the participation of her earlier self (Audree Hedequist) and through memories of her father (Michael Mendiola), the context in which she grew up and within which she suffered the wound which has affected her so deeply. Along the way she encounters two soldiers on leave, one white, Monty (Nile Scott Hawver), one African-American, Flick (Dan Belnavis); the friendship she strikes up with each of them touches, in quite different ways, areas of her deep vulnerability.
The beautifully produced show is rich in all sorts of ways. Its music, singing, choreography and staging are excellent, collectively resulting in an extremely rewarding musical entertainment.
Lyrics by Brian Crawley are written in a kind of vernacular, but one which works. It's not witty writing, but it's effective in its straightforwardness and down-to-earthness.
The music by Jeanine Terori is, overall, quite interesting. It's pretty standard contemporary Broadway-style fare, but that doesn't mean there's anything wrong with it. There are moments of considerably interesting harmonic and contrapuntal invention.
In one scene, two separate poker games are set up next to one another: in one, the young Violet is getting a lesson from her Dad about how to play; in the other, the older Violet is playing with the two soldiers. Not only is the setup of the action interesting, but it evolves into a musically intricate choral quintet, ingeniously composed and wonderfully executed.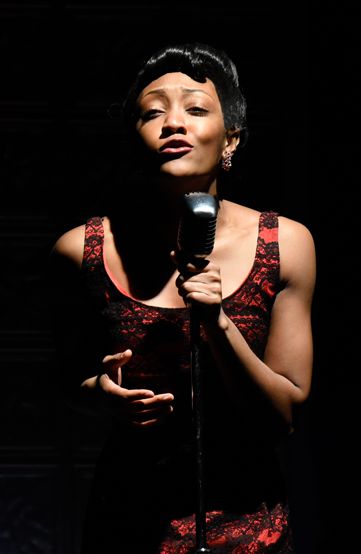 There are other really riveting and musically gripping scenes.
One of the opening choral numbers, On My Way, is strikingly lively and gets things going right at the outset. When Violet is en route, she winds up at a music hall where the singer (Tyla Collier) executes an intense and intoxicating solo. When Violet arrives at the faith healer's church, there is a fabulous gospel choir scene that blows the roof off the theater. It's expertly sung and full of energy and spirit.
All the voices are really good.
Alison McCartan has a strong and solid voice, and carries the main role of Violet with conviction.
Audree Hedequist as the young Violet is amazing. She is a child but is an assured and compelling vocalist. She also carries herself with intent and intensity. Together with McCartan she has some beautiful harmonic duet moments which come off beautifully, without any tonal insecurity whatsoever.
The choreography by David Connolly and staging for the show are exceptionally ingenious. Depicting a roster of bus riders sitting together, what could have been a routine and boring number is magically transformed into a lively and fascinating one by virtue of the application of a series of wonderful, subtle gestures. The dance moves offered both by the blues singer in the club and by the gospel choir in the revival church are done with clevernesss and effectiveness.
The musicians for the show are top notch, and the score is not very easy. There is interesting scoring as well, including a couple of violins which play a beautiful duet together, a cello, and an unbelievably good electric guitarist, Tom Young. At the final curtain, Young got to let loose and he really tore a hole through the curtain – it was a virtuosic moment and a fine capstone to a collectively lovely musical performance.
With all of that said, I'd have to mention that there is something in the narrative itself that is not as compelling. The love story that develops is fairly weak, and not enough attention is given to really making it a convincing centerpiece of the story. It comes across as a kind of not very well told account of something that could, in 1964, represent a powerful account of an unexpected relationship.
Instead of being compelling in that way, the narrative about Violet's trip feels somewhat offhand and embellished with complications that don't quite work themselves out. The recollection of the young Violet, her father and the originating incident of her painful journey is oddly not very convincing. It doesn't feel like a coherent account of the early life of someone who was, in some way, driven off the rails in later life.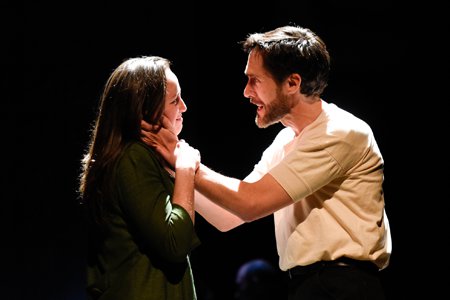 This is a brilliant production of a beautifully composed show but with a book that is not as well conceived as it might be.
All of the acting, nonetheless, is forthright and strong. McCartan, as Violet, is a powerhouse, as is, Audree Hedequist, her younger counterpart. McCartan had given a fabulously funny and broad performance in the Speakeasy Stage's wonderful production of https://bostonartsdiary.com/wordpress/2014/10/bad-jews/ last season. As Violet's father, Michael Mendiola, provides a sweet and vulnerable account. As Flick, Dan Belnavis gives a noble and dignified portrayal, and as Monty, the cracker white soldier, Nile Scott Hawver gives an account that's several parts rowdy and a few parts wounded. Kathy St. George plays multiple parts: as an old woman in the bus station and a prostitute in the boarding house – she's a scream. And, as the bus-driver and the preacher, John F. King provides a rousing presence.
= BADMan