Circus
Cirque du Soleil
Agganis Arena
Boston University, Boston
July 15 – 19, 2015
A Cirque du Soleil charmer, filled with great choreography and acrobatics, on a slightly smaller scale than their huge-tent-sized extravaganzas.
Originally, Varekai, now playing in the otherwise considerably sized Agganis Sports Arena at Boston University, had been a much larger show, put up in the official humongous Cirque du Soleil tent. Those who came to the last few years of Cirque shows (Ovo in Boston, Amaluna), saw that mega scale of production mounted near the South Boston waterfront. Varekai has been shrunk down a bit to make it feasible for it to fit in somewhat smaller venues and, as a result, to be more highly portable.
There is something grand and particularly exciting about the larger shows, but there is also something quite nice about the greater degree of intimacy the somewhat smaller production provides.
As with all Cirque shows, Varekai thrives on a combination of great costume design, elegant choreography and wonderful acts.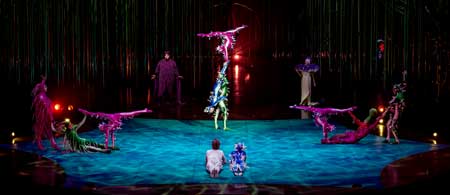 The subtlety and grace of the acrobats who come onstage collectively to do the free form tumbling is striking. I had watched them rehearsing backstage several hours before the performance and got a sense of their acrobatic capacities, but it was only during the performance when their dramatic personae came out and they actually danced around and through their routines that the combined beauty of the effects was apparent.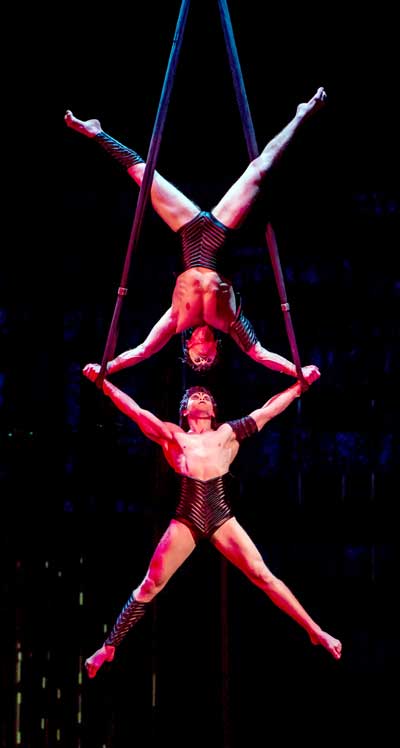 Cirque du Soleil overall is a mighty operation. It employs 1300 performers from 55 different nationalities in its 19 shows. Each of those shows is unique – there is only one production of each show running at any given time. Eight of them are permanently situated in Las Vegas; there is one in Orlando, and one in Mexico. The rest of the shows travel, and some of those are big-tent operations while others are scaled to somewhat smaller settings.
Interestingly, there are no permanent Cirque shows running in Montreal, its home, even though it maintains a circus school there; new productions, as they come out, do get a first run there.
As is evidenced in Boston not only by Cirque du Soleil but also by the wonderful Les Sept Doigts de la Main, which has played several times at ArtsEmerson over the past few years and which participated in the creation of the hit Broadway revival of Pippin, Montreal is a fertile crescent for circus development.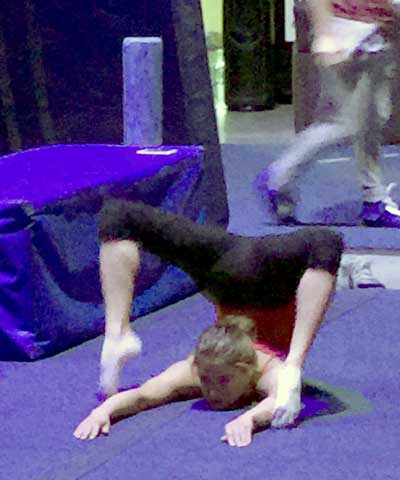 I got to see a rehearsal of Varekai and some of its backstage operations.
Though it is now theoretically a somewhat smaller-scale Cirque show,it is quite an endeavor. One hundred people in all travel with it. Fifty of those are performers, twenty-five are technicians, and twenty-five are support staff.
Walking through the halls of the Agganis Arena backstage was evidence of the significant infrastructure. Signs indicating the show's medical service, its costume shop or its laundry were peppered throughout. Nineteen large trucks transport Varekai's stuff, something of a trick to pack into Boston University's available space near the arena. It takes the tech crew thirteen hours to build the stage and the backstage area, and the elaborateness of the set and the support areas is testament to that.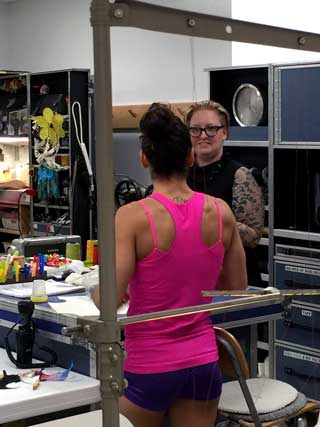 Varekai itself incorporates people from twenty different nationalities. During the rehearsal I got to watch the Russian Swings group practice and it seemed pretty clear they were, by and large, speaking Russian. Kerren McKeeman, a trapeze artist, is a woman from New Hampshire. No doubt there are Canadians, leaving seventeen remaining nationalities to consider.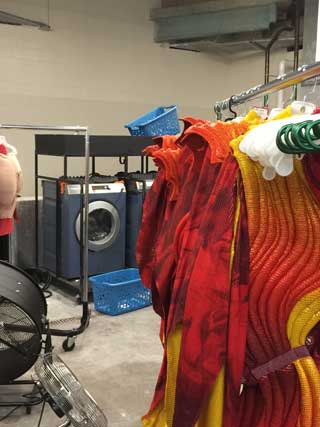 The show is lots of fun. The acrobats are wonderfully graceful and energetic and their amazing feats fold organically into the elegant choreography. Various other acts – a high stakes twirler and a juggler who manages up to seven balls with great fluidity – populate the sequence and provide considerable pizzazz.
The grand finale is the Russian Swings act which involves a bunch of guys dressed in flaming outfits swinging, bouncing, and crossing treacherously in midair. It's truly energetic and filled with suspense.
The best of the clown acts is a simple one but very effective, done to the tune of Jacques Brel's Ne Me Quitte Pas (Don't Leave Me). The elegantly dressed clown begins to sing and the spotlight delightfully begins to elude him. He chases it around, sometimes to great lengths, and with a consistent level of hilarity.
The other clowns are gaily dressed and provide good entre'acte diversion, though a few of their routines seem a bit attenuated.
All in all, it's a delightful show, characteristic of Cirque du Soleil's careful mixture of design elegance, choreographic subtlety, and exacting circus technique.
– BADMan