Circus
Written and directed by Dominic Champagne
Cirque du Soleil
Aggasis Arena, Boston University
925 Commonwealth Avenue, Boston
July 15 – 19, 2015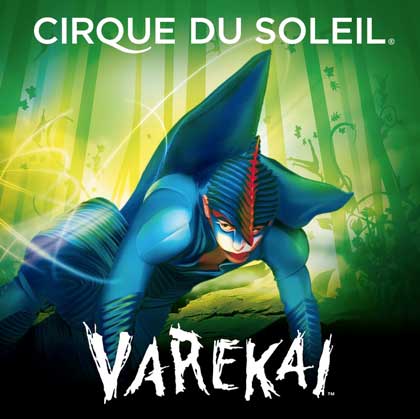 Another seasoned installment in the great Cirque du Soleil pantheon, this time with "wandering" as the theme.
If you've seen a Cirque du Soleil show before, you know that it is both a great compendium of circus acts and a theatrically and thematically satisfying integration of them. The particular theme of each show – in 2015, Cirque du Soleil is producing nineteen different shows around the globe – adds panache to the whole event, a texture, a set of colors and a feel. It's kind of like like the design of a plate at a fancy restaurant – it doesn't change the taste of the food, but it adds a different aesthetic dimension to the whole experience.
Because of its enormous reach and cache, Cirque du Soleil is able to draw in amazing circus performers, and each show offers something new, exotic and interesting. To be sure, there is generally some aggregation of contortion, trapezing, juggling, balancing and dancing, but each time it is quite varied enough to make for striking appeal and surprise.
Because of Cirque du Soleil's influence, its home, Montreal, has become a spawning ground for innovative circuses. Notable among these is Les 7 Doigts de la Main which has performed in Boston under the auspices of ArtsEmerson several times over the past few years. Their shows are great and, not only testament to their own developed skills and narratives, but to the strong inspiration for integrating acrobatics and narrative that Cirque du Soleil has offered.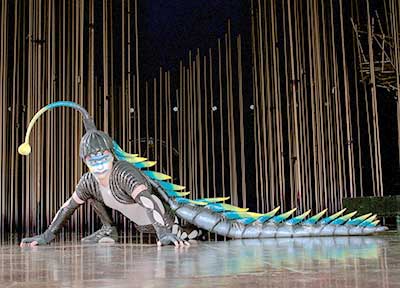 Varekai, a Cirque du Soleil show that has been around for awhile – it was premiered in Montreal in 2002 – is coming to Boston, but briefly – only eight performances over five days – so make sure to grab a ticket for that brief window.
Varekai (pronounced ver·ay·'kie), in the Romany language of the gypsies, means "wherever," a tribute to the wandering soul. The show includes, among other things, The Flight of Icarus (an aerial net dance), Clown Acts (of course!), Georgian Dance (home of Tbilisi, not Atlanta!), Handbalancing, Russian Swings (come see what they are), Single Point Trapeze (seems like a combination of aerial balancing and contortion) and Synchronized Tumbling.
Filled with colorful characters, lively (and live!) music, and vivid scenic design, this show, like all of the Cirque du Soleil extravaganzas, is likely to be a sensory smorgasbord.
– BADMan