Musical (1990)
Music and lyrics by Stephen Sondheim
Book by John Weidman
Directed by Courtney O'Connor
Music Direction by Dan Rodriguez
Select Choreography by Ilyse Robbins
Lyric Stage Company of Boston
Copley Square area, Boston
September 15 – October 15, 2023
Scenic and Lighting Design: Baron E. Pugh; Costume Design: Rachel Padula-Shufelt, Sound Design: Alex Berg

With Christopher Chew (Charles J. Guiteau), Shonna Cirone (Sara Jane Moore), Teddy Edgar (Giuseppe Zangara), Kristian Espiritu (Emma Goldman, Ensemble), Daniel Forest Sullivan (Leon Czolgosz), Arthur Gomez (David Herold, Ensemble), Jackson Jirard (The Proprietor, Dance Captain), Lisa Kate Joyce (Lynette "Squeaky" Fromme), Jacob Thomas Less (John Hinckley), Darren Paul (Blaine, Ensemble), Dan Prior (The Balladeer, Lee Harvey Oswald), Kayla Shimizu (Billy, Ensemble), Jeffrey Song (Garfield, Ford, Ensemble), Robert St. Laurence (John Wilkes Booth), Phil Tayler (Samuel Byck)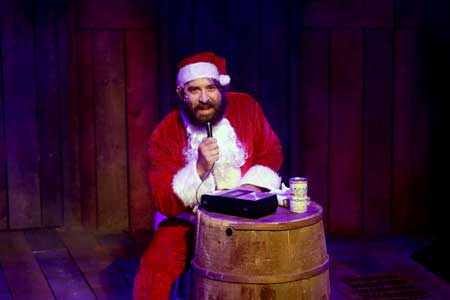 An excellent rendition of the very weird musical about a passel of assassins of American political figures.
In short, this is a show about, or at least which features, an array of murderers. It is not a drama in any real sense, nor does it explore very extensively the interior landscape of any of these murderous characters, but it is an interesting, though very strange, show. In this production, which is excellent, it comes across with consistency and verve. The acting, the singing, the staging are all expertly put together, and, in particular, one must call out music director Dan Rodriquez for a particularly tight productions.
They are all here: John Wilkes Booth (Robert St. Laurence) is the patron saint of the gang, but Lee Harvey Oswald (Dan Prior) plays a pretty significant role as well. Though there are no profound character studies here, we do get a little episodic insight into their lives and influences. Booth, who we learn was only twenty-seven when he shot Lincoln, claims that the challenge of having a much more famous and successful actor brother in Edwin drove him to the dastardly act. Oswald's argues that he was framed by the Soviets regarding the assassination of Kennedy.
Other little bits emerge, such as the relation between Emma Goldman (Kristian Espiritu), the famous socialist activist, with Leon Czolgosz (Daniel Forest Sullivan), who assassinated President William McKinley in 1901. We see Lynette "Squeaky" Fromme (Lisa Kate Joyce), a devotee of murderer and cult leader Charles Manson, parading her devotion to her him as she plans the ultimately unsuccessful assassination of Gerald Ford in 1975. And we see Sara Jane Moore (Shonna Cirone) who tried to murder Ford, again unsuccessfully, seventeen days after Fromme's attempt.
Sondheim's bizarre but deeply ironic reflection on these events presents such numbers as Gun Song, a lilting waltz, and the opener Everybody's Got the Right (To Their Dream). John Wilkes Booth's song is a banjo fanfare. John Hinckley (Jacob Thomas Less), who tried to assassinate Ronald Reagan in 1981, sings a passionate ballad, Unworthy of Your Love to actress Jodie Foster, his inspiration of the act. A complex but compelling tribute to Leonard Bernstein by Nixon's attempted assassin Samuel Byck (Phil Tayler), in a Santa suit (which Byck apparently did wear), is a touching if strange oblique tribute to Bernstein by Sondheim himself. Tayler is hilarious and memorable throughout as he bandies about in the Santa garb; somehow the colorful insanity of it and Tayler's off-the-wall embodiment within it, become emblematic of the show as a whole.
Nutty in conception, but somehow coherent in execution (so to speak), the show is crazily filled with a combination of whimsical takeoffs based on the peculiarly warped and desperate characters depicted. Not really a show about people, relationships, or the dramatic development among them, it somehow works. Many of Sondheim's shows do explore relationship and character – A Little Night Music, Company, Merrily We Roll Along, Sweeney Todd among them – but Assassins falls more in line with some of Sondheim's more conceptual endeavors, of which Pacific Overtures is another prime example. They are wonderful and interesting shows, but not interpersonal and characterological dramas of the other sort.Nonetheless, strange as it is, the show has gained a significant place in musical theater history. Though there aren't really memorable songs in the show, the musical architecture somehow works to portray this odd bunch and evoke something about their collective tragic destination.
This production, tight, coherent, with beautifully coordinated music, singing overseen by Dan Rodriquez, movement by Ilyse Robbins and direction by Courtney O'Connor, makes the irony come into relief against its landscape of estimable production values. Indeed, Sondheim sometimes broke the mold in finding themes that were odd and this show is tops among those. An excellent production of this sort makes the tragedy and the irony soar out vividly and gives the truly odd construction a significant kind of integrity. Perhaps that integrity of performance comes into relief, as well, with the desperation of the characters portrayed, and says something implicitly about the saving graces of art.
Certainly, in the wake of January 6, 2021, the significance of such collective portraits and their tragically desperate ironies is most relevant. Though the tragedy of that event does not call forth a sense of irony and humor, there is something about the wryness of Assassins that helps one come to terms with such tragedy, and perhaps, in an odd way, gives one a bit of hope – that by a kind of inspired ennoblement of human energies, a reaching out to those who seek such destruction might over time be a step towards preventing such tragedies in the future.
– BADMan (aka Charles Munitz)