Play (2015)
by Stefano Massini
Adapted by Ben Power
Directed by Carey Perloff
Huntington Theatre Company
The Huntington Theatre
Symphony Hall area, Boston
June 13 – July 23, 2023
Scenic Design: Sara Brown; Costume Design: Dede Ayite; Lighting Design: Robert Wierzel; Co-Sound Design and Original Music: Mark Bennett; Co-Sound Design: Charles Coes; Projection Design: Jeanette Oi-Suk Yew
With Steven Skybell (Henry Lehman et al), Joshua David Robinson (Emanuel Lehman et al), Firdous Bamji (Mayer Lehman et al), Joe LaRocca (Musician)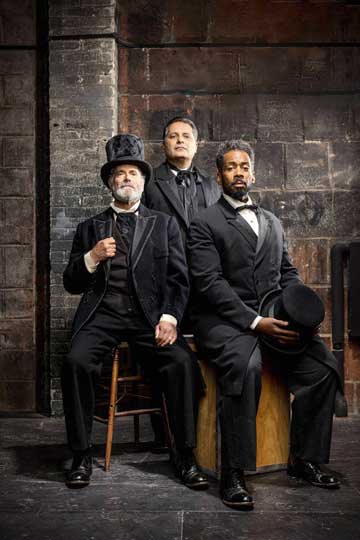 An excellent production of the play about the rise and fall of Lehman Brothers, the famous investment bank which was started by three brothers in the mid-nineteenth century and took its last plunge in the recession of 2008.
Three Jewish brothers, emigrating from Germany in the mid-nineteenth century, set up a clothing business in Montgomery, AL and quickly transmute it into a thriving wholesale enterprise. They realize that selling cotton is much more profitable than selling clothing made of cotton, and then they devise various methods for enabling cotton growers to thrive more profitably. What emerges is a trail of financial genius, involving the development of one of the earliest of investment banking businesses which thrived through the twentieth century and then met its maker in 2008, along with a few other banks which became heavily invested in junk mortgage funds and were allowed to founder amidst the financial crisis of that year.
This superbly rendered production sparkles in all kinds of ways. The three principal players who embody the various generations of the Lehman family are all outstanding. As well, they portray their wives, their children and various and sundry other players throughout, all with expert, sometimes quite funny, impersonations, but never artificial. The pose and expertise with which they convey this small tribe of characters among the three of them is really extraordinary. Though, in the immigrant German Jewish accent department, Steven Skybell exceeds expectations and manages an authentic rendering of original brother Henry Lehman in body and speech, the others two actors, Joshua David Robinson as the much longer lived Emanueul and Firdous Bamji as youngest brother Mayer, do exceptionally well. In that generation, Skybell, whose Henry character, though extremely dynamic and influential in the setting up of the original business, dies young, but Skybell takes on the role of Babette Newgass who becomes Mayer's wife and he does a great job at that as well. As well as handling Mayer in that first generation, Bamji manages to embody Pauline Sondheim who becomes Emanuel's wife and also does a wonderfully adept job. Somehow it all works and comes across through excellent direction, staging and acting.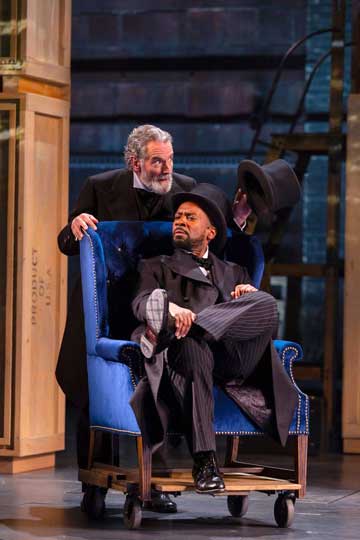 Embellishing every scene is the wonderful playing of clarinets and saxophones of all registers in a hypnotic mode by Joe LaRocca. Truly tasteful and eloquent, LaRocca's playing and the musical compositions by Mark Bennett and sound design by Bennett and Charles Coes enhance the scenes eloquently well. LaRocca is onstage for much of it and he blends in with the staging effortlessly and seamlessly.
Lighting by Robert Wierzel, as well, is done deftly and with remarkable variety and ingenuity. Apart from the scaling and pointing of stage lights, the array of projections by Jeanette Oi-Suk Yew is artful and evocative, tuned to the set in particular and effective ways.
The set itself by Sara Brown is deceptively simple – involving various boxes and crates raised and lowered and perched and opened and closed, but it is symphonically and cleverly engineered and works exceedingly well. The appropriate effect is of a kind of large scale Lego construction that makes its way through time then eventually comes apart.
Costumes by Dede Ayite are persuasively appropriate and sometimes a bit dramatic and startling, as when showing a subtly reflective monogrammed emblem on the backs of the jackets of the actors. Catchy!
Included in the projections are, especially during the sections in which various of the Lehman family members have died, Hebrew renditions of the Kaddish, the Jewish prayer that is said after a death, and recited in conjunction by the actors. Cast large-scale upon the settings and the wall behind give a profound sense of the Jewish religious and cultural background of the family.
The poignancy with which the play treats that background is notable. Starting out with a strong sense of Jewishness, the family and its business seem deeply infused with the culture and ethics of tradition. As the generations unfold, however, the sense of traditional guidance wanes, until the point at which, near the end, the family has lost all participation in the company and its business has become so financially abstract that its connection with its familial and Jewish roots are all but obscured.
This, in a way, becomes the focal theme of the play which is superbly written and which details this family history eloquently and efficiently. How Stefano Massini manages this saga with three actors is a bit of a wonder, but he does, and he manages, as well, to convey as sense of what this central theme is about. Original good and noble ambition, decent intentions, and how they get foiled and subverted in the course of time rise up as emblematic. The road to hell is paved with good intentions, as the saying goes, though, in this case it's not so much the road to hell as it is the road to oblivion. How three bright, ambitious and innovative brothers grew a company that was taken by its heirs ultimately down tunnels carved by financial wizardry is a tale about ingenuity, drive, purpose and its unfortunate modulations.
And then it all ends in 2008, due to over-investment in mortgage bonds, but not entirely because of its own foolish investments. Remarkably, at that time, there was a good amount of picking and choosing by the government to save certain financial powerhouses and to let others go by the wayside. Lehman's business was one that was let go, and the story of how the picking and choosing was done is something that history will continue to unfold. That story is not unfolded in The Lehman Trilogy but sits behind it in the shadows.
The other story that sits in the shadows is that of slavery. Though, in the program, the issue of the Lehmans' relation to slavery as cotton merchants in the nineteenth century is laid out a bit more clearly, and it is noted, as well, that the Lehmans were slave owners; the program acknowledges that the play does not attempt to wrestle very much at all with this issue, but the issue is noted as part of the landscape in which the Lehmans' wealth was made.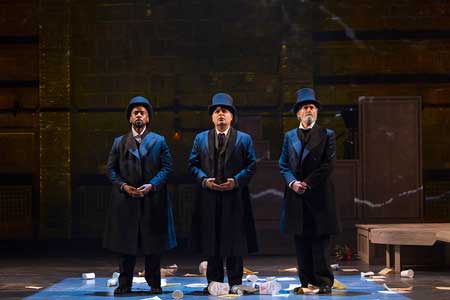 Also, very much in passing, is the issue of anti-Semitism, not acknowledged in the play. In the program, interestingly, in an excerpted interview, Dr. Stephen Whitfield, professor emeritus of Brandeis University, comments that anti-Semitism was largely not present in the South during this era, mostly due to the assimilation of Jews within white society and the prevalence of racism against blacks. Though, in some respects this position holds some weight, it is important to remember that anti-Semitism was always lurking and evidenced itself at times easily and visibly. One only need read about the infamous General Order No. 11 rendered in 1862 by a deputy of Ulysses S. Grant to expel Jews from areas of Tennessee, Mississippi and Kentucky, to get a sense of how this is true.
Overall: this is a superb production, brilliantly designed, acted, directed, rendered, and worth catching if one possibly can. This is a long show – three and a half hours with two intermissions – but it moves along. One can also take solace in knowing that it is cut down from the five hour original. Well worth the time.
– BADMan (aka Charles Munitz)