Play (2022)
Based on the novel (2001) by Yann Martel
Adapted by Lolita Chakrabarti
Directed by Max Webster
American Repertory Theater
Loeb Drama Center
Harvard Square, Cambridge, MA
December 6, 2022 – January 29, 2023
Scenic and Costume Design: Tim Hatley; Puppetry and Movmement Direction: Finn Caldwell; Puppet Designer: Nick Barnes and Finn Caldwell; Original Music: Andrew T. Mackay
With Adi Dixit (Pi), Sonya Benugopal (Rani), Brian Thomas Abraham (Cook, Voice of Richard Parker), Rajesh Bose (Father), Mahnaz Damania (Ensemble), Fred Davis (Puppeteer), Avery Glymph (Father Martin, Russian Sailor, Admiral Jackson), Mahira Kakkar (Nurse, Amma, Orange Juice), Kirstin Loie (Lulu Chen), Rowan Magee (Puppeteer), Jonathan David Martin (Puppeteer), Usman Ali Mughal (Ensemble), Uma Paranjpe (Ensemble), Betsy Rosen (Puppeteer), Celia Mei Rubin (puppeteer)
A beautifully executed rendering of the popular philosophical novel about a survivor of a shipwreck and the fanciful account of how he lasted at sea for 227 days accompanied by a tiger named Richard Parker.
The year is 1978 and Piscine Patel aka Pi (Adi Dixit) has survived a shipwreck of the vessel Tsimtsum and a stretch of many months afterwards adrift at sea. He is now being questioned by Lulu Chen (Kirstin Louie) and Mr. Okamoto (Daisuke Tsuji) to figure out what happened to the ship and what happened to Pi afterwards. Pi, understandably, is quite shaken and it takes him awhile to begin to relate the tale. What he tells begins with his life in India where his family had run a zoo. Pi is religiously inclined and seems to subscribe to several religions: Hinduism, Islam and Christianity, and he talks at length with his father (Rajesh Bose), his mother (Sathya Sridharan) and his sister, Rani (Sonya Venugopal) about his interested participation in these multiple religious traditions. The family decides to emigrate to Canada and to bring the zoo along on the Tsimtsum. Alas, a violent storm erupts and the vessel sinks. By his account, Pi manages to find a lifeboat, but then has to share it with several of the zoo animals. Ultimately, for the long haul, he and the zoo's tiger, named Richard Parker, spend months together in the lifeboat until they finally reach land. The play ends with Pi giving an alternate, more realistic, account of his time on the lifeboat, leaving a question to his two interviewers: which account is the better one?
The story of Life of Pi is dramatic, but pretty simple, and one wonders how a lively, engaging, two and a quarter hour play could be fabricated from it. The answer is puppets, and what a great answer it is. This production is beautifully rendered, magical in its evocation of endless numbers of animals, fish and birds, and transfixing in its puppet choreography throughout the show.
The human actors are also very good, notably Adi Dixit as Pi, who gives a passionate and potent account of his visionary but traumatized character. As well, Sonya Venugopal does a very good job as his sister Rani and when it comes time for the tiger to speak, Brian Thomas Abraham gives it a noble demeanor. As investigators, Daisuke Tsuji as Mr. Okamoto, and Kirstin Louie as Lulu Chen do a quite good and consistent job throughout, though one might say that some of the text for their parts gets a little too melodramatic particularly at the end, which forces the actors to get a little more explosive than seems necessary or desirable. But that bit of excessive melodrama at the very end is really the only narrative weakness in this nicely adapted and quite straightforward script by Lolita Chakrabarti.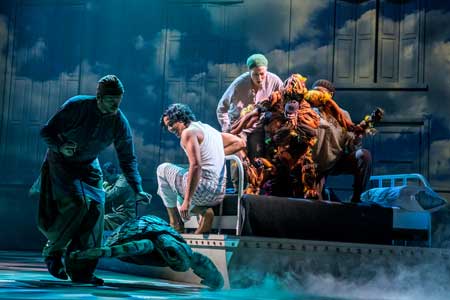 The puppets are really out of this world, and the puppeteers are magnificent. It is hard to describe the grace with which collectively they create their magic. Sometimes, with a large puppet, three puppeteers dance along together, one inside as the body of the puppet, and two carrying it along and creating its subtle arrays of gestures. At other times, the entire company comes out waving birds or fish, to wonderful effect. The puppeteers in this show are as much actors as any of the human actors, and it is quite something to see the controller of the tiger Richard Parker run around bearing a fierce grimace that the tiger might have; it's completely affecting.
The sets are also beautifully done, evoking at one point a busy market scene in India, and at another point the multi-tiered interior of an ocean vessel. The transitions are very smooth. Lighting enhances these artfully, and costumes are nicely done. And the music is inventive, with a lot of evident tabla and Indian instrumentation, but sometimes with an interesting Western folkie touch woven in.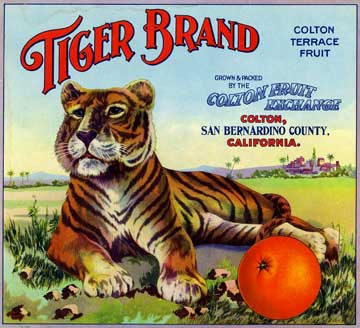 The word Tsimtsum, the name of the vessel that sinks, comes from the Kabbalah, the mystical writings of Judaism, and in particular from the thought of Isaac Luria who lived during the sixteenth century in northern Israel. Its meaning is a bit abstract, but basically signifies the act in which God separates the space of the world from the divine nature, allowing a terrain upon which the drama of life can unfold. One of the curiosities of narrative is that it does not explicitly mention that Pi, despite his interest in every other religion, is inspired by Judaism, even though this significant piece of subtext strongly suggests that.
At the end Pi asks his interviewers which version of his survival tale they like the best – the fanciful one or the realistic one. Ultimately, though their professional instincts drive them to the realistic narrative, they finally agree that the fanciful one is better. Certainly, this wonderful production gives credibility to that viewpoint by illuminating this imaginative tale with such amazing evocations of its potent visions. Superbly done.
– BADMan (aka Charles Munitz)