Musical (2001)
Music by Jason Howland
Lyrics by Mindi Dickstein
Book by Allan Knee
Based on the novel by Louisa May Alcott
Directed and Choreographed by Ilyse Robbins
Musical Direction by Matthew Stern
Greater Boston Stage Company
Stoneham, MA
November 25 – December 23, 2022
Musicians: Matthew Stern (Piano, conductor), Josh Goldman (Percussion), Libby Jones (Horn), Caroline Leguia (Violin), Jeri Sykes (Reeds), Valerie Thompson (Cello); Dance Captain: Patrick Martin
With Amy Barker (Marmee), Sarah Coombs (Meg March), Deanna Dunmyer (Aunt March), Jillian Gavin (Beth March), Liza Giangrande (Jo March), Kenny Lee (Laurie), Michael Jennings Mahoney (John Brooke), Kevin Patrick Martin (Professor Bhaer), Sarajane Morse Mullins (Mrs. Kirk), Colin SanGiacomo (Ensemble), Robert Saoud (Mr. Laurence), Katie Shults (Amy March)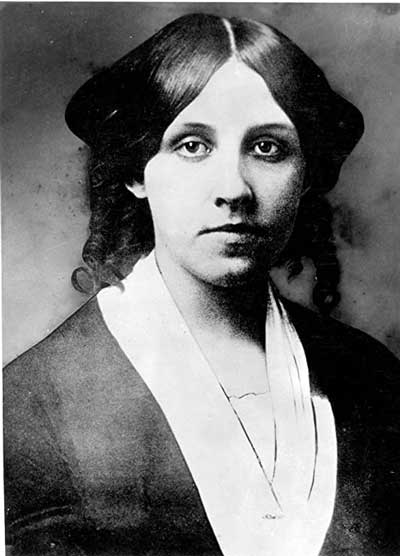 A radiant production of a nicely written musical based on the famous book about four sisters from Concord, Massachusetts, set during the Civil War, superbly directed and choreographed.
The famous classic by Louisa May Alcott is about a family, but it is also about the development of a young writer, and this musical, brilliantly and interestingly directed and performed at Stoneham's small gem of a theater, blends the two themes in a persuasive way. The early imaginings of the young writer, Jo March, are played out intermittently by the cast which mostly doubles as the family and friends of the writer, and the results are very funny. The swashbuckling narratives conceived by the young Jo are about as far away as one could conceive from the sort of novel she comes to write as she matures – something indeed very much like Little Women itself. The focus on Jo's early possession by the idea of writing something that will be publishable and popular is cleverly dramatized and framed in this charming musical, and wonderfully conceived and presented in this production. As a result, the penetrating force of the novelist's lesson that emerges – to write about what one knows – is dramatically stated.
Little Women takes much of its power and popularity from the drive of its young protagonist to succeed as a writer and from its portrayal of the context of family and friendship within which that writer has developed. It is an inspiration for young women who see in Jo a model of someone who can be determined to do what she wants to do, yet deeply connected, and even available – perhaps in unexpected ways – to romantic involvement. It is certainly a model for dynamic young women, but indeed a model for anyone, and it would shortchange the significance of this wonderful work to think of it merely as a book for girls. Indeed, it is, for anyone, a powerful narrative about energetically pursuing a goal, responsibility towards loved ones, and the opening of the heart to connection when it shows its face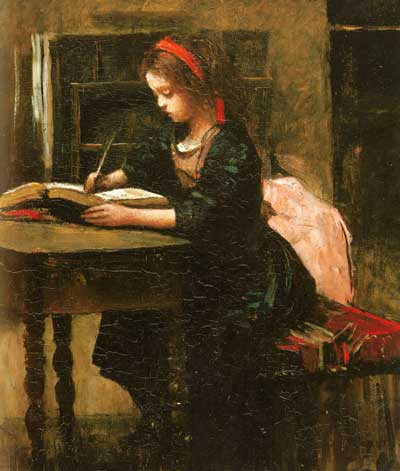 The story is familiar, of course. Jo March (Liza Giangrande) is an aspiring writer living in New York, pumping out one sort of adventure tale after the next without too much publishing success. She becomes friendly with Prof. Fritz Bhaer (Kevin Patrick Martin) and is drawn to him, but she is called back to her home in Concord, Massachusetts, because of the serious illness of her sister, Beth (Jillian Gavin). The background tale of Jo, Beth and their two other sisters, Meg (Sarah Coombs) and Amy (Katie Shults), their mother, Marmee (Amy Barker), and their neighbors Mr. Laurence (Robert Saoud) and his grandson Laurie (Kenny Lee) form the substance of the story. Jo's literary interest eventually turns to her family and she produces a manuscript which she sends to Bhaer to read, and from that point things, personal and professional, develop apace.
What a wonderful production! And what a nicely written musical. A high level of performance – both acting and singing – prevails throughout, clearly a testament to the estimable direction and choreography of Ilyse Robbins. Robbins, who has been on the Boston theater scene for years, has justifiably won numerous awards for her choreography, and this production is a strong affirmation of that capacity. The elegance and inventiveness of her choreographic design is not fussy nor overdone but clever and appropriate, giving just the right amount of dramatic umph to the scenes in which it is applied. One can go see a lollapalooza Broadway production with all sorts of fancy and extensive dance routines; the kind of choreography which Robbins creates here is so artful and integrated that it does not need that kind of lollapalooza in order to to excel, which it clearly does, in spades. One could go to this show simply for the choreography, though the dramatic and musical riches of the production extend well beyond that.
Robbins is also incredibly talented as a stage director, and manages to draw wonderful performances from almost everyone in her cast. That is the true mark of great directors – they leave no one behind. The range of the acting here is wonderful – sometimes very funny and caricaturishly accentuated in hilarious ways, sometimes exceptionally nuanced and touching.
The musical direction by Matthew Stern is also top notch. Stern has been around Boston musical theater circles for quite awhile as well and has done extensive excellent work. His work on Sondheim's Merrily We Roll Along at the Huntington Theater in Boston five years ago was particularly memorable, but there have been many other excellent productions that owe much to his musical oversight. The musicians in this production were indeed very good. The score is neither unconventional nor revolutionary, but it is competently written, technically challenging in places, and requires a good deal of adept musicianship to pull it off well, and the small orchestra rises ably to the occasion.
All the singing here is excellent – nuanced, expressive, thoughtful. Perhaps a few notes here and there in the performance I attended could have benefitted from a little retuning, but the vocal work overall is so excellent that those small errancies are easy to put aside.
As Jo, Liza Giangrande does a terrific job, exhibiting the necessary drive, determination and sass but maintaining a vulnerability that infuses it throughout. Her voice is forceful in a way that fits in well with the part, and her singing, both solo and paired, is capable and engaging.
One of the great traits of this production is its humor. Many of the characters are drawn in ways that are slightly over the top, but not unappealingly so. The result is wonderful fun, and it saves the production from what might easily turn into a more standard period piece. With Robbins' adeptly conceived stage direction, all of these characters become humorous in one way or another. As Meg March, Sarah Coombs is very funny, as is Katie Shults as Amy March, with strong, forthright gestures and solid vocalizations. As Aunt March, Deanna Dunmyer is outright hilarious; she could easily have embodied a stale and alienating part as the old, wealthy, nasty relative, but Dunmyer makes such wonderfully punctuated gestures at every turn that the character becomes a real hit – one waits to see what her next gag will be.
Other roles have less dramatic humor, but there is a gentle kind of wryness and lightness added to their parts. As Laurie, the would-be consort of Jo, Kenny Lee is lively and engaging, and as his tutor, John Brooke, who finds his own way into the March family, Michael Jennings Mahoney is adept and forthrightly appealing. Robert Saoud, as Mr. Laurence, Laurie's grandfather and the March's neighbor, does a wonderful job as the moody codger who turns a leaf, and he and Jillian Gavin, as the vulnerable Beth March in only a few of the performances, do a couple of lovely duets together at the piano. Gavin, in a sensitive and less humorous role than the others, is sweetly appealing and conveys that sensitivity through an equally warm voice. As Marmee, the girls' mother, Amy Barker holds forth with some wonderfully rich solos. And as the stilted but lovestruck Prof. Bhaer, Kevin Patrick Martin, exhibits appropriate constraint mixed with passionate internal boiling-over regarding the object of his affections. (Martin is also the dance captain for the show.) With limited stage time, Sarajane Morse Mullins does a fine job as Mrs. Kirk, Prof. Bhaer's housekeeper.
The music for this show by Jason Howland, though not highly innovative, is lovely and entertaining, and the lyrics by Mindi Dickstein are clever and engaging. There are some very catchy tunes here, indeed. Better, sung by Jo in Act I in response to Prof. Bhaer's feedback on one of her early swashbuckling tales, is a real showstopper. Off to Massachusetts, a lovely duet for Beth and Mr. Laurence is charming and catchy. And Here Alone by Marmee, about her husband being away at the Civil War and her solitary responsibility for their four daughters; is thoughtful and lyrical; Amy Barker conveys it beautifully. And there are numerous others.
Need I say more? Go to that little gem in Stoneham and see it – it's terrific. By the way, in Stoneham parking is very easy. Do make sure, in general, to put Greater Boston Stage Company on your radar.
– BADMan (aka Charles Munitz)