Concert
Lexington Symphony
Jonathan McPhee, Music Director
Cary Memorial Hall, Lexington, MA
November 19, 2022
Wolfgang Amadeus Mozart
Overture to Don Giovanni
Peter Ilych Tchaikovsky
Symphony No. 5 in E minor, Op. 64
Ray Angry
Black Athena~Power
World Premiere/ Lexington Symphony Commission
Bashiri Johnson, percussion
Coreisa Janelle Lee, flute
The New World Chorale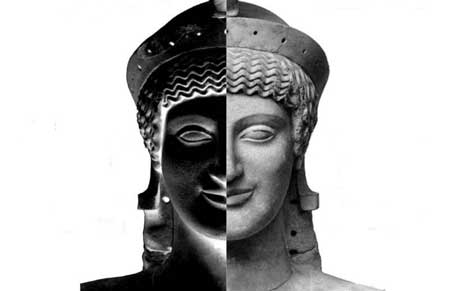 A diverse and interesting concert featuring a new exuberant orchestral composition by Ray Angry, member of the hip hop band The Roots.
The Lexington Symphony, a professional orchestra based in Lexington, MA, has been around since the 1990s, and is currently led by Jonathan McPhee, long time conductor of the Boston Ballet and now an emeritus conductor there. They packed the house for this daringly programmed concert which featured a new orchestral composition by Ray Angry, a member of the well-known hip hop band The Roots, which for some years, among its other engagements, has served as the house band for Jimmy Fallon's late night show.
Angry's piece was presented in the second half of the program and was preceded, in the first half, with two seemingly unrelated pieces but which, according to comments by Music Director Jonathan McPhee, have subliminal and persuasive relationships with it and with one another. At first blush it is hard to see an obvious relationship between the overture to Don Giovanni and Black Athena~Power, nor with the Tchaikovsky Fifth Symphony, but on further reflection interesting relationships emerge. McPhee alluded to some of these subliminal connections in brief but very helpful comments during the performance. Indeed Don Giovanni is intense, as are all of the pieces in this concert, but with a comedic twist, as astutely pointed out as well in the program notes by Cindy Fong. Indeed, this intensity combined with a kind of wryness yields a sense of irony that accompanies its underlying tragedy.
As well, as McPhee noted, Tchaikovsky was Russian but of Ukrainian heritage, a timely reminder of the deep interplay between those cultures and the way in which one of its greatest cultural exponents exposes that dual paternity. As well, the symphony itself is, like the other pieces on the program, intense, but also with a lyrical and lively sense that is woven within that intensity. If anything, the dual descendancy of Tchaikovsky reminds us, at the time of the tragic war between Ukraine and Russia, of the beauty and vitality that emerge from those cultures directly threatened by this conflict.
The commissioned piece by Angry, as he described it in comments to the audience before it was performed, is about power. The piece is entitled Black Athena-Power and paired with that underlying motif of power is the image of Athena, Greek goddess of wisdom, which, as Angry noted, came to him, after conceiving the underlying motif of power, as the complementary theme of the piece.
Conceiving this in the midst of the current phase of the pandemic and in anticipation of the midterm elections in the United States, Angry wondered what he could write that was deeply human. He decided to fashion a full orchestral work that was divided into three movements, Age of Aries, Age of Aquarius and Age of Pisces. Each of these has a motivating core era as a theme: Aries is driven by ideas about ancient Egypt and Greece, Aquarius is motivated by the age of discovery of new lands, and Pisces is enlivened by new ideas suitable for the contemporary world, with the vision that humans can realize we can be stronger together. That last movement conveys the sense of everyone singing and dancing in harmony, with joy and a sense of vitality; as Angry says, we humans deserve to have a bit of fun, and he hopes that the piece is both rewarding as a classically formed composition but also as one that is soulful.
Indeed, Angry's piece is intense and reflects on global history with a penetrating and thoughtful demeanor. Its vibe is huge – it creates large swaths of sound in interestingly orchestrated ways, and there is a full chorus to boot. The eponymous Black Athena is emblematized by a solo flutist – Coreisa Janelle Lee – who gave a commanding and lyrical voice to the role. Her playing was adept and expressive, offering a persuasive presence and beautiful delivery that gave an eloquent dignity to the flute's role as Athena's voice, the reminder of wisdom in the midst of life's trials. Mastering percussion was Bashiri Johnson, whose artful promotion of the heartbeat in its various forms gave vitality and consistency to the large sound landscape that held Angry's pervasive historic vision. The large chorus sang with gusto, without words during the first two movements, and with a very upbeat, semi-repetitive libretto for the third movement. But, in that third movement, the sound was so lush that the words got more or less swallowed; it was good to have a sheet, enclosed with the program, that contained them.
Angry's piece is remarkably persuasive for a first orchestral outing. It is lush, grand, rich in voice and texture. The use of its soloist is interesting, and compelling at times. There is a sweep and a drive that lies behind the entire piece and one can, indeed, relate this intensity of drive to that which motivated Mozart and Tchaikovsky. There were points I was so taken by some of the soundscapes that Angry created I wanted them to continue, but sometimes found that those moments were overturned in the interest of bringing along something new. It is certainly an admirable gesture to keep things new and moving along, but when one finds something compelling one wishes it would stay a bit longer. The repetitiveness of Minimalism plays that out a little too much and too mechanically, but, in this case, Minimalism is not at issue; I wish Angry had held and suspended those wonderful moments a bit longer. His orchestral work is indeed accomplished and promising, and I look forward to hearing future efforts and more of that lyricism that felt so present in this piece.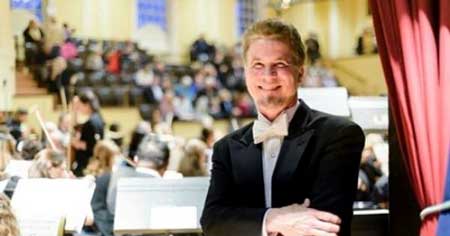 Jonathan McPhee did an admirable job in commanding the large orchestra, the chorus and the soloist in the Angry piece. He seemed to really come alive with the challenge and gave a sense of that vitality in the performance. As well, he should be credited, as should the Lexington Symphony, for commissioning such a new, bold and interesting work – that courage and innovation in programming are most laudable and appreciated. The orchestra played very well, especially considering that it is an ensemble that gathers for a relatively short rehearsal period before each of its several concerts a year. Their adeptness, in managing the new Angry piece, and especially in some of the rapid-fire sections of the Tchaikovsky, were most apparent.
Here are some more detailed notes on the performances:
Wolfgang Amadeus Mozart
Overture to "Don Giovanni"
The rip-roaring and intensively note-filled opening very measured, carefully managed, perhaps necessary with this opening which offers such potent and kinetic demands on the violins right out of the gate. As it moves along, more verve, still within carefully curated constraints. Some lovely work by the winds, with some nice additional reflection by cellos and violas. As the piece develops, the violins come more into their own.
Peter Ilych Tchaikovsky
Symphony No. 5 in E minor, Op. 64
Interesting prefatory note by conductor Jonathan McPhee regarding Tchaikovsky at this point in his life and career: he was very uncertain of himself and thought he had nothing else to say. How wrong Tchaikovsky was, it turns out. As well, McPhee noted that Tchaikovsky was of Ukrainian descent – particularly ironic at this moment in time – and that Mozart was his favorite composer. A wonderful series of insights that help set the stage for what comes.
Andante – Allegro con anima
Stable outing, but wondering about the nuance, which gradually then builds as the piece gains a bit more gravitas. With the allegro, picks up a bit more energy, and in full stride the orchestra gains compelling coherence, and conductor McPhee gets with the program. Strings now flowing, unified, evocative – begins to really swing. Horns creeping out of the background. Transition to the waltz requires a few practice steps then finally lands. Nice interplay from violas to first violins. One hears the way Tchaikovsky works the variations a la Mozart – another interesting resonance in the program. Clear clarinet and flute solos. Violins sound good in unison here – energetic, strong. Horns climbing up out of the mist. Leads up to a good energetic finale, more fanfare than poetry. Finishes with bass tapering out to final thump – done very nicely.
Andante cantabile
Good measured, thoughtful intro. The horn reaching up from the dark, not quite emerging; oboe leaning next to it. Violins really coming into their own. Clarinet a clear beacon, followed similarly by bassoon. Cello solo promises while trying to catch its breath. Violins compelling once again, as the clarion clarinet raises its clear voice. The conductor's urge to move forward quite pronounced, but then the orchestra returns in full flower, playing beautifully. A storminess reminiscent of Don Giovanni hides, under the surface, within a pastoral, romantic hymn, ending with a nice arpeggionic foray by the singular clarinet.
Valse: Allegro moderato
Nicely done by the first violins, then joined amicably by all the violins, with nicely syncopated interleaving. The wind solos pant a little while the violins take off with considerable verve. All this busyness inside a waltz! Nice cello solo, and the oboe now rises forth, finishing with exuberance.
Finale: Andante maestoso
Recapitulation with grandeur. Broad. Same theme, at first ho-hum, but with more embellishment, and, in unison, real force. Horns sound lovely here, and all picks up with accelerando. Nice, eloquent appeal from the violins. Here the more structured approach bears fruit – the fanfare, instead of laborious, moves forward with alacrity. Transition to final energetic section quite exciting. Nice scrubbing by second violins and violas, violins now fluent and eloquent. As the pace picks up, the orchestra follows nicely. It winds down with a faux classical finish – then picks up again with main theme. Nice interplay of theme in horns and scrubbing away in fiddles. Change of key near the end quite interesting, followed by syncopation into recurring theme at very end, done with gusto.
Ray Angry
Black Athena~Power
I Age of Aries
Miked flute and chorus – interesting. Wonderful erupting of harp out of low horns and timpani. Johnson's African drums beneath. Lee's lilting flute interplays with orchestral flute. Wonderful washes of sound landscape – quite intoxicating, wished they lasted longer. Chorus erupts wordlessly, hauntingly. Flute trills fill texture beautifully; chorus wonderfully full. Earnest rumblings yield to winds descending on solo flute. Beautifully orchestrated – exuberant textures. There's a little bit of hip Messaien in here. The chorus providing an amazing wordless background. McPhee very well suited to this kind of effort, clearly rises to the occasion adeptly and with great energy, keeping things aligned while the power explodes in the music itself as he transmits that liveliness. Cataclysm builds, but the flute – like a voice of enduring hope – rides through it persistently, as a singular theme reasserts itself.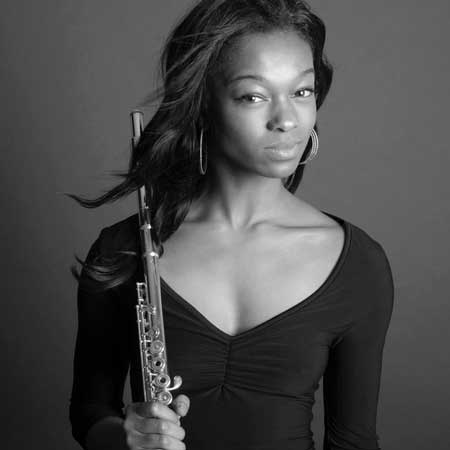 II Age of Aquarius
Gong gives rise to flute glissando. And marching legions. Some of this could be out of Fantasia – program-like and cinematic, but not quite. The timpani carries on a trill and the chorus is effectively omnipresent. Flute a little less prominent under the duress of the plodding legions. This is real gladiator, trireme rowing, music, but not unappealing. Flute enters with grace and determination. Edgy tonal parallelisms try to break up the plodding forward. Chorus comes in over the plodding as a kind of paean to power, but yields the insight that this form of power is too unified and desultory, too domineering, not true enough to itself.
III Age of Pisces
Begins grandiosely, but then erupts in the flute. A lot of excited violins – the moment resists them. The chorus enters, now with words, kind of like an incantation, a little wild all around. Flute dances over, but the moment is too orchestrally crowded and begs for a little more opportunity for Lee, such a lyrical exponent, to sing from the flute. The choral words don't really come through, but it doesn't really matter. Very percussive all around – Johnson's articulate presence constantly felt. Now the orchestra is clapping along – great! Ah, but here we are – the flute now returns to a lovely, lucid theme, all of a sudden born of Impressionism. A wonderful conjunction of orchestral line and flute. The chorus reaches out and emerges as it repeats power again and again. And then love is power, an alternative to the professions of Age of Aquarius and love is always love, an ironically paradoxical identification that moves again back beyond words. One thinks of the great pre-Socratic Greek philosopher Empedocles who argues the essential duality of love and strife as an emblem of the large historic and cultural themes Angry has undertaken in this massive, often eloquent, piece. A wonderfully articulate and self-possessed Coreisa Janelle Lee is the most fitting exponent of the Black Athena motif. The underlying drive of Bashiri Johnson's percussive wonders and the enveloping soundscapes conveyed in utterance and speech by the New World Chorale mix with the pitched and adept playing of the Lexington Symphony under Jonathan McPhee's attentive and capable management to produce, along with Lee's flute, a most satisfying result.
– BADMan (aka Charles Munitz)