Concert
A Far Cry
Jordan Hall
Symphony Hall Area, Boston
November 18, 2022
Suite of Early Mexican Music
Arranged by Alex Fortes
Silvestre Revueltas (1899-1940)
Cuauhnahuac (Original 1931 Version for String Orchestra)
Julián Carrillo (1875-1965)
En Secreto From Dos Bosquejos
Gabriela Ortiz (b. 1964)
La Calaca (2021 Version)
Suite of Mexican Pop, Folk, and Mariachi Music
Arranged by Alex Fortes
Estelí Gomez, Soprano
A stupendous concert – lively, inventive, warm, inspiring, fun, and impeccably rendered.
The performers in A Far Cry, familiarly known as Criers, have done it again. Every time I go to one of their concerts I am blown away by the whole vibe and the incredibly high degree of musicianship. This current outing is no exception. With a Mexican theme, the concert brings together a varied series of offerings ranging from those in Renaissance and Baroque style to selections from the contemporary world . Some are in a more serious musical vein, some popular. The result is vital and exuberant and the musicianship is extraordinary.
The program – which was conceived five years ago and was delayed because of the pandemic – was coordinated by Crier violinist Alex Fortes who, as well, arranged – exquisitely – many of the pieces on the program. All of the arrangements – ranging from the Suite of Early Mexican Music which opened the program through the Suite of Mexican Pop, Fold, and Mariachi Music which closed it – were balanced, nuanced, and consistently interesting. None of them was technically easy, but the remarkable Criers rose to the occasion flawlessly and with gusto.
After the initial Suite of Early Mexican Music, three original works by the Mexican composers Silvestre Revueltas, Julián Carrillo and Gabriela Ortiz filled out the first half of the program. Carrillo and Revueltas were born in the latter part of the nineteenth century, but Ortiz was born in 1964, so her work was more contemporary, though each of these compositions conveyed a distinctive Mexican flavor and conveyed compelling tonal consistency, not always a distinctive trait of contemporary compositions.
The second half of the concert featured soprano Estelí Gomez singing the ten distinct entries in the Suite of Mexican Pop, Folk, and Mariachi Music. It would be hard to convey the richness, charm, and range of her voice which seemed to stretch all over the place and did so fluidly and effortlessly. The arrangements by Alex Fortes were stimulating and fascinating, and tons of fun to listen to, both from the instrumental and the vocal perspective. If one could be intoxicated by a program of torch-style and other popular songs sung by a diva with an operatic range but with unexpected vocal maneuvers of all flavors including semi-yodels, this was the opportunity. She was amazing, and with the Criers, the result was extraordinary.
The audience applauded ferociously, and though there was no real provision for an encore, the group revisited the emblematic last song of the evening, Mexico Lindo y Querido to give the audience a final treat – and a treat, like the rest of the concert, it was.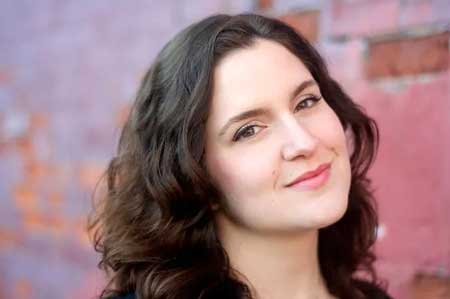 Some notes on the particular pieces:
Suite of Early Mexican Music
Arranged by Alex Fortes
Juan Gutiérrez de Padilla (1590-1664)
Deus in adiutorium meum intende
Lovely, syncopated, in Renaissance style.
Juan Gutiérrez de Padilla (1590-1664)
A la xácara xacarilla
This begins to have a bit of Latin flavor, persuasively syncopated. The clarity of the Criers' playing is striking, with various duplicate pairings quite eloquent and interesting.
Traditional Veracruz (before 1766)
Chuchumbé
A little saltando and battuto bowing (speedy, short, and with the wood of the bow) adds to the Hispanic flavor. Starts intentionally scratchy, but follows with compelling interplay of cello and viola and really takes off.
Gaspar Fernandes (1566-1629)
Xicochi Conetzintle
A bit of Renaissance flavor, but with New World touches.
Juan García de Zéspedes (1619-1678)
Guaracho: Convidando está la noche
Latin beat. Lovely bounce in the violins with an erupting solo by the lead violin. Wonderful consonance between the first and second violin leads. Then some terrific counterpoint by the viola. It really moves. Vital, though based on a very simple tonal motif.
Silvestre Revueltas (1899-1940)
Cuauhnahuac (Original 1931 Version for String Orchestra)
Begins with a searching, striding bass. A haunting noir violin atmosphere opens, and an urging develops. Staccato interplay filtered with longer exploratory gestures. A lyrical opening in the forest, an airy clearing. Then, a setting-out. Simple unions develop in bowings between sections – very clear – pastoral. Then, it heats up to a thrum, with the energy of a Spaghetti Western. Now all of the violins are doing many different things – to great effect. Then, a placid opening, almost like a chant to the earth, followed by a fierce and robust attack – singularly harmonic, it breaks into moments of 3-against-4 pluckings. Solemnity returns from the cellos in a very clear unison, ending hauntingly quiet and meditatively.
Julián Carrillo (1875-1965)
En Secreto From Dos Bosquejos
Airy and lilting like a Ligeti-type spaciousness. Shows its unique styling immediately as it wanders up and down scales hauntingly in quarter tones. As they slide down from above it's almost like a sad laugh. Haunting creepings in opposite directions, it's a bit minimalistic throughout, then it opens in the end. A plucking like a heartbeat, a lingering of exploratory notes, then it rides off into empty space.
Gabriela Ortiz (b. 1964)
La Calaca (2021 Version)
Very jazzy and Hispanic at the outset with a solid beat and flowing pizzicati. A searching lyricism at it travels upwards. A singular folk song for the principal violin. And now it's a pluck fest! The are on the move. And then, a lush interim section followed by an energetic staccato. There's a little Copland here. Riffy rhythms take off, and a wonderful fugal syncopated section with a little of the feel of How The West Was Won. It's great to see the Criers hold forth in rich unison and with such incredible jazzy energy.
Suite of Mexican Pop, Folk, and Mariachi Music
Arranged by Alex Fortes
Estelí Gomez, Soprano
La Cigarra
by Raymundo Perez y Soto (1908-1991)
Wild. Racy violins. Even though Gomez is a soprano, her tone is so rich, her range so deep, it's also a great alto voice. She can really sing! Like a wonderful bird, she can go very high but her register is lower. And then she's a coluratura! Terrific plucking – a violist is even doing actual percussion on his instrument!
La media calandria
Traditional Mariachi
Lilting violins accompanied by an adept plucking in violas and cellos. And then the Criers start singing along – wonderful, hilarious! Gomez is totally wild and they're all wild together.
El Ratón Vaquero
by Francisco Gabilondo Soler (1907-1990)
As explained by Alex Fortes, Walt Disney listened to Soler and likely fashioned some of his memorable themes and characters after some of Soler's themes and characters, notably Three Little Pigs and Jiminy Cricket. It does sound a lot like what we have come to know as Disney, but it's' probably exactly what Fortes said – that Disney copied the vibe, the inspiration, the tonality, and even the characters, from Soler. Gomez pulls it off again, alternating a sonorous monologue voice with a cartoon voice. Hilarious!
No Me Queda Más
by Ricky Vela
A great Selena hit starting out with slithering strings. Wonderful teary ballad and Gomez says it all so well. A beautiful arrangement by Fortes. A real heart thumper. Such inventive use of strings that it sounds like a whole orchestra.
El Pastor
Traditional Mariachi
An imitation of a shepherd's flute. Begins with bouncy bows in rhythm, and Gomez's voice rises indeed like a flute, her voice like clay which she shapes in all sorts of ways – there's even a yodel in there.
Palomo Del Comalito
by Lila Downs (b. 1968 and Paul Cohen (b. 1954)
A song dedicated to women who grind corn into maza. Gomez whistles, lilts, chirps. In unison with the orchestra with the violins doing false harmonics and intentional scratches. I love it when Gomez sings to the violas!
Cucurrucucú
by Tomás Mendez (1927-1995)
Ai ya a ya yai, as it begins, indeed! The sound of the mourning dove, so sweetly rendered. Textures of the bird so delicately interpreted, and Gomez ends it so sweetly.
La Malagueña
Traditional Mariachi
Energetic opening. Such a truly beautiful voice – a genuine vocal gymnast! She holds the notes in mid-space and intoxicates all those who listen.
El Rey
by Jose Alfredo Jimenez (1926-1973)
They all seem to be having fun, and the orchestra joins singing the chorus. Terrific.
México Lindo y Querido
by Jesús Monget Ramirez (1910-1964)
A graceful waltz intro. Such a lilting poetic voice Gomez has. It captures sweetness but without cloying. Then it changes rhythm – wildly and interestingly. And a shout from the orchestra. So great a finish that the Criers and Gomez encored it. We could have listened to it over and over – wonderful, indeed.
– BADMan (aka Charles Munitz)