Film (2022)
Written and directed by Todd Field
With Cate Blanchett (Lydia Tár), Noémie Merlant (Francesca Lentini), Nina Hoss (Sharon Goodnow), Adam Gopnik (Self), Mark Strong (Elliot Kaplan), Sophie Kauer (Olga Metkina), Allan Corduner (Sebastian Brix), Julian Glover (Andris Davis), Zethphan Smith-Gneist (Max), Sylvia Flote (Krista Taylor)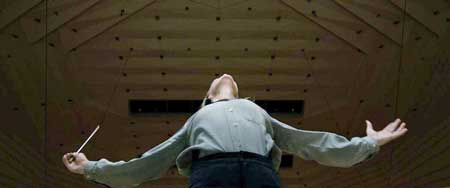 A film about an acclaimed woman orchestra conductor who is suffering from stress and other psychological ailments.
Lydia Tár (Cate Blanchett) is a highly erudite, highly acclaimed, multi-talented orchestral conductor who shuttles between Berlin, New York and many other places. She rehearses orchestras, teaches conducting students, gives lectures, and publicizes her new book. She is demanding, insistent, intense and generally not very nice, but given a wide berth because she is generally regarded as a genius.
In Berlin, where she leads one of her orchestras, she has a wife, Sharon (Nina Hoss) who is a violinist in her orchestra with whom she shares a young child. Despite her marriage to Sharon, Tár is drawn to a new very talented young Russian female cellist, Olga (Sophie Kauer), but that is only one of Tár's many intrigues. Apart from the infidelities, she's generally awful. She undermines colleagues, putting older ones like her assistant conductor Sebastian (Allan Corduner), out to pasture and declaiming younger ones sometimes with dire consequences. She professionally blackballs an old colleague, Krista (Sylvia Flote) with whom she has had an affair, to tragic effect. Clearly she is suffering from some combination of anxiety, narcissism and other personality disorders which catch up with her and gradually take their significant toll on her personally and professionally.
This is a poorly done film. I have not, in a long time, seen something that I find so ineffectively written and directed, so pretentious, constructed without following through on its narrative lines, and weakly executed overall. It will probably win lots of Academy Awards because its subject, a psychologically tormented narcissist, is likely to draw attention; films in which people crack up can be very popular. Great, frail, tragic heroes, even in mediocre films, often get significant recognition because the roles are so fraught and challenging. That may indeed have been the attraction for a magnetic actress like Blanchett, though this film shows her talents far short of what she is capable.
The dialogue goes on so pretentiously and laboriously, especially so at the outset, that it's painful to watch and worse to listen to. I thought write-director Todd Field was trying to rival Louis Malle's My Dinner With Andre (1981) for wordiness, though that film is great and makes good and ultimately entertaining and meaningful use of its dense conversation. As well, Richard Linklater's Before Sunrise (1995) series, is wordy – almost all conversation – but it isn't pretentious in the way that Tár is, and has a built-in drama that carries the endless conversation forward. In Tár, there is only a continual dropping of names or a flooding of the soundtrack with multiple languages, often not subtitled, that, except for exhibiting a silly kind of intellectual posturing, seems entirely pointless. And the drama in Tár is so poorly evoked and so hidden by the forest of laborious chit-chat that it does not carry the film forward in the way that it should.
I happen to be a fan of orchestral music and love dramatizations of orchestral goings-on in such outings as the dramatic comedy Mozart in the Jungle (Amazon Prime, 2014-2018), which I found appropriately revealing and interesting without banging over one's head the supposed refinement of the scriptwriter. (Tár, in its endless dedication to winking, mocking and setting itself apart, briefly references Mozart in the Jungle, and Los Angeles Philharmonic Music Director Gustavo Dudamel who provides a model for the conductor in Mozart in the Jungle.)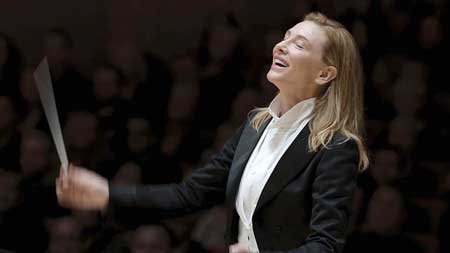 In short, the script for Tár seems like an overly long and drawn out first draft of something that would have to be cut way back in order to make it produceable. Not only is its dialogue insistently overwrought and arcane, but its unnecessary length is noteworthy. It may simply be that the usually superb and highly regarded Cate Blanchett was drawn to the role. She is wonderfully potent in so many roles and seems ideally suited to this portrayal of an accomplished, refined, abusive, self-destructive genius, but the limitations of the script and direction make even the great Blanchett not come off well. Apart from the unwieldiness of the script, her character's movements as a conductor, meant to be viscerally expressive, instead are merely caricaturish. She writhes and cringes in apparent explosions of passion, but it all seems put on.
Adam Gopnik, the great essayist and long-time staff writer for The New Yorker, shows up early on in a role as a journalist interviewing Lydia Tár before an audience. Even Gopnik, who is wonderfully wry, incisive and articulate in his own writing, does not come off at all that way here. I am a long-time fan of Gopnik's and it's heartbreaking to see him undermined in this way by such a limited script.
Through the complex morass or dropped names, multiple languages, episodic portrayals and trailing narrative, the central character study of narcissism and its dangers frequently gets lost. Tár's abusive blacklisting of Lydia, her obvious and errant pursuit of the cellist Olga, her awful treatment of students in general and in particular Max (Zethphan Smith-Gneist) whom she berates mercilessly and without any coherence, appear to derive from a frail and phony ego born from forcefully suppressing and plastering over a very modest upbringing. In this sense, despite being far from a great film, it provides a useful exploration of an all too prevalent trait particularly evident in certain public figures in the contemporary world. Were the film more coherent, it would have better realized its important motive; instead, its narrative gets lost in a sea of verbal drivel.
There are a lot of narrative strands in this film that poke out but don't go anywhere. What is the deal with Tár's crazy neighbor and her bedridden mother? We get a scene in which the mother has fallen off a commode and is soiled. What's that about? The flirtation between Tár and Olga only provides a hint of seductive abuse, but doesn't go far enough to convey it more persuasively. Tár's manipulative suppression of email communications with Lydia provides an allusion to her tyrannical narcissism, but we just don't get enough of the background story to make real sense of it. A brief scene with Tár's brother – who calls her derisively by her original name, Linda – is meant to reveal the secret about her modest upbringing. Short and undeveloped, we are left to speculate; consequently, the scene hints at but does not go very far in revealing the deeper seeds of her warped character. Bad dreams and hallucinations are interspersed to indicate Tár's psychological disintegration, but there, as well, they hint at but don't deliver much.
As far as imperious and sadistic music teachers go, the very well written, directed and acted Whiplash (2014) casts J.K. Simmons as a merciless jazz drum teacher who drives his talented student to his physical and emotional extremes supposedly in the interest of making him a top-notch musician. Though not representative of good music instruction, this depiction of a tyrannical teacher is dramatically, if not pedagogically, persuasive. Tár also depicts a tyrannical teacher, suggesting that Lydia Tár's genius is what drives her to be oppressive but ultimately helpful to students. But the portrayal of her instruction is so arbitrary and full of so much meaningless jabber that the nastiness does not even come off as even vaguely beneficial; consequently the dramatic tension of such a portrayal, much more evident in Whiplash, gets lost in Tár.
Tár is a very long film, about two and a half hours. From early on I was looking at my watch repeatedly – it's boring as well as annoying. Though the film deals with a fascinating cultural universe and a potentially magnetic central subject, its failures to probe character, relationship or psychological complexity with any degree of incisiveness or subtlety, and its general lack of coherence, prevent much satisfaction.
– BADMan (aka Charles Munitz)