Concert
Juliane Gardner: vocals
Chris Poulin: guitar, vocals
Surry Arts at the Barn
Surry, ME
July 8, 2022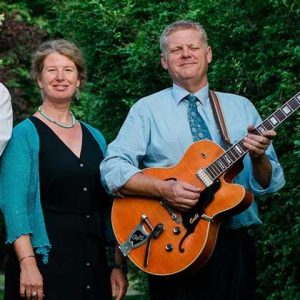 A wonderful jazz vocal duo with guitar accompaniment, doing lots of originals.
Partners Juliane Gardner and Chris Poulin joined together as Shades of Blue at the Surry Concert Barn to provide a lovely evening of mostly original compositions offered in a smoky, jazzy, appealing style, supported by two great voices and Poulin's highly competent jazz guitar.
There's a lot going on in the offering of this great jazz duo – mostly evident in their fabulously smoky and jazzy vocals, but supported with eloquence and capacity by Chris Poulin's immensely capable jazz guitar abilities.
The rapport between Poulin and Gardner is immediately apparent, though Poulin is obviously doing double-duty as guitarist and vocalist. As guitarist he is dutiful and capable, but he seems to really relax and open up as soon as he opens his mouth and starts to sing. Both Gardner and Poulin sing beautifully with a wonderfully warm and hip jazz tone, and it's evident they work hard at musical communication, their compatibility and rapport going a long way to give breadth to their small band.
The songs are charming – simple in lyrical formulation but perfectly suited to jazz motif – and, with that studied coordination, Gardner and Poulin carry it off with grace and panache.
Sometimes it seems as though Poulin has to work a little too hard as the only instrumentalist. Surely evident to Gardner and Poulin, a bit more instrumental support would be welcome, and it seems likely that would ease Poulin up to wail a bit more in the manner to which more instrumentally supported jazz guitarists get to do. Nonetheless, their work is pleasing and delightful, but might be a bit oiled by that addition of a bit more instrumental support.
It's a pleasure to hear this offering in the Surry Concert Barn, where Alan Wittenberg, assisted by Merle Bisberg, for a good part of the last decade have established and maintained a highly diverse and interesting concert series. Wittenberg and Bisberg are long-time members of the larger Zen Buddhist Community established in Surry by Zen teacher, concert pianist, vocal coach and impresario Walter Nowick in the late 1960s. When Nowick stepped aside from teaching Zen in the mid-1980s, he expanded his musical activities and established a serious amateur opera company, The Surry Opera, which not only performed extensively in the concert barn in Surry and other locations in the United States, but which traveled and concertized widely in Russia, Ukraine, Georgia and in Japan. As solo concert pianist and in chamber music configurations as well Nowick performed extensively at The Surry Barn.
Nowick died in 2013 and Wittenberg, with Bisberg's help, began to reinvigorate the musical life of Nowick's Surry Barn which has expanded over the years to its extensive list of current offerings. Wittenberg and Bisberg have kept that tradition alive with a robust variety of concerts throughout the summer but in a good part of the spring and fall as well. Jazz, classical and all sorts of new things appear on the Surry Barn's horizon and it's much worth the effort to seek them out.
This performance by Shades of Blue represents one fine example of the great variety of performers and ensembles provided by Surry Arts at the Barn, most worthy of continuing attention and support by the resident and visiting community to Northern coastal Maine.
– BADMan (aka Charles Munitz)