Musical (1969)
Music and lyrics by Sherman Edwards
Book by Peter Stone
Directed by Jeffrey L. Page, Diane Paulus
American Repertory Theater
Loeb Drama Center, Harvard Square
Cambridge, MA
May 17 – July 24, 2022
Choreography by Jeffrey L. Page; Music Supervisor: David Chase; Music Director: Ryan Cantwell
With Crystal Lucas-Perry (John Adams, MA), Elizabeth A. Davis (Thomas Jefferson, VA), Joanna Glushak (John Dickinson, PA), Tiffani Barbour (Benjamin Franklin, PA), Gisela Adisa (Robert Livingston, NY), Nancy Anderson (George Read, DE), Becca Ayers (Col. Thomas McKean, DE), Imani Pearl Williams (Andrew McNair), Allison Briner Dardenne (Stephen Hopkins, RI), Allyson Kaye Daniel (Abigail Adams / Rev. Jonathan Witherspoon, NJ), Sabrina K. Victor (Caesar Rodney, DE), Rose Van Dyne (Charles Thomson), Liz Mikel (John Hancock), Lulu Picart (Samuel Chase, MD), Brooke Simpson (CT), Sav Souza (Dr. Josiah Bartlett, NH), Shawna Hamic (Richard Henry Lee, VA), Eryn LeCroy (Martha Jefferson / Dr. Lyman Hall, GA), Oneika Phillips (Joseph Hewes, NC), Sara Porkalob (Edward Rutledge, SC), Sushma Saha (Judge James Wilson, PA), Salome Smith (Courier)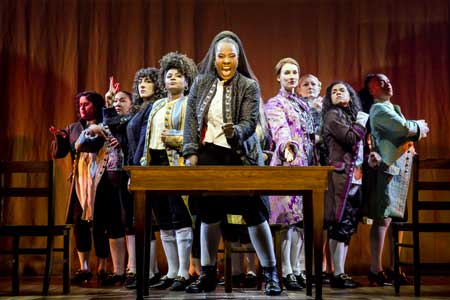 An energetic and spirited production – with a cast of women, trans, and non-binary actors – of the 1969 musical about the drama leading up to the signing of the Declaration of Independence.
When Hamilton burst upon the New York theater scene in 2016 it made possible a whole new way of envisioning how to cast Broadway musicals. With a Revolutionary era subject, Lin-Manuel Miranda managed to create a musical that was based on rap and featured a cast that was almost entirely non-white. It was brilliant and stage worthy, articulate and memorable. It will live on in Broadway musical history.
1776 is a lesser work, though still interesting. It appeared in 1969 and actually won a Tony award for Best Musical in 1972. As a musical, it is minimally eloquent; with Miranda's brilliance looking down from 2016, 1776 appears miniscule. Its music is, at best, standard Broadway boilerplate, and its lyrics are routine. Nonetheless, it captures, with its well-developed bit of drama, a piece of significant American history, and though one already knows how it all turns out it manages to convey some sense of suspense about that outcome.
The story is not opaque: in 1776, the Colonies have already rebelled against King George III but they have not yet signed on with one another. They all feel rather differently about the king and about other things, namely slavery. What comes across, in historical review, as a kind of done deal, was not at all that. It took a lot of work on the part of a few significant patriots – notably, in the context of the story delineated here, John Adams (Crystal Lucas-Perry), Benjamin Franklin (Tiffani Barbour), and Thomas Jefferson (Elizabeth A. Davis) – to get the various colonies to agree to signing the Declaration of Independence. It was not a foregone conclusion nor a done deal from the outset. A lot of compromise had to be made – particularly in removing articles about slavery in order to humor the Southern colonies – in order to get the whole thing ratified. So, there was considerable drama involved, and this show does a good job of showing what some of that entailed. In particular, the resistance of the Pennsylvania leader, John Dickinson (Joanna Glushak), to signing on, forms one of the big plot points. But there are other, more detailed intricacies involved, and those add to the complications. Of course, we know how it all turns out, but that doesn't seem to get in the way.
Diane Paulus, artistic director of the American Repertory Theater, has a genius for developing certain kinds of popularizations with the hopes that they will reach wider audiences and will also make a significant and interesting artistic commentary on the repertory. That is exactly the case here. With a cast that fills the roles of all of the Revolutionary-era men – and there are a lot of them – with women, trans, and non-binary actors – she has enabled a certain kind of twist on the original which makes it perhaps more interesting than it was originally and certainly more interesting in the contemporary world.
I am writing this review on the day that the Supreme Court decided against Roe v. Wade and the poignancy of watching a cast of women, trans and non-binary actors present the Founding Fathers is stirring. Of course, gender equality hovers on the edge of judicial vulnerability in the current climate and this kind of performance makes it particularly evident how important the evolution, in recent years, of acceptance of alternate forms of sexual identification has been. As all of that seems threatened at this particular time, such a clearly articulated form of support for women's equality, and the recognition of alternate sexual identity, seems most relevant and important.
Paulus clearly often brews shows in Cambridge with Broadway in mind and this is no exception. This production will travel to the Roundabout Theater in New York City, and no doubt will be on deck for a longer run on Broadway. The quality of the singing is exceptional. Though the show offers relatively little in terms of memorable musicality, there are enough opportunities for multiple members of the cast to sing in one place or another that it enables one to see that they are all top notch musical vocalists. To boot, Elizabeth A. Davis (Thomas Jefferson) is a very good violinist and fiddles away very adeptly in character from the stage.
The main characters of John Adams (Crystal Lucas-Perry), Benjamin Franklin (Tiffani Barbour), Jefferson (Elizabeth A. Davis), and John Dickinson (Joanna Glushak) are all played very persuasively. (I could not tell whether the short blond haircut worn by Glushak for the Declaration-resistant Dickinson was meant to be a dead-ringer for Hillary Clinton but it sure seemed that way – not quite sure what the implications of that association might have been.) Tiffani Barbour, as Franklin, was a stand-in and did a wonderful job. As the heart and soul of it all, as John Adams, Crystal Lucas-Perry carried the day. As the secretary, Rose Van Dyne had a continuing presence, and when it came time to belt it out, she too did a great job.
There is not much memorable music in this show, though the opener – Sit Down, John! in reference to John Adams unpopular loquaciousness – is well-known and funny; otherwise, the numbers are somewhat sparse and less penetrating, though perfectly acceptable. Nonetheless, they are all well-sung and fill out the well-written script which does deliver a reasonable sense of how the Declaration of Independence was ratified. Though informative and engaging, this is not, as written, a top-tier musical; but this current production is a very good and interesting account of it and well worth one's time.
– BADMan (aka Charles Munitz)