Play (2018)
by Matthew Lopez
Directed by Paul Daigneault
Speakeasy Stage
Boston Center for the Arts
South End, Boston
April 22 – June 11, 2022
With Eddie Shields (Eric Glass), Mishka Yarovoy (Adam/Leo), Jared Reinfeldt (Toby Darling), Mark H. Dold (Morgan/Walter Poole), Dennis Trainor Jr. (Henry Wilcox), Paula Plum (Margaret Avery),Benjamin Cardona, Travis Doughty, Jo Michael Rezes, Kees Joekendijk, Brandon Curry, Greg Maraio, Ricardo "Ricky" Holguin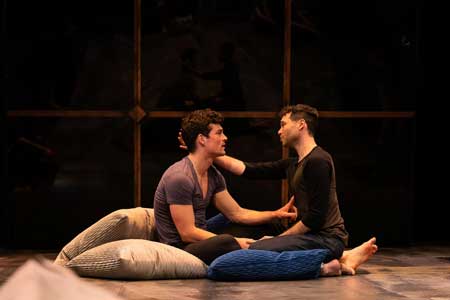 A very long but very well-acted adaptation of E.M. Forster's Howard's End set in New York in a gay male community between 2015-2017.
E.M. Forster's brilliant novel Howard's End (1910) features the Schlegel sisters, Helen and Margaret, and their involvements with the Wilcox family. Margaret becomes close friends with Ruth Wilcox, wife of Henry and the matriarch of the well-endowed family. When she dies, it turns out she has left, in a hastily-written note, her beloved country home, Howard's End, to Margaret, with whom she has developed a deep sense of kinship. Upon inspection, Henry and his sons regard the note as spurious and destroy it. Subsequently, however, Henry falls in love with Margaret and their relations evolve, and Howard's End, in the end, comes into Margaret's rightful purview.
In Matthew Lopez's adaptation, all of the major characters are gay men and some of the plot is a bit rearranged to accommodate that and the contemporary setting. Eric Glass (Eddie Shields) is the Margaret stand-in who eventually enters Henry Wilcox's (Dennis Trainor, Jr.) orbit, after a tormented and elongated relationship with the playwright Toby Darling (Jared Reinfeldt). Toby is handsome, passionate, talented, irresistible – but also seriously messed-up and unable to connect in any reasonable emotional way. Toby gets entranced by a young actor named Adam (Mishka Yarovoy) who enters his theatrical world, and then with Leo (Mishka Yarovoy), a male prostitute who bears a remarkable similarity to Adam. In the knotted sequelae, Leo connects with Eric as well and their destinies intersect in the play's analogue for the novel's house of many spiritual echoes, left to Eric, in the play, by Walter (Mark H. Dold), the analogue of Ruth Wilcox. In the play, Walter had, in the 1980s and 1990s turned the house into a respite center for young men dying of AIDS. That background and its various echoes signify some of the different significations of "inheritance" which the play's title evokes.
There is some truly brilliant acting in this play.
Notably, Eddie Shields, as Eric Glass, brings a seriousness and profundity to the role which is compelling. Eric is the moral core of the play, and Shields does a brilliant job of conveying that, with gravitas and sensitivity.
Notably, as well, is the multiple set of performances by Mishka Yarovoy as Adam, Leo and as the putative author of the play we are seeing. (There is a lot of this self-referential kind of stuff in the writing.) Yarovoy gives a wonderful performance in all of these different roles, and does so with a deft but subtle differentiation of the characters he embodies. They are all, in some way, conceived as alike and related, but Yarovoy gives a wonderful embodiment to each, and does so in a way that brings each of them out distinctively but which appropriately shows the innate connections among them – a difficult task accomplished most admirably.
In the role of the Toby, the handsome and screwed up playwright who figures as a romantic partner for Eric and Leo and an aspiring partner for Adam, Jared Reinfeldt gives a heartbreaking and tragic depiction of someone completely out of touch with himself. Reinfeldt, with some magic, manages to convey that passionate and attractive core of Toby's personality despite his own self-destructiveness, and that is also quite an accomplishment. Through his capable portrayal, one really does understand how Eric, despite his better judgment, continues to love Toby. Toby, in Reinfeldt's hands, is untrustworthy, manipulative, wrong-headed, and irresistible.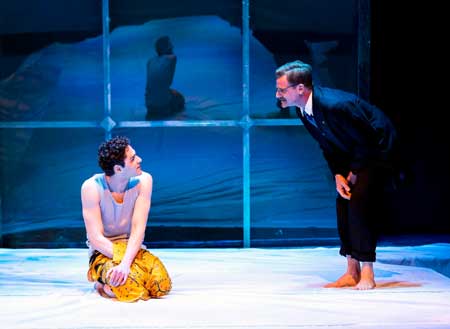 Other performances are noteworthy and capable, especially Mark H. Dold as Morgan aka E.M. Forster, who weighs in throughout, and as Walter, Henry's longtime partner and the owner of the magical country house. He conveys a combination of Victorian formality and contained passion with a humanity that doesn't quite know how to bring itself forth, but which he does so endearingly. And Dennis Trainor Jr., as Henry Wilcox, the magnate billionaire who is Walter's longtime partner and newly taken with Eric, does a decent job putting forth a difficult combination of being gay, and a wealthy and powerful Republican with controversial political involvements, at the same time.
For all of these great performances, one must credit director Paul Daigneault's overall and and clearly significant guidance.
This play, presented in two parts, each over three hours in length, has a considerable amount of wit in it. There are a lot of funny lines sprinkled throughout, and thoughtfully so. And the basic characters and inspiration of the script – the underlying adaptive motive of the novel – are compelling and interesting. The characters, their relations, their tragic and supportive engagements with one another, all come through.
That being said, this extremely long script is completely unwieldly. The writing is passionate, but very uneconomical. The script veers off in all sorts of directions at different points, and it's actually quite surprising that with this level of looseness it was so acclaimed, winning a Tony, a Drama Desk, and all kinds of other awards in 2020. It seems much more like a passionate first draft of something that should be winnowed way down. It does not feel like a script that needs all of its many included parts to convey the core of its significance, and it would be a much better and more easily assimilated work if it were considerably distilled.
As well, the cast is unbelievably large. Though it functions like a Greek Chorus, its size seems unwieldy and unnecessary. Much of the play is supported by a shared narration among the members of this chorus – not that effective a technique. One becomes quite conscious of the dominant role of this ongoing narration, becoming more intrusive than necessary to convey what's going on. Though, understandably, this Chorus conveys some sense of the companionship of a supportive gay community, it seems this prevailing sense could also be conveyed with more economical writing.
There are a lot of overtones to the notion of inheritance that come through in the script, and one should credit the poetic capacity of the writing to convey these: the idea of contemporary gay male culture being an inheritance from E.M. Forster's Victorian constraints; the inheritance of gay men in the early part of the twenty-first century of the tragedies surrounding gay men during the AIDS epidemic of the 1980's and 1990's; and the inheritance of the magical house in which suffering lives, tormented by prejudice, disease, and sexual, emotional, and psychological trauma, come to be cared for, tended and nurtured.
A overly long and unwieldy script, but complex, interesting and moving characters beautifully wrought: certainly worth seeing.
– BADMan (aka Charles Munitz)