Musical, Revue, Concert
Directed and Choreographed by Maurice Emmanuel Parent
A collaboration between The Nora at Central Square Theater, The Front Porch Arts Collective, Greater Boston Stage Company
Co-Music Directors: David Freeman Coleman and Dan Rodriguez
Catherine Stornetta, Piano/Conductor
Conceived by Richard Maltby, Jr and Murray Horowitz
Created and originally directed by Richard Maltby, Jr
Original Choreography and Musical Staging by Arthur Faria
Musical Adaptations, Orchestrations and Arrangements by Luther Henderson
Central Square Theater
Central Square, Cambridge, MA
May 1-29, 2022
Co-Choreographer: Ilyse Robbins; Scenic Designler: Jeff Adelberg; Costume Designer: Elisabetta Plito; Lighting Designer: Jon Savage; Sounds Designer: Kem Stewart
Band – Bass: Sahil Warsi; Drums: Yoron Israel; Trumpet: Greg Hopkins; Trombone: George Jones; Reeds: Todd Brunel; (alternates: Jim Repa, Jeri Sykes)
With Lovely Hoffman, Jackson Jirard, Sheree Marcelle, Anthony Pires Jr, Kira Sarai Helper
A wonderfully exuberant production of the revue, originally conceived in the late 1970s, of dramatized songs of the great jazz composer and master of the "stride" piano technique.
Despite being affected by illness and some last-minute cast and band replacements, this production rocks. It's not a play or even a musical per se; there's no narrative to speak of, though one of the characters does seem pitched as Fats Waller himself (Anthony Pires, Jr). But, much like Jacques Brel Is Alive And Well And Living in Paris (1968) which came out a decade before, Ain't Misbehavin' is, though essentially a compendium of songs by the great Waller, a great theater piece as well.
In this production, the key to that greatness is the terrific direction of Maurice Emmanuel Parent. Parent, a highly experienced and versatile stage actor who has made his career largely in Boston, is also an incredibly gifted director and choreographer. Supported by noted co-choreographer Ilyse Robbins, every song in this show bears the imprint of their ingenuity; it is the sheerly insistent and continuous variety and inventiveness of them that keeps the show completely engaging.
The performers are superb. All of them – Anthony Pires Jr, Lovely Hoffman, Jackson Jirard, Sheree Marcelle and Kira Sarai Helper (who stepped in as an understudy), sing and move beautifully. They are also wonderfully funny, and, at times, heartbreakingly dramatic. They sing and dance together with great command and seeming effortlessness, and, as a troupe, offer an exuberant and riveting account of this now 44 year old show which comes across as vivid and totally enthralling in their most able hands.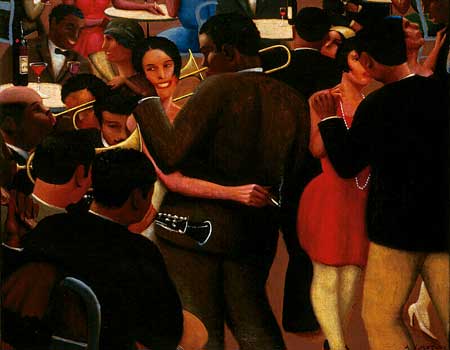 Special mention should be made of the contributions of pianist and conductor Catherine Stornetta who also came in to sub at the last moment. She seems so in command of her score and so adept and playing it and leading the band that it would never have crossed my mind that she were not the long-rehearsing music director of this show. Alas, the regular music co-directors, David Freeman Coleman and Dan Rodriguez, seem as well to have been made absent by illness.
The small band is also terrific – adept, loose, fun, full of the Fats Waller vibe and elevated spirit.
A sleek and effective set supported by a couple of wonderful large paintings of the Harlem Renaissance by Archibald John Motley Jr. (1891–1981) holds the action well.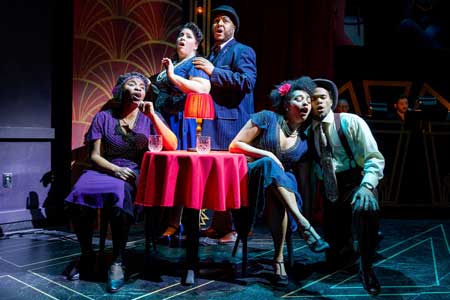 There are a lot of great songs in this show – about thirty of them. Here are a few notes on some of them:
Ain't Misbehavin'
Wonderful singing and the dancing is great too. Terrific choreography. Who knew that Maurice Emmanuel Parent was such a fabulous choreographer? Working here with the esteemed and capable Ilyse Robbins, the results are fantastic.
Honeysuckle Rose
Great, funny routine. Of course, Waller was considered a great comedian as well as musician, dubbed The Clown Prince as well as The King of Stride Piano. As the Waller-esque character in the show, Anthony Pires Jr is full of humor, gesturing and mugging hilariously throughout.
Squeeze Me
So sultry! Lovely Hoffman walks off the stage with such style. Here, and everywhere, Catherine Stornetta's pianistic competence is most evident, and remarkable that she is subbing!
Handful of Keys
A nice explanation of stride piano technique is followed by a terrifically choreographed routine and supplemented by funny vocals by Anthony Pires Jr.
How Ya Baby
Jackson Jirard is an amazingly lithe dancer – wonderful to see – conveys terrific energy. Again, a great and varied dance routine. The band is consistently terrific throughout – it's small, but they really play beautifully.
The Jitterbug Waltz
A nice vocal evocation of the stride technique.
The Ladies Who Sing With the Band
First, the two guys – Anthony Pires Jr and Jackson Jirard – moving very well together. Then the whole group – with Lovely Hoffman, whose subtlety and sultriness is evident throughout, Sheree Marcelle, whose humor and vocal robustness is consistently evident, and Kira Sarai Helper, who, as an understudy, remarkably has risen, with seeming effortlessness, to the occasion.
The Joint in Jumpin'
Great lighting and sound, as is true of the whole production, with an amusing simulation of cops.
Lounging at the Waldorf
Lovely Hoffman gives it real sass. Again, great choreography.
The Viper's Drag
Again, Jackson Jirard in top form.
Mean To Me
Lovely Hoffman sings this broken-hearted blues so beautifully.
That Ain't Right
Sheree Marcelle belts it out, while the music modulates so interestingly.
Find Out What They Like
Lovely Hoffman and Sheree Marcelle do this hilarious song with such liveliness and zip.
Black and Blue
A heartbreaking and terrific song, very touching, the poignant underbelly of Waller's hilarity.
I've Got My Fingers Crossed
Kira Sarai Helper really comes into her own here, accompanied by Sheree Marcelle and company.
It's a Sin To Tell a Lie
Lovely Hoffman and Jackson Jirard in a great ensemble.
– BADMan (aka Charles Munitz)