Play, Performance (2022)
Arranged by Melinda Lopez
Directed by Dawn M. Simmons
Central Square Theater
Central Square, Cambridge, MA
February 17 – March 20, 2022
With Kortney Adams (Marvela Haynes and Ann Harper-Jones), Karina Beleno (Dr. Maria Hernandez), Lindsey McWhorter (Portia Long), James Ricardo Milord (Dr. Jim Gates and Dr. DJ Thomas), Daniel Rios, Jr. (Reinaldo Herrera and DC Lopez), Alison Yueming Qu (Chloe Chen)
A well-intentioned dramatic encouragement for young people of color to enter the sciences.
With some sizable collection of interviews – about sixty – with scientists of color at her disposal, playwright and actor Melinda Lopez has put together a short testament to encourage young people of color to enter scientific fields. Several scientists of color are featured in this performance which seeks to make its point mostly by interleaving their stories in a verbal collage rather than focusing on any one of them. Among those inspiring accounts in the performance are Harvard astrophysicists John Asher Johnson and Daniel Castro, Brown University theoretical physicist Sylvester James (Jim) Gates Jr., virologist epidemiologist Adrianne Gladden Young of the Broad Institute and Harvard University, and geneticist Sophie Giufeng Song of the Novartis Institutes for Biomedical Research. It appears that, in some cases, actual names were used, though not in all cases.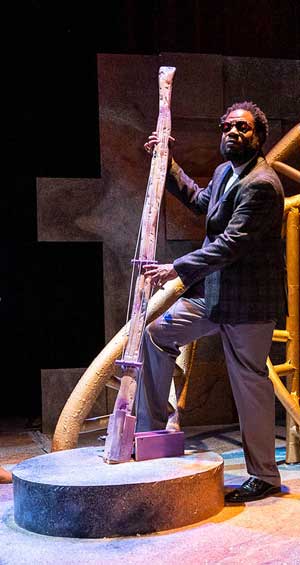 The notable exception to the dominantly collage-like and Cubist approach to this show is the account of Dr. Jim Gates (James Ricardo Milord), a theoretical physicist who recounts quite dramatically his own story of coming into the field. Told in an appealing and compelling way, the account identifies one of Gates' mentors, Nobel prizewinning astrophysicist Abdus Salam, as one who spoke openly about the possibilities of enabling young black people to enter science. Gates' account yields that Salam talked about the jazz in scientific thinking that might develop as a result, giving it an entirely positive spin.
In the early nineteen eighties, Gates spent several summers at the International Centre for Theoretical Physics headed by physics Nobel Prize winner Abdus Salam. Salam once made a curious comment about jazz, which thirty years later resulted in an essay by Gates being cited by the Supreme Court of the United States on the issue of diversity.
Re What Abdus Salam Taught Me About Jazz by Dr. Sylvester James Gates, Jr.
Heartbreaking about Gates' account of coming to Boston to attend MIT in the late 1960s, was his expecting to arrive in what he had heard was the "Athens of America" and finding evidence of pervasive and embedded racism. He speaks of inadvertently driving, at one point, with some friends into South Boston and having their car attacked and chased ferociously by people shouting racial invectives. So much for Athens.
This production does not come off so much as a play as a performance with some some periodic elements of systematic narrative. Taken in that way, as a kind of tone poem rather than as a drama, its effect as moral support for prospective scientists of color comes off best. Though several songs replace some of the space that might have been used to amplify narrative, they are beautifully sung and help to evoke the spirit of the production. The set – a lovely spare space with a couple of double helixes rising from the floor – gives an evocative landscape in which this paean to scientific diversity unfolds.
The role of Chloe Chen (Alison Yueming Qu), seemingly inspired by Sophie Giufend Song and of Chinese extraction, is included in this appreciation of scientists of color from underrepresented backgrounds which seems a bit strange since East Asians have been so demonstrably included and celebrated in scientific fields for a long time. The intent of doing so appears to be the mandate to be inclusive about all people of color in the sciences, but given that significant representation of East Asians in science this particular inclusion seems a bit strange. Even so, given this seemingly inclusive orientation it seems odd to include an East Asian example while not including a South Asian one.
If one does not expect too much storyline and just takes this production as a kind of orchestrated tribute to scientists of color, and thereby as an encouragement to young people of color to pursue careers in the sciences, then the motive of the performance will be served. Alternatively, the singularly persuasive and coherent story about Dr. Jim Gates exemplifies the kind of narrative that, replicated several times over, might well have served to convey this kind of message a bit more dramatically and persuasively.
– BADMan (aka Charles Munitz)