Opera (2020)
Music by Matthew Aucoin
Libretto by Sarah Ruhl
based on her play of the same name
Metropolitan Opera, Live in HD
December 4, 2021
Conductor: Yannick Nézet-Séguin
Production: Mary Zimmerman
Choreographer: Denis Jones
Set Designer: Daniel Ostling; Costume Designer: Ana Kuzmanic; Lighting Designer: T.J. Gerckens; Projection Designer: S. Katy Tucker
With Erin Morley (Eurydice), Jakub Józef Orliński (Orpheus's Double), Barry Banks (Hades), Joshua Hopkins (Orpheus), Nathan Berg (Father)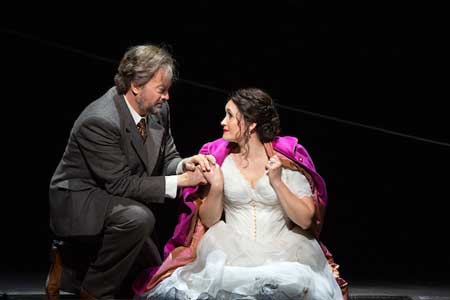 A lushly orchestrated opera based on a contemporary stage play based on the myth of Orpheus and Eurydice.
The greatly musical Orpheus (Joshua Hopkins, Jakub Józef Orliński) , and Eurydice (Erin Morley), are married, but, on the day of their wedding, Eurydice is captured and taken into the underworld of Hades, where she meets up with her dead father (Nathan Berg). Orpheus pursues her to the underworld, and is given, by the lord of Hades (Barry Banks), the option to lead Eurydice back to the world above if he does not turn around to look at her on the way out. Whoops! Eurydice calls to Orpheus and he reacts by turning to her. So much for the world above. Eurydice has to return to Hades, but at least her dead father is there, which is a consolation.
I heard Matthew Aucoin's earlier opera Crossing years ago and thought it was wonderful. Based on Walt Whitman's Civil War diaries about serving as a nurse, it was affecting and compelling. Aucoin, who is all of thirty-one now, was barely in his twenties for that earlier outing. His accomplishments as a composer at such a youthful pass, then and now, are commendable and notable.
Aucoin's music for this current opera is lush, rich, sometimes quite complex and stimulating. It has its lyrical moments, but mostly scintillates with a kind of exploratory landscape of sound which is always quite palatable. It is not particularly modernist in any regard, though it draws from modernists. Nor does it particularly jar or unsettle, and has an overall digestible quality. At times it feels inspired. There's a wonderful dance scene during the wedding of Orpheus and Eurydice which has some great pulsing tunes in it. As well, it's interestingly, and I would almost say, brilliantly choreographed by Denis Jones, with dancers bouncing and bending in unexpected and entertaining ways.
I wish I could say the same about the opera as a whole. Though I enjoyed listening to the music, I found the libretto – how shall I say this – dreary, simple-minded, non-eloquent and uninspired. There was something so straightforward about it that it seemed almost ridiculous. I found the dialogue so weirdly ineffective it was painful to listen to it. I don't know Sarah Ruhl's play upon which this opera was based, but if there is anything artful about the interpretation of the Orpheus and Eurydice myth, it escaped me completely. Except for putting Eurydice front and center, there seemed virtually nothing unique or interesting about this literary adaptation.
Some of the singing is truly delightful. In the title role of Eurydice, Erin Morley certainly packs a punch, with richness of tone and passionate delivery. She is onstage practically the whole time and carries it off beautifully. Nathan Berg as the father is grave, sincere and compelling. And of particular note is the tenor and countertenor duet of Joshua Hopkins as Orpheus and Jakub Józef Orliński as his double who sing together melodiously and effectively.
I particularly enjoyed host Renée Fleming's entr'acte interviews with Nathan Berg and Jakub Józef Orliński who were both extremely witty and engaging. An additional treat is watching Orliński do some flips during the performance onstage and seeing him breakdance during a short entr'acte film.
The characterization of Hades, though intentionally comic, seems mythologically wrong. Portrayed as the Devil, the libretto seems to not get the idea of Hades correctly. Hades in Greek myth is a very different place from Hell in Christian mythology, and what happens to Orpheus and Eurydice seems very dependent on getting that right. This opera, instead, mixes those images to serve its own bizarre comic requirements, but it does not do service to the myth.
During an interview, it was affecting to hear librettist Ruhl talk about grief over losing her father while writing this, but the whole narrative setup of pitting Eurydice in the middle between the living Orpheus and her dead father just does not work; it's not gripping, nor does it have dramatic value.
Aucoin, in his remarks with Peter Gelb, talked about the significance of the musical muse and how this inspired his choice of Ruhl's Eurydice as a theme. The choice of this script to that end seems odd to begin with, and there is so little that is musical in the character of Orpheus in this opera that the significance of that original inspiration does not come off.
Why Aucoin chose such a weirdly austere theme for this major effort is confounding. He's a talented young composer and shows he's got a great deal of potential to produce lavish and compelling orchestral and vocal elements, but really needs to find a better dramatic medium on which to hang his considerable capacities.
– BADMan (aka Charles Munitz)