Film, Musical (2021)
Directed by Jon M. Chu
Screenplay by Quiara Alegría Hudes
Based on the musical stage play, book by Quiara Alegría Hudes
Based on the musical stage play, concept by Lin-Manuel Miranda
Music by Alex Lacamoire, Lin-Manuel Miranda, Bill Sherman; Cinematography by Alice Brooks; Film Editing by
Myron Kerstein
With Anthony Ramos (Usnavi), Melissa Barrera (Vanessa), Leslie Grace (Nina Rosario), Corey Hawkins (Benny), Olga Merediz (Abuela Claudia), Jimmy Smits (Kevin Rosario), Gregory Diaz IV (Sonny), Daphne Rubin-Vega (Daniela), Lin-Manuel Miranda (Piragüero)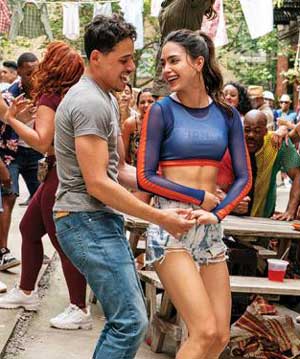 A hard not-to-like extravaganza about Washington Heights, Manhattan with Bollywood-type dance scenes and unexpected special effects, based on the 2008 musical by the Hamilton wiz Lin-Manuel Miranda.
Usnavi (Anthony Ramos) runs a little grocery in Washington Heights. Vanessa (Melissa Barrera) comes into the store full of pizzazz and wearing provocative garb. With a hard crush already set in, Usnavi is re-smitten and with the aid of his young cousin sidekick, Sonny (Gregory Diaz IV), asks her out. Meanwhile, the brilliant and talented Nina (Leslie Grace) comes back from Stanford and makes a splash, connecting as well with the charming Benny (Corey Hawkins) who runs the taxi dispatch office. Romance and a lot of dance blossoms, as Nina wonders whether to go back to Stanford where she has experienced prejudicial attitudes, Vanessa wonders whether to move downtown and muses about whether she can exploit her own talent and interest in clothes design, and there is some drama about Abuela Claudia (Olga Merediz), Usnavi's honorary grandmother, and a lottery that suddenly seems to have a local winner.
There is not much to the plot of this two and a half hour blowout, but that does not seem to take away any of the fun, and, in a way, avoiding manufactured melodrama seems to give it an appealing, down-home edge. The show is creator Lin-Manuel Miranda's tribute to his hometown and somehow, with relatively little narrative but a lot of gusto and plenty of acting charm, it seems to carry the day.
Miranda's score and lyrics, after the prevailing success of Hamilton with which In The Heights shares many similar lyrical and musical motifs, seem a little over-familiar. As the earlier work, these motifs got their start in In The Heights, but, now, with the omnipresence of Hamilton, are familiar to many. The verbal techniques of the raps in In The Heights and Hamilton are very similar, but so are the tonalities of some of the more Broadway-esque tunes.
As well, in a musical devoted to and dominated by the intoxicating charms of Hispanic culture of New York, the pervasiveness of rap in In The Heights feels a little out of place. Though one well understands that rap is where Miranda got his musical start and is brilliant at it as a songwriter, hearing it to such an extent in this paean to an Hispanic neighborhood feels a bit too much. Somehow it feels like the dominant musical theme might have been a bit more Hispanic. But this is a fairly old musical already – it premiered on Broadway in 2008 – and much of its musical style was innovative at the time.
Indeed, the whole cast is Hispanic, which is wonderful, striking and innovative, but it seems like some of the production has been run through the Disney-fier (though, actually, it is a Warner Bros production) to get the correct proportions of ethnicity and public appeal right. Oddly, the inclusion of a good amount of rap, now a mainstream idiom, fits well into that general strategy.
Some huge production numbers and some quite spectacular special effects make the somewhat more intimate original stage production into quite an extravaganza. The dance scene on the side of the apartment house is notable in this regard.
In the leads, Anthony Ramos as Usnavi is compelling and likeable in a vulnerable and attractive, though not overpoweringly seductive, way. Melissa Barrera as Vanessa packs a punch with her swagger and her seductive glare, while Leslie Grace as Nina manages to walk the line between brilliant intelligence and striking demeanor with magnetic appeal. As Benny, Nina's love interest, Corey Hawkins is nobly graceful and warmly appealing. As Usnavi's cousin and sidekick, Sonny, Gregory Diaz IV has a wonderfully laugh-inspiring and endearing quality. Jimmy Smits, as Nina's devoted and hard-working widowed father, fits right into the action, though the makeup artists clearly had to give him a good dose of shadowing around his eyes to make him seem appropriately aged.
Jon Chu's direction produces decent results. He's overseen by Miranda and Hudes and seems to bring the bigger than life production values from his ridiculously successful teaser Crazy Rich Asians (2018), a boisterously big Hollywood production featuring an all Asian cast. While bringing in aspects of Bollywood and magical realism to In the Heights, and keeping it all within the boundaries of generic appeal, he manages to make a lollapalooza film while still remaining largely true to the mission of conveying a sense of the neighborhood. Though the production values are over the top and the narrative is a bit sunnier than are some of the realities of life in a neighborhood like Washington Heights, the film embodies some of the gritty sensibility that the original musical sought to capture and brings to the popular screen enough of that, along with plenty of sassiness and fun, to be appealing and engaging.
– BADMan (aka Charles Munitz)