Film (2021)
Written and directed by Emerald Fennell
Focus Features
Available for streaming via Amazon, YouTube, Google Play, Vudu et al
Music composed by Anthony Willis; Cinematography by Benjamin Kracun; Film Editing by Frédéric Thoraval; Costume Design by Nancy Steiner

With Carey Mulligan (Cassandra), Bo Burnham (Ryan), Laverne Cox (Gail), Clancy Brown (Stanley), Jennifer Coolidge (Susan), Connie Britton (Dean Walker), Alison Brie (Madison), Christopher Lowell (Al Monroe), Alfred Molina (Jordan Green)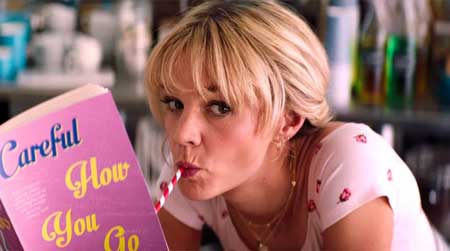 A feminist revenge thriller about a former medical student who has lost a dear friend because of sexual abuse.
Cassie (Carey Mulligan) used to be in medical school, but is no longer. Living with her parents, she works in a coffee shop by day and travels to clubs by night. In those clubs, dressed to the nines, she poses as an incapacitated drunk and waits for men to offer to "help." Invariably, they seem nice enough at first and then it becomes clear that they just want to take advantage of her. When that happens, she quits the ruse and responds to them in ways they had entirely not expected.
At one point, outside of clubbing, she encounters Ryan (Bo Burnham), an old medical school comrade, who begins to show interest in her. As that romance develops and Cassie hears about the impending marriage of Al Monroe (Christopher Lowell), the former medical student who had raped her late friend, she begins to pursue retribution upon him and upon the crowd that was complicit with his actions.
Carey Mulligan in the starring role saves this feminist and well-intentioned, but somewhat formulaic, revenge thriller from being more routine than it is. Though its essential message is one with which it is important to be sympathetic, the writing that realizes that message is a little too straightforward to be captivating. Though there is suspense about what Cassie will ultimately do, both with her romance with Ryan, and with Al Monroe and the crowd with which he traveled, that by itself does not make a compelling film.
Cassie's repeated ruse of reeling in would-be victimizers of a seemingly drunk woman is a unique and inventive narrative ploy, but it serves to carry only part of the film. Mulligan's superb acting and a great costume designer, Nancy Steiner, make that work as the most grimly entertaining aspect of the film.
But Mulligan's acting, more than the writing, does make the film compelling. She has a liquid face that transmits a symphony of emotional nuance is quick and deft turns. Its hard to take one's eyes from that face, and it's that magnetism of her expressiveness that gives the film character.
While doing this, Mulligan gets dressed up in all sorts of weird outfits to make her game of surprising the unwitting seducers possible. Sometimes this involves smearing lipstick across her mouth, and/or dressing in outlandish ways. Somehow, the torturing of her visage in this way never takes the magic from it – her vividness and intelligence radiate throughout.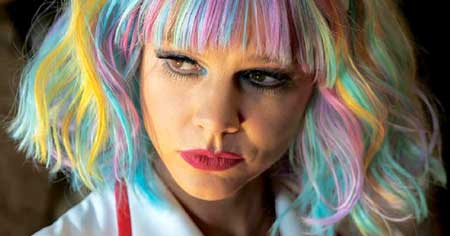 Comedian Bo Burnham, and writer-director of the heralded film Eighth Grade (2018), is cast as Ryan, the fellow medical student who pursues Cassie and with whom she has a budding romance. It's a remarkably light and charming role, but that role, as well, gets drawn into the complexities.
But before those complexities ensue, the two of them get to have a good time, including a scene in which they energetically bounce around in a convenience store to the sounds of Paris Hilton. Though that is a fun scene, it is strange when viewed in the context of the overall drama. Why, in the midst of serious PTSD Cassie should be drawn into a light spirited romance of this sort does not quite make sense.
In an unexpected but intense role as Jordan Green, a manipulative lawyer who helped get Monroe's rape charges dropped and is now squeamishly solicitous and guilt ridden, noted actor Alfred Molina offers an effectively intense performance.
In her first outing as director of a feature film, Emerald Fennell does a decent job of pulling it together, somewhat more effective in that role than as screenwriter. Fennell is a seasoned and successful actor, having commanded, among others, an ongoing role in Call The Midwife and portraying Camilla Parker-Bowles in The Crown.
In any event, whatever the medium and the particular liabilities of this narrative, Carey Mulligan has, here, for perhaps the first time of significance, a starring role in a well publicized film. That this film should feature her considerable talents is its major contribution. One does get the feeling that Mulligan could read the phone book and transfix an audience by virtue of her sheer dramatic talents, but if it takes a routine thriller to get her name in lights and attention paid, so be it.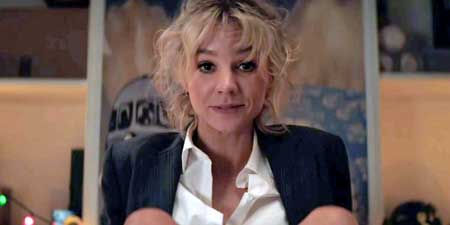 – BADMan (aka Charles Munitz)