Musical (1967)
Book and lyrics by Gerome Ragni and James Rado
Music by Galt Macdermot
Directed and choreographed by Rachel Bertone
New Repertory Theatre
Mosesian Center for the Arts
Watertown, MA
January 26 – February 23, 2020
Music Director: Dan Rodriguez; Scenic Design: Janie E. Howland
With Marge Dunn (Sheila), Kris Ivy Hayes (Ivy), Lovely Hoffman (Tribe), Zoe Maloney (Tribe), Peter Mill (Margaret Mead), Ywande Odetoyinbo (Dionne), Aaron Patterson (Tribe), Katrina Pavao (Jeanie), Brian-Barry Pereira (Woof), Anthony Pires, Jr (Hud), Eddie Shields (Berger), Eddie Simon (Claude)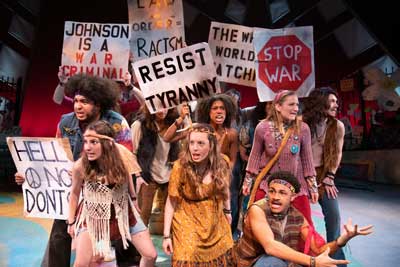 A remounting of the original hippie musical which saw its release on Broadway fifty-two years ago.
It was the age of the Vietnam War and the draft, and of draft-card burnings. It was also the age of free love and drugs and the emergence of the counter-culture. And it was the time of social reorientation, with the sense of youthful tribes that sometimes took the place of families. And, of course, it was the era of long hair.
In this setting, Claude (Eddie Simon) travels with his tribe, but is confronted with the looming threat of the draft. As this challenge unfolds, Claude's fellow tribesman Berger (Eddie Shields) gives Claude a hallucinogen, which, before the prospect of military service, helps to weave the potential net of horrors that might ensue.
There is not a whole lot of narrative in this musical, and though neither the music nor the lyrics are earth-shattering, there are so many likeable and famously familiar songs from that show that simply having an occasion to hear them, and watch them dramatized on stage, provides considerable pleasure.
They come in rapid succession: The Age of Aquarius, Donna, I Believe in Love, Easy To Be Hard, and Good Morning Sunshine are just a few of these historic musical gems from the show.
The staging attempts to convey the sense of countercultural tribalness, and, in doing so, populates the stage with much of the cast most of the time. The result is at times a bit amorphous. Combined with the almost nonexistent plot, one grasps at the familiar songs to get some kind of thread in the narrative wilderness.
However – the choreography and dancing – along with much of the singing – are truly wonderful. Director Rachel Bertone is an excellent choreographer and there is much demonstration of that here.
As Claude, Eddie Simon does a creditable job of holding down the fort, giving a good sense of a magnetic leader of the tribe who is put in a difficult and compromised situation. As Berger, Eddie Shields, a wonderfully fanciful actor, raises the energy and the antics, and gives his character a good deal of charge.
Hair is an old chestnut that rides on its reputation for commemorating the era of the Sixties in Broadway form – and is, with its abundance of familiar songs, fun to hear again. And, this production, with its wonderful dancing, makes it fun to watch as well.
– BADMan (aka Charles Munitz)