Concert
We Banjo 3
Global Arts Live
Somerville Theater
Davis Square, Somerville, MA
January 25, 2020 8:00pm
With David Howley (lead vocals. guitar), Fergal Scahill (fiddle, percussion), Martin Howley (banjo, mandolin), Enda Scahill (banjo)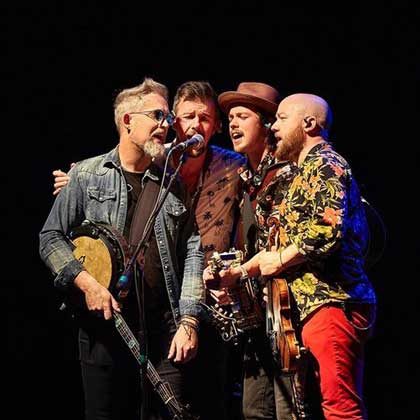 A wild ride by an Irish folk quartet playing some standard folk and some American roots and pop with a Celtic twist.
These four guys from Galway, Ireland, comprising, as they say, the largest trio in the world, tore it up for more than an hour and a half (without intermission), bringing an enthusiastic audience to its feet for most of the concert. Sweetly, the four guys are actually two sets of brothers, and it's hard to imagine this kind of musical verve showing up in one set of siblings, let alone two.
"This is not a sitty-downy type concert," announced, at the outset, David Howley, the spirited and talented lead singer and guitarist of the band, "it's a standy-dancy concert." And indeed it was, replete with much of the audience standing and frolicking throughout, and with an onstage dance competition that featured some of the wilder dancers from down front. It was tremendous fun.
These musicians are nothing to be sniffed at. Each is a brilliant instrumentalist in his own mode. Enda Scahill, the principal banjo player, ripps through the riffs with the speed of the best of the American country players, and Martin Howley, mostly on the mandolin but sometimes on the banjo, is equivalently rapacious on the frets and strings.
It appeared, at the beginning, that David Howley, who sang, also mostly strummed the guitar. Though he strummed it superbly and with great energy, it was not until later that one saw his own amazing dexterity as a picker; when put to it he kept right up with Enda Scahill and Martin Howley in their most ferocious riffs.
Fergal Scahill, who mostly played the fiddle with exuberance and sometimes with a jazzy flair that stretched the folk idioms a bit, also tore loose on one number with an amplified bodhrán, an Irish drum played with a small mallet. He played it with incredible gusto and dexterity and demonstrated a capacity to turn that little tambourinish drumface into a resounding percussion section.
The repertoire was varied and quite interesting, ranging from traditional Irish tunes to Irish takes on American pop tunes. To hear Stevie Wonder's Superstition done with Irish riffs was weirdly unexpected and wonderful at the same time. And a plaintive version of Long Black Veil, similarly, took leave of its traditional form with a wonderful banjo break that filtered into a mandolin solo. David Howley mentioned the band's cross-the-waters status and its particular interest in melding traditional Irish with American folk and pop melodies, and, in fact, they bill themselves as leaning to a hybrid brand of traditional Celtic and bluegrass idioms.
Light In The Sky, a sweetly but energetic paean to positivity, had a wonderfully plunky texture, but also had some of the earmarks of an American pop hit.
Before playing Hold Onto Your Soul, David Howley mentioned his own challenges and announced that some portion of T-shirt and recording sales went towards mental health causes, which gave the song's message of hope in the midst of despair particular import.
The subtlety and professionalism of the band was evident from the outset in Shine On (with me), a wonderful, lively and catchy tune, executed with the nuance of vocal harmonic melding and precise coordination of all instrumentation.
The exuberant evening ended with an encore, Happiness (is just around the corner), with fiddle, banjo, guitar and mandolin extravaganzas, faster, wilder and more intense than one could imagine.
– BADMan (aka Charles Munitz)