Musical (1998)
Music and lyrics by Jason Robert Brown
Book by Alfred Uhry
Co-conceived and originally directed on Broadway by Hal Prince
Directed by Jason Modica
Music Direction by Catherine Sfornetta
Moonbox Productions
Boston Center for the Arts
South End, Boston
December 11-28, 2019
With Phil Tayler (Leo Frank), Anna Bortnick (Mary Phagan), Gable Kinsman (Frankie Epps, Soldier), Brad Peloquin (Judge Roan, Soldier, MacDaniel), Anne Sablich (Mrs. Phagan, Sally Slaton), Jerry Bisantz (Hugh Dorsey), Todd Yard (Tom Watson, Officer), Andrew Child (Officer, Luther Rosser, Guard), Dan Prior (Britt Craig, Jack Slaton, Mr. Peavy), Angela Syrett( Iola Stover), Lilli Jacobs (Monteen), Katie Elinoff (Essie), Haley K. Clay (Lucille Frank), Yewande Odetoyinbo (Minnie McKnight), Elbert Joseph (Newt Lee), Aaron Patterson (Jim Conley)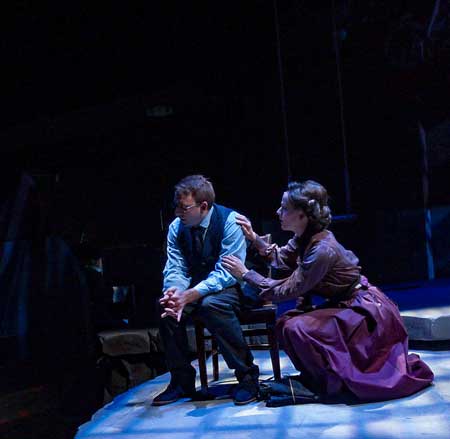 An excellent production of the musical based on a true story about Leo Frank, a Jew who was unjustly indicted for a murder in Atlanta in 1914.
It is 1914 and Leo Frank is a Jewish guy from the North who has moved to Atlanta to take a job and to marry Lucille, also a Jew, who comes from there. A dutiful and solid business manager, he is wrongly accused of murdering a young girl who works at his place of business. He is tried and jailed, and through deftness and wit on Lucille's part it appears that he might be exonerated and released. But the situation is complicated, and fraught.
This wonderfully articulate and nuanced musical written by Jason Robert Brown when he was still in his twenties receives an evocative, dynamic and expert production in its run at Moonbox. The acting is superb, the singing and music are wonderful, and its staging and choreography are distinctively good.
This is not a light subject, but the deftness of the production does make it surprisingly entertaining as well as poignant. The leads – Phil Tayler as Leo Frank, and Haley K. Clay as Lucille – are excellent. They bear their roles with distinction and manage to carry the distance of this unexpected love story both with grace and gravitas. And they sing beautifully.
There are many very good performances in the supporting cast, which has fine ensemble feel. Outstanding in one of the supporting roles, as Jim Conley, a prisoner who testifies against Frank, is Aaron Patterson, who gives a particular zip to his performance.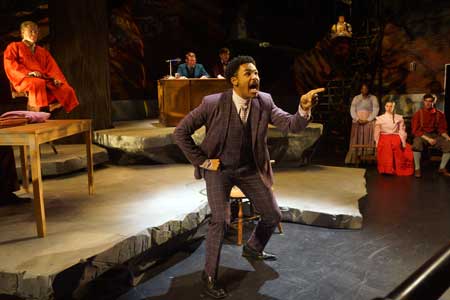 The capacities of music director Catherine Sfornetta and her band are everywhere apparent. The music to this show is at times quite intricate and involved, but the orchestra and the cast carry it off extremely well.
The choreography by Kira Troilo is noteworthy. Employed with inventiveness throughout, it makes what could be ho-hum stage moments come alive.
And the costumes by Chelsea Kerl, though not flashy, are great – with subtle complements of coloration and design apparent but not intrusive.
Over twenty years old, this show has remarkable relevance to the contemporary world, its depiction of prejudice and unjust vilification of ethnic minorities unfortunately immediate and resonant. And the additional dimensions of corrupt and manipulated tale-bearing is sadly relevant as well.
In addition to providing a lush score, Brown's lyrics are also quite witty and potent, which makes the delivery of this darkly tragic tale take on a more forceful demeanor.
Overall: a finely wrought and expertly produced show, well worth seeing.
– BADMan (aka Charles Munitz)