Play, Dance, Performance, Circus
The 7 Fingers
ArtsEmerson
Emerson Cutler Majestic Theatre
Theater district, Boston
September 25 – October 13, 2019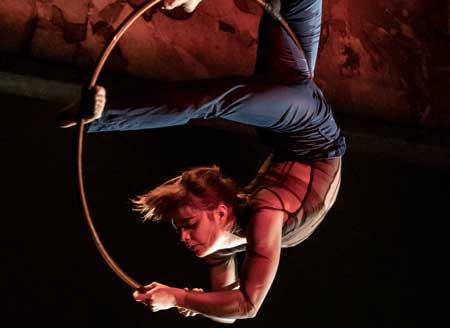 A wonderfully choreographed compendium of dance, acrobatics and other circus treats by the smallish (but growing) noted Montreal-based circus.
The 7 Fingers have done a bunch of shows at ArtsEmerson over the years, of which I've seen most, and they've usually been great. Occasionally, the putative narrative of the show took over in a somewhat attenuated way that made one want the acrobatic acts to come faster. But however elongated the narrative, the circus acts have always been stunning.
With a circus show that operates on a regular stage, The 7 Fingers manages to do a lot. There are various pieces of equipment that get employed, but they don't seem to crowd things. As the narrative of the show flows, various, sometimes quite daring, acts, get thrown up in the middle of it.
Passengers, which is having its US premiere in this run at ArtsEmerson, is among the best of The 7 Fingers shows I've seen, and that's saying a lot. It is stunningly choreographed and staged, with a narrative that invites reverie but does not weigh down the rhythm or flow of the entire show.
One new addition to the repertoire is a very serious, and well-crafted, video support. I don't know if The 7 Fingers folks have anything to do with Robert Lepage, the Montreal director who staged Wagner's Ring at the Metropolitan Opera a number of years ago and for it used a heavy dose of very inventive computerized projections. It sure seems that these 7 Fingers projections have much of the same intelligence and sophistication as those Lepage inventions. If Lepage is not directly involved, there is, at least, something very interesting happening in theatrical video in Montreal.
The choreography of the show is really top notch and makes the experience seem completely animated and all of a piece. There are a lot of interesting effects constantly created by the choreography, and frequently it involves several sets of acrobats or performers doing different things simulateously and in coordinated rhythm. It all works magnificently well.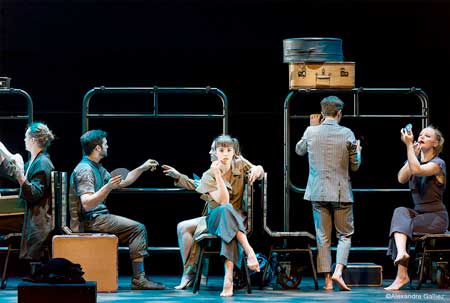 Over the years, the personnel of The 7 Fingers has changed and expanded, making for new talents and corresponding new routines, though there are some routines that seem to be part of the standard menu. The 7 Fingers demonstration of the vertical pole, for example, always seems to have able practitioners, as does the acrobatics on the hanging cloth. In this show, single acrobats competently handle those routines, while in previous shows pairs of performers sometimes did the honors.
One of the acts that seems new is a multiple hula-hoop routine done with exquisite form by Freyja Wild. She spins those things on every part of her body in every which direction with amazing grace and control. How she gets four going on each limb and then a few around her middle and legs and keeps them all swirling is truly a wonder. She also sings and plays the ukelele beautifully.
Maude Parent does a contortionists dance, bending and twirling in bizarre ways, but all in keeping with the rhythm of the piece.
There are trapeze endeavors and tightrope walkers and a great juggler, Sereno Aguilar Izzo, who starts out doing stuff with a single ball that one could never have imagined. It is pretty incredible.
Beautifully conceived and coordinated, the entire show, full of wonderful routines, is held together by its choreography. The projections also keep the flow going and the scenes embellished, and the music is often engaging, though occasionally a bit overwhelming.
– BADMan