Film (2019)
Documentary
Directed by Rob Epstein, Jeffrey Friedman
Reviewed by Tim Jackson
With Linda Ronstadt, Bonnie Raitt, Dolly Parton, Emmylou Harris, Jackson Browne, Maria Muldaur, Don Henley, David Geffen, Cameron Crowe, Aaron Neville, Peter Asher, Ruben Blades, Karla Bonoff, John Boylor, Johnny Carson, Johnny Cash, Dick Cavett, Ry Cooder, Sheryl Crow, Glenn Frey, Robert Hilburn, Lena Horne, Kevin Kline, Stevie Nicks, Nelson Riddle, Peter Ronstadt, JD Souther, Harry Dean Stanton, Ringo Starr, Carrie Underwood, Hank Williams, Neil Young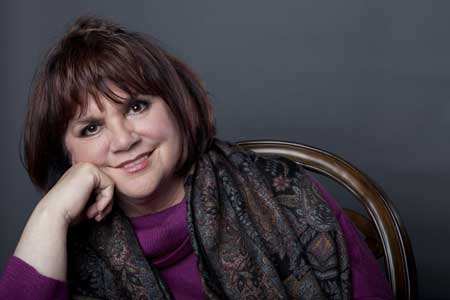 A new portrait of the noted vocal powerhouse.
Linda Ronstadt: The Sound of My Voice traces the musical life of the singer from childhood through global success and beyond. This is a biography that favors artistic experience and reputation over personal details. Recently several documentaries have explored the music scene in California as it evolved in the late 1960s. What is different about this film is the emphasis almost exclusively on performance. Archival concert footage provides ample evidence of the power of Ronstadt's singing. She made courageous decisions in her career. Over four decades she moved from folk music into pop stardom and onto Broadway. She then recorded standards of the American songbook with Nelson Riddle, only to come back to her Mexican roots. The Sound of My Voice is a legacy film. Ronstadt's singing appears effortless, powerful, and pitch-perfect. Testimonials by female artists such as Bonnie Raitt, Karla Bonoff, Emmy Lou Harris, Dolly Parton speak as evidence to her peerless talent. That her voice is now mostly stilled by Parkinson's brings a bittersweet tone to the film.
Ronstadt's girl-next-door attractiveness and effortless performance style belied a voice of enormous power and flawless pitch. She moved to Los Angeles, where at 18 was immediately recognized for her ability to make a song her own. Although she may not have written her most successful hits, she knew how to recognize a song that she could interpret with stunning confidence. The musicians and producers with whom she worked recognized this and supported her with excellent arrangements. Those were the early days of the Los Angeles/Laurel Canyon music scene during which folk, rock and country were blending into a new sound. She was one of the first women to take on all-male bands and get what she needed.
Don Henley recalls: "She was vulnerable and very feminine, but when she opened her mouth, everything was different: a solid core and very determined woman." The film gives us a variety of clips from those early days. We are witness to performances that combined a sexy, demure persona with the ability to soften a note then effortlessly release all the power of voice in a chorus. "If I could choose something to do it would not be to stand up in front of a lot of people, but I love to sing, and at some point, you do whatever you have to do in music." She was aware of the role of women in the music scene at that time. During a walk on the beach with a sly grin, she candidly explained: "Rock and roll is so male-dominated and it also seems dominated by a hostility against women, ya know? This sexual identity is used as a weapon against women." The film provides smart evidence of the grit, tenacity and self-awareness she brought to live performing.
Along with several other notable blossoming musicians at the Troubadour, Ronstadt was scouted quickly by record labels. Producers, as well as musicians, recognized her gift. Although she was not confident about her singing, she never wavered from delivering a full-throttle performance and managing what she needed to build a career. Her first band with JD Souther (who became her boyfriend), together with Glen Frey and Don Henley, became The Eagles. David Geffen signed her to his Asylum Record label and brought on Peter Asher to produce albums that became best sellers. He had just arrived from England where he was working with the Beatles (his sister Jane was McCartney's girlfriend). We hear Asher's Beatle influenced production, which she was initially dissatisfied with. We can notice that Beatles influence particularly in the guitar part in "You're No Good." At first she resisted the orchestrations on her hit with the Stone Poneys' Different Drum, but later came to appreciate them. She accepted Asher's production ideas, and the rest become pop music history. Ronstadt was soon one of the biggest selling female artists in the world.
Her early days of mass pop stardom and touring were exhausting. Against the advice of many, she expanded onto Broadway with a production of Pirates of Penzance featuring Rex Smith and Kevin Klein. From there she pushed to record songs from the American songbook. Nelson Riddle recalls her finding him to orchestrate the songs for the simple reason claims Ronstadt "These are songs I cannot not do."
Ronstadt's artistry is well documented with clips from concerts, small clubs, television, from the Broadway stage, and in the studio. Her final evolution led back to her father's Mexican roots where we see her on stage with mariachi bands. She claims not to have understood a word of the Spanish in songs that she sang with her father as a child. The film shows her being coached by Ruben Blades on how to sing Spanish lyrics correctly. This evidence of her determination to grow as an interpreter of song continued with sensational performances in collaboration with Dolly Parton, Emmylou Harris, Aaron Neville, Johnny Cash and others.
There have been several music documentaries in 2019 about this transitional time in American pop music including Echo in the Canyon, Woodstock: Three Days That Defined a Generation, David Crosby: Remember My Name, and Amazing Grace (Aretha Franklin). With the exception of the dreary Crosby documentary, these films engage a musical history that goes beyond nostalgia. That Ronstadt has retired is a significant loss but one she accepts with typical steely resolve. For fans is profoundly moving. For those unfamiliar with her career and the impact she had on pop culture, the film is a satisfying and thorough look at one of America's consummate song stylists.
Tim Jackson is a film reviewer, actor, director and musician based in the Boston area and is a member of the Boston Society of Film Critics.