Opera (2019)
Music by Poul Ruders
Libretto by Paul Bentley
Based on the novel by Margaret Atwood
Conductor: David Angus
Stage Director: Anne Bogart
Boston Lyric Opera
Ray Lavietes Pavilion
Harvard University, Cambridge, MA
May 5-12, 2019
With Jennifer Johnson Cano (Offred), Caroline Worra (Aunt Lydia), Kathryn Skemp Moran (Janine-Ofwarren), Chelsea Basler (Moira), Maria Zifchak (Serena Joy), Felicia Gavilanes (Offred in The Time Before), Jesse Darden (Luke), Lynn Torgove (Rita), Michelle Trainor (Ofglen), Dana Beth Miller (Offred's Mother), James Ricardo Milord (TV Presenter), Matthew DiBattista (The Doctor), Omar Najmi (Nick), David Cushing (The Commander), Vera Savage (New Ofglen), Samanta Willison (Daughter), Beatrice Eddy (Daughter)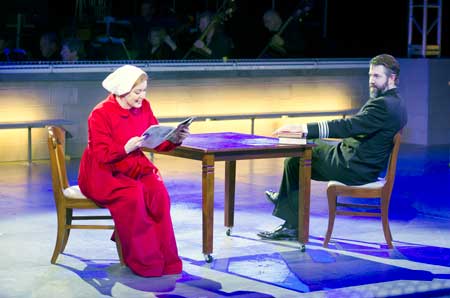 A compelling production of a contemporary opera based on the celebrated dystopian novel set in Cambridge, Massachusetts, in the near future, about sex slavery under a faith-based totalitarian regime.
To call the narrative of The Handmaid's Tale bleak would be like calling a hurricane rainy. Yes, bleak and bleaker. The story is based on an account by a woman who had had a normal contemporary American life that was taken away when prevailing social forces took over and transformed that life into oppressive social suffocation and manipulation; a dystopian nightmare, it is envisioned taking place in the near future.
The "handmaids" who appear in this robust production (performed in the Harvard basketball gym), sex slaves employed for reproduction, are adorned in vivid red robes. Others, in gray robes, represent another level of employment depicted in this operatic adaptation of the celebrated novel, not exactly parallel to the original but equally foreboding. There is a female commandant named Aunt Lydia (Caroline Worra) who directs things with impunity and utter dedication. Various other corrupt manipulators participate in the awful proceedings.
Of the corrupt ones, the Commander (David Cushing), who takes Offred (Jennifer Johnson Cano), the handmaid at the core of the story, into his rooms, totally contrary to the prevailing restrictive ethos of the newly horrible society, calls to mind the famed hypocrisies of actual totalitarian leaders. In fact, Margaret Atwood has claimed that her novel captures only events of the sort that have indeed occurred; though cast in a dystopian future, the horrific vision represents an aggregate of actually endured horrors. Elements of torture, tyranny, totalitarianism, brainwashing, and hypocrisy, are compounded to create the edifice of misery that The Handmaid's Tale brings to the fore.
The libretto by Paul Bentley is very well written. It has a kind of vernacular flair, but comes off as spontaneous and significant at the same time. I only found one spot where it rang a touch false, which was pretty good given that the opera went on for three hours.
The music is quite evocative. Occasionally it veers into proto-thematic moments, but mostly when, in the context of its dominantly moody and atmospheric intent, it calls a familiar tune to mind. Amazing Grace turns up in several places, as does a jazzy interlude which animates a scene in a brothel. Repetitive strains based on modal scales construct the foundation of the score, but done in a way that comes off quite effectively. The interweaving of a tonal part with a textural landscape in stark contrast calls to mind some of Charles Ives' work.
Mostly, however, the music is cinematic, atmospheric and non-thematic. It's very good in many respects, but because it is textural rather than melodic one walks away with a dominating musical mood rather than with a set of tunes echoing in one's ears. Within that structure there is some lovely instrumentation, with clever modulations of bells, harp, violin, piano – noted among others – holding sway in one place or another. Even the scoring buzzer from the gym is put to use in a jarring, but compelling, way.
Meanwhile, the sweep and verve, and punctuated accompaniment of the orchestra, prevails. Conductor David Angus and his band do a terrific job with this tricky and insistent score; performing behind the singers, with the conductor facing the orchestra but facing away from the vocalists, adds a distinctive challenge. The results are impressive nonetheless, and Angus' precise leadership is evident throughout.
Anne Bogart's staging and Shura Baryshnikov's choreography are notable and effective in this oddball, but effectively utilized, setting.
There are some great voices here. Notably, at center stage, is Jennifer Johnson Cano as Offred, the eponymous handmaid. Her voice is powerful, rich, deeply lilting and longing and creates a fine focus for the wide set of performances here.
David Cushing, as the Commander, has a fine basso, which he uses effectively in that domineering and magisterial role, and as Nick, the odd handyman and father-on-call, Omar Najmi offers a beautiful tenor support.
In the role of the supreme no-nonsense lady, Aunt Lydia, Caroline Worra gives a strident, but vocally effective, characterization.
The cast is almost the size of Cambridge itself; I was glad to see they could all fit in the gym and still allow room for an audience. I wasn't sure if they were taking numbers to come onstage for curtain calls, but it did take them awhile to get out there.
This is an excellent production and well worth seeing, however grim its tale. If you're lucky, you'll get a seat with a back. Most of the seats are on bleachers at the Harvard basketball gym, which is a little tough for a three-hour opera. The idea of having the performance in a gym is a nice departure, especially given that the prime setting of the novel's narrative is Harvard Square, but the seat thing is a little problematic. However, given the world that the opera depicts, a little discomfort on a bleacher seems like mild stuff. Coming out of the performance and reading the news from Washington is considerably more painful.
– BADMan