Opera (1816)
Music by Gioacchino Rossini
Libretto by Cesare Sterbini
Conductor: David Angus
Boston Lyric Opera
Cutler-Majestic Theater
Theater district, Boston
October 12-21, 2018
Stage Director: Rosetta Cucchi; Set Designer: Julia Noulin-Mérat; Costume Designer: Gianluca Falaschi; Lighting Designer: D.M. Wood
With Matthew Worth (Figaro), Jesus Garcia (Count Almaviva), Daniela Mack (Rosina), Steven Condy (Dr. Bartolo), Michelle Trainor (Berta), David Crawford (Don Basilio), Vincent Turrgano (Fiorello), Jesse Darden (An Officer)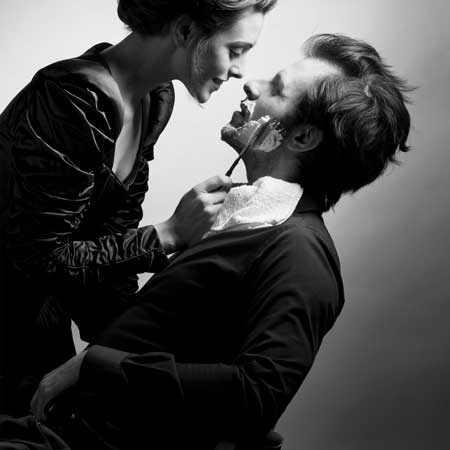 A lively, nicely designed, very entertaining rendition of the opera buffa about the clever barber Figaro and his clientele.
Count Almaviva (Jesus Garcia) has his eye on the lovely Rosina (Daniela Mack), the ward of old Dr. Bartolo (Steven Condy), who also has designs on Rosina. Almaviva conspires with the barber-about-town and witty enabler Figaro (Matthew Worth) to help seduce Rosina away from Bartolo. Things get delightfully complicated, but thanks to Figaro's timely machinations, it all manages, not surprisingly, to end well.
The character of Figaro, originally drawn from Pierre Beaumarchais' plays The Barber of Seville (1775) and The Marriage of Figaro (1778), stars both in this light Rossini venture and in the earlier, more developed, Mozart masterpiece about the dramatic sequel The Marriage of Figaro (1786). Barber tells of Count Almaviva's fascination with Rosina who becomes his wife at the end of this narrative, while The Marriage of Figaro, set later on, observes the fickle and wandering Count in his attempted betrayal of Rosina, now as his wife Countess Almaviva. Though both the Rossini and Mozart are, in broad scope, comic operas, the masterful and developed Marriage is quite a different animal from the animated and delightful, though far less evolved, Barber. That does not make Barber any the less fun to watch and entertaining to hear.
Rossini's stock in trade is a rapid-fire tongue-twisting vocal patter that is an Italian analogue to Gilbert and Sullivan's The Pirates of Penzance (1879) patter-song, I Am The Very Model Of A Modern Major General. A good percentage of Barber's vocal cast gets to take part in the fun. Matthew Worth's Figaro is first, followed by Steven Condy's Bartolo, Daniela Mack's Rosina, with hilarious and stimulating effect. It's not deep, but it's so much fun that one doesn't care. One doesn't get the longing and heart-rending effects of the aria Porgi Amor of Countess Almaviva from Act 2 of Mozart's Figaro, but one gets enough rapid-fire patter to make up for it in revelry.
The vocalists in this entertaining, lively and beautifully designed, production universally carry those numbers off articulately and capably, dazzling the audience with their glottal gymnastics and their sure-fire exactitude on the elocution and delivery. It's so much fun to hear, and this lovely production carries off all of that without a hitch.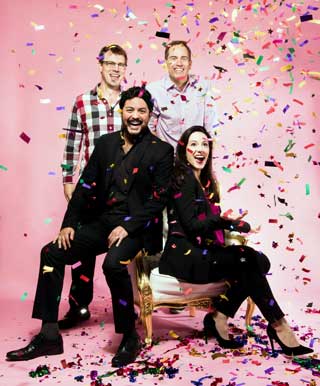 The voices are appealing in different ways. Worth's Figaro is gymnastic and dramatic, Mack's Rosina resplendent, and Condy's Bartolo intentionally grumbly. They are all dramatically effective and very entertaining.
David Crawford's Don Basilio offers a stirring basso which fits in with the comic drift but also has a rich elegance that moves one from beneath.
The acting is excellent and goes along well with the vocal dispositions. Worth's Figaro has a wonderfully light and energetic ambiance, and Mack's Rosina and Garcia's Almaviva, playing the romantic leads, give a good deal of vaudeville verve to their performances. As Berta, Bartolo's housekeeper, Michelle Trainor is a scream, and she pairs up nicely with Condy's bumbling Bartolo in multiple scenes.
The orchestra under David Angus is in fine form with fortepiano recitative accompaniment done very nicely and fluidly by Brett Hodgdon.
The set by Julia Noulin-Mérat is a festival of interlocking stairs reminiscent of an M.C. Escher diagram, fascinating, evocative, and visually stimulating. Lighting by D.M. Wood brings the set elements into vivid relief and provides dramatic emphases at every turn.
Costumes by Gianluca Falaschi are a total gas. The chorus appears in outfits that look like the set of cards from Alice in Wonderland. Other costumes – like the amazing dress that Berta wears – are redolent with colors and inventive alignments. The production is not only musically capable and a lot of fun, but is full of wonderfully visually stimulating elements as well.
-BADMan