Play (1593)
by William Shakespeare
Directed by Steven Maler
Commonwealth Shakespeare Company
Boston Common, Boston
July 18 – August 5, 2018
With Faran Tahir (Richard, Duke of Gloucester, later King Richard III), Deb Martin (Queen Elizabeth, wife of Edward IV), Bobbie Steinbach (Queen Margaret, widow of Henry VI), , Libby McKnight (Lady Anne, widow of Prince Edward, Henry VI's son, later wife of Richard of Gloucester), Fred Sullivan, Jr (Duke of Buckingham), Remo Airaldi (George, duke of Clarence), Michael Underhill (Henry, Earl of Richmond, Later Henry VII), Sarah Sinclair (Duchess of York, mother of Edward IV, George, and Richard), Seamus Doyle (Prince Edward, Edwar IV's oldest son and briefly King Edward V), Brendan O'Brien (Prince Richard, Edward IV's son), Marge Buckley (Marquess of Dorset, son of Elizabeth)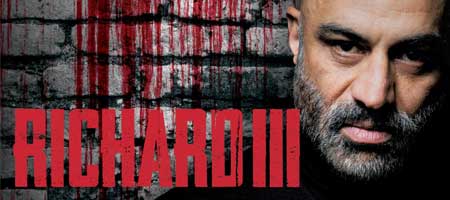 An excellent production of the classic Shakespearean drama about a megalomaniac chief executive and all the damage he manages to do.
Just after a decisive battle in The War of the Roses between the House of Lancaster and the House of York, Richard, the Duke of Gloucester (Faran Tahir), a member of the conquering House of York, maneuvers to become king.
In Shakespeare's rendering, the physically deformed Richard is about as manipulative and slimy a potential candidate for leadership as one could be. With indulgent seduction of supporters like the Duke of Buckingham (Fred Sullivan, Jr) who he inevitably wrongs in the end, he manages to gain the kingship. Killing just about everyone in sight who might be a threat to his power, including King Edward IV (Richard Noble), The Duke of Clarence (Remo Airaldi), and the young sons of the king, Prince Edward (Seamus Doyle) and Prince Richard (Brendan O'Brien), he confirms his power.
With dastardly logic he seduces into marriage Lady Anne (Libby McKnight), widow of yet another Edward, son of Henry VI, horrifying her along with every other lady in the court, including Queen Elizabeth (Deb Martin) who is the widow of King Edward IV and Queen Margaret (Bobbie Steinbach), widow of King Henry VI. Fortunately, Henry, Earl of Richmond (Michael Underhill), gets away from Richard's doings and mounts a rebellion which does Richard in and sets Richmond up to become Henry VII.
There's a lot of history, and a lot of Edwards, to keep track of in this very full play, but if one can keep enough track of things to figure out exactly how dastardly Richard is and how engagingly deceitful he is in presenting himself to potential allies, one can get the basic gist of things.
This is the second production of Richard III I have seen in Boston this year; I'm wondering if anyone has done a study of the frequency of productions of this play in the United States during the last year or two. My guess is that, given the current political landscape, its stock has gone way up.
This is a very good production indeed.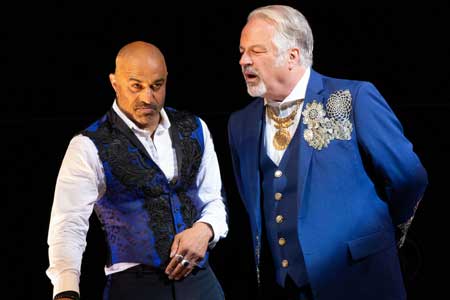 In the title role, Faran Tahir gives a compellingly nasty performance, and is easily convincing as a self-confirmed manipulator. What's particularly engaging about Tahir's performance is the persuasive sense one gets of Richard as a tragic character. He is not merely a villain in Tahir's hands (and Shakespeare's) but is one who is compelled by a dire psychological logic to claim power for his ascendant ego and consequently to destroy everything and everyone in sight. The cold evidence of that logic is revealed through Tahir's performance which makes Richard's physical deformity recede significantly behind, thereby bringing into sharp relief, the psychological ones.
Steven Barkhimer's excellent rendition of Richard in last season's Actor's Shakespeare Project version brought a sense of more evident manic craziness to the role. In Tahir's hands, the conscious and controlled malevolence of the character, literally subsumed by his ego, becomes apparent in a differently horrifying way; he is so much the tyrannical master of his situation that the warpedness of his own psyche screams out of the cracks in his ego when given the very occasional chance to do so.
Multiple other performances here are truly excellent.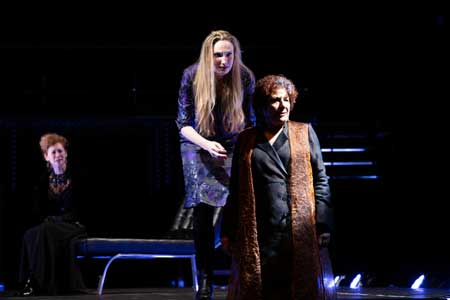 Bobbi Steinbach (Queen Margaret) brought first cheers from the audience with her searing denunciation of Richard, followed with rousing and energetic denunciations by Libby McKnight's Lady Anne, Sarah Sinclair's Duchess of York, and Deb Martin's ferociously effective Queen Elizabeth. The confluence of women's voices in this play is made particularly effective by this series of strong performances, rendering a chorus of outrage that meets and rises up against the tragic lunacy of the cancerously ego-obsessed protagonist.
Fred Sullivan Jr's fawning Duke of Buckingham fashions the character into the perfect middle-manager trying to keep up with his nut-job CEO, and Remo Airaldi is a sweetly vulnerable Clarence. Michael Underhill, as Richmond, is dashing and exuberant in his final battle with Richard, which involved some very effectively depicted crossing of swords as envisioned by Fight Directed Angie Jepson.
The fated boys, sons of King Edward IV, Seamus Doyle (Prince Edward) and Brendan O'Briaen (Prince Richard), unfortunately in Richard of Gloucester's path to the throne, give wonderfully precocious performances, articulate and affecting.
The set is simple but austerely effective, and the lighting (both designed by Eric Southern) darkly and tragically effective.
It's on the Boston Common and it's free – so go!
– BADMan