Musical (1944)
in semi-staged concert format
Music by Leonard Bernstein
Lyrics by Betty Comden and Adolph Green
Conductor: Keith Lockhart
The Boston Pops Orchestra
Symphony Hall, Boston
June 1, 2018, 8pm
Kathleen Marshall, director and choreographer; David Chase, music director; Michael Krass, Costume Designer
With Brandon Victor Dixon (Gabey), Andy Karl (Ozzie), Megan Lawrence (Hildy Esterhazy), Laura Osnes (Claire De Loone), Georgina Pazcoguin (Ivy Smith), Christian Dante White (Chip), Marc Kudisch (Pitkin W. Bridgework/First Workman), Andrea Martin (Madame Dilly, Diana Dream, Dolores Dolores), Kim Fauré, Robert Hartwell, Anne Horak, Kevin Munhall, Jeffrey Schecter, Eric Sciotto, Erica Sweany, Megan Sikora, Dennis Stowe, Lara Seibert Young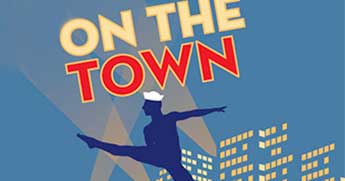 A superbly rendered semi-staged version of the early Bernstein musical about three sailors on leave in New York City.
It is 1994, and Gabey (Brandon Victor Dixon), Chip (Christian Dante White) and Ozzie (Andy Karl) are sailors on twenty-four hours leave in New York City. Bent on adventure and finding companionship, Ozzie and Chip quickly line up with Claire (Laura Osnes) and Hildy (Megan Lawrence) while Gabey falls for a poster of Ivy Smith (Georgina Pazcoguin), the Miss Turnstiles of the New York Subway for the current month. A day of antics begins during which Ozzie and Claire and Chip and Hildy tilt towards love and Gabey pursues Ivy across multiple boroughs. A subplot involving Claire's fiance, Pitkin W. Bridgework (Marc Kudisch), and Hildy's roommate, Lucy Schmeeler (Megan Sikora), keeps things interesting.
The plot grew out of Bernstein's early ballet, Fancy Free (1944), conceived by choreographer Jerome Robbins about three sailors on leave in New York. Without too much narrative, but with fabulous music by Bernstein, lively lyrics by Betty Comden and Adolph Green, and choreography by Robbins, it was turned into a full-blown and very entertaining musical. It is striking to think that Bernstein, all of twenty-eight, composed this dynamic and intoxicating score so compellingly at such a young age. It bears so many of the musical traits that later became his trademark in other great musicals and theater works like Candide (1956), West Side Story (1957), and Mass (1971). Jazziness, counterpoint, and sheer umph come through at all points. This early and whimsical work, conceived as a comedy and a goof has an underlying potent and complex musical structure that gives it, at certain points, an unexpected seriousness. In that way, it's like Gershwin's Rhapsody in Blue (1924) or An American in Paris (1928), jazzy works that are evidence of such verve and talent that the internal networks of tone, theme and rhythm make them shimmer and persuade, despite the superficial frivolousness of the narrative structure.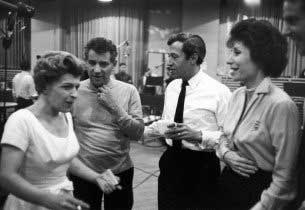 This truly superb concert production of On The Town owes much to Keith Lockhart's measured leadership of the Boston Pops. His mode is more governed and attenuated than Bernstein's, which is probably a good thing. One walks around Symphony Hall in this centennial year of Bernstein and sees picture after picture of the maestro in paroxysmic leadership of the orchestra, delivering, from the podium, his characteristic Dionysiac exoticism. Lockhart is not like that. He is much more measured, but manages to get the pizzazz across. The opening bars of the overture are testimony to the approach, stretching the expectation for culmination in a way that makes good musical sense.
The orchestra is, of course, sublime, and seems to be having a good time playing what, for them, is relatively easygoing music. That is not to say that the score is at all easy, but fits in well with the Pops' mandate to offer lively and popular results in top form.
The staging, in front of the orchestra without scenery, is done thoughtfully, and, despite its schematic quality, gives a good sense of what's going on in the plot. Introducing each scene, conductor Lockhart turns and gives a brief summary of each setting and narrative transition for the audience. The show takes place in all sorts of settings around New York, so it is actually quite helpful to have the additional guidance.
Choreography by Kathleen Marshall is also very well done. It's not excessive or ornate, but it gives a sense of action and dynamism; as a result, one does not feel that one is merely at a concert version of the show.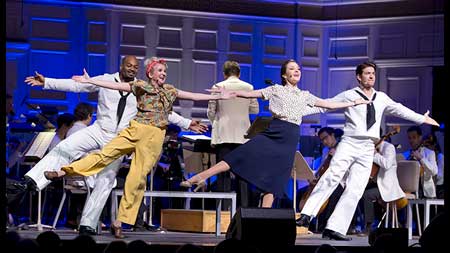 The cast is uniformly excellent.
Andrea Martin makes a very funny appearance as Madame Dilly, Ivy's teacher, and several other things, driving home her amazing talent for schtick. She played and won awards for the schtick-based role of the Old Woman in Candide, and recently for her performance in the revival of Pippin (2013), conceived originally by Diane Paulus at the American Repertory Theater.
Megan Lawrence, as Hildy, is also a good, wild, actor, who plays the part originated by Nancy Walker with energy and drive. She's funny, and she pulls off Hildy's signature songs I Can Cook Too and Come Up To My Place with a lot of power.
Marc Kudisch, in the supporting role of Pitkin W. Bridgework, provides intermittent comic relief but also offers a beautiful baritone that shines mostly in the psychologically revelatory I Understand.
Andy Karl, who plays Ozzie, and Christian Dante White, who plays Chip, are very good, but the standout among the sailors, in many ways, is Brandon Victor Dixon (Gabey). His voice is clear and rich, and he offers a kind of lyrical straightforwardness which is very effective. In the original cast recording, John Reardon gave an operatic baritone's depth to the role. Here, Dixon gives something that has a bit less of a reverberating basso, but provides, appropriately, more shape and nuance. It's a lovely performance and the display of a wonderful voice.
In many ways, the vivid light of the show comes from Laura Osnos who plays Claire. She is out of this world, as a singer, as an actress, and as a dancer. Offering a frame of patrician grace to her part, she betrays it delightfully with rhythm and passion. Her singing is superlative, her moves are graceful, and she offers real humor and compelling presence in her acting.
This production, with a top-notch orchestra, a compelling cast and wonderful stage conception, is a fabulous tribute to that great musical master honored in this centennial year. He would have been proud of his home-town production, which so ably honors his new-found base just a few miles to the south.
– BADMan