Interview
October 31, 2017
A discussion with the noted accompanist, voice teacher, and artistic director of the eminent vocal music series, New York Festival of Song, now celebrating its thirtieth season, about their upcoming Bernstein centennial celebration concert in New York featuring Songfest (1977), Bernstein's acclaimed work based on poems by thirteen noted American authors.
In honor of Leonard Bernstein's centennial, NYFOS is holding a series of concerts featuring Bernstein works this year, the schedule of which can be found
here
.
Here is info on the upcoming New York concert:
Take Care of This House: A Bernstein Celebration
Chelsea Shephard, soprano; Lucia Brandford and Annie Rosen, mezzo-sopranos; Miles Mykkanen, tenor; Justin Austin, baritone; Adrian Rosas, bass-baritone
Barry Centanni and Taylor Goodson, percussion
Steven Blier and Michael Barrett, piano
As part of the world Bernstein at 100 celebration, NYFOS offers a Leonard Bernstein musical extravaganza. This concert features a rare performance of the maestro's Bicentennial ensemble work, Songfest, which premiered forty years ago in the nation's capital. Set to an eclectic array of poems by some of America's most beloved writers including Langston Hughes, Edna St. Vincent Millay, Conrad Aiken, Edgar Allan Poe, and Walt Whitman, Songfest captures the composer at the dazzling peak of his powers: a kaleidoscopic view of the American experience told through the passionate voices of insiders, outsiders, artists, expatriates, married couples, and kids. The program also surveys Bernstein's most beloved works written for Broadway and the concert hall.
Tickets $40-55
$20 Real Deal tickets and $10 student tickets available by phone: 212-501-3330
Tickets> or 212-501-3330
Merkin Concert Hall at Kaufman Center
129 W. 67th Street, New York, NY
Tuesday, November 7, 2017, 8pm
I spoke with Steven Blier on October 31, 2017. The following is an edited transcript of that conversation, which opens with a note about NYFOS' concert last spring at Weill Recital Hall at Carnegie Hall featuring the music of, and honoring, Stephen Sondheim, who was present for the event (Boston Arts Diary Review).
Charles Munitz (CM, aka BADMan): I always marvel at your capacity to speak eloquently, passionately, with incredible charm, humor and warmth. And with Sondheim sitting in the audience! You somehow have this incredible gift to frame things, to give really informative and sometimes unexpected intellectual content. But also this sweet sense you have which envelops it all is quite remarkable.
Steven Blier (SB): Thank you very much!
CM: Would you like to be president? We need somebody like that.
SB: No, thank you, but it's a lovely acknowledgement.
CM: That was an amazing concert.
SB: We sort of pulled from the jaws of disaster. I originally had a major Broadway star signed, but there turned out to have been a scheduling mishap and I had to rebuild the whole thing. In the end, however, it worked out pretty well.
CM: It worked out superlatively and there was no hint of there having been anything other than an incredibly well intended and conceived program. Now you're off on a tour of various Bernstein programs.
SB: I did Arias and Barcarolles (1988) in Kansas (10/14/2017) and I'll do it again in Tucson (1/31/2018) and at Wolf Trap (2/2/2018). But Washington, DC (11/5/2017) and New York (11/7/2017) are more based around Songfest (1977).
CM: Was that just happenstance?
SB: I was supposed to have performed in Boston this fall but that got cancelled. There were supposed to have been four Arias and Barcarolles shows altogether and two Songfest shows and even that didn't quite happen. The New York and DC programs are not identical even though they're a couple of days apart because we found out rather late in the game that the National Symphony was doing Songfest in DC the same week. So I revamped the program and we're doing half of Songfest there – six songs – but we'll do all of it in New York.
CM: And the one in New York has additional material as well? How did you decide what to add?
SB: It's based, as usual, on who I had singing and what I wanted to give the public and how I wanted Bernstein to represent himself. So, I'm doing a couple of songs from 1600 Pennsylvania Avenue (1976), Ain't Got No Tears Left – a song that was cut from On The Town (1944), a song that was cut from Wonderful Town (1953), but also some really standard stuff from West Side Story (1957) because it's so thrilling to hear it sung that beautifully.
CM: I was so struck by the quality of singing in the Sondheim show. The two young performers in that show were out of this world.
SB: Both are former students of mine.
CM: You must know the soprano Julia Bullock whom I heard singing recently with the Boston Symphony (Boston Arts Diary review). I was blown away. What voice this young woman has – it was the big news on that program.
SB: Yes, I know her very well. She's also a former student of mine. It's the whole thing with her. The depths of her musicianship and intelligence are very palpable.
CM: Who gave the title Take Care Of This House to this Songfest program? Was that you?
SB: It was one of several that was kicking around. I thought that in the current political climate it was a perfectly good title. And I needed something that would work for two programs, one of which had all of Songfest and one of which had only part of it.
CM: It is a quote from something?
SB: It's a song! From 1600 Pennsylvania Avenue, so it's about The White House.
CM: When did the piano adaptation of Songfest come along?
SB: It's two or three years old. John Musto did it for a very particular performance at a song festival which is also called SongFest.
CM: Named after this piece?
SB: No. It's a teaching place for undergraduate and graduate student level singers. John Musto has a long association with that festival and did the piano arrangement of the piece Songfest, which serves our purposes very well because it allows us to perform the piece in kind of an authoritative way.
CM: Are both you and Michael Barrett playing piano in your upcoming Songfest concerts?
SB: Yes
CM: So, the arrangement is for two pianos…
SB: Two pianos and two percussion.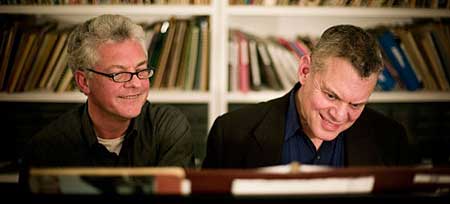 CM: You have six singers I assume.
SB: Yes.
CM: I gather that Songfest was premiered almost forty years ago to the day, at the Kennedy Center in October, 1977.
SB: That's right.
CM: Bernstein's Mass had inaugurated the Kennedy Center in 1971. Was there any way they were thought of as related?
SB: I don't think they were seen as related. Mass was very anti-war, very counter-cultural, and had a text by Stephen Schwartz, while Songfest has a text written by thirteen great American poets.
CM: They are terrific poems, every one of them unbelievably good. Did Bernstein select those himself.
SB: There's a story here. He always had a lot of gay flings, tons of them, but he got involved with a guy named Tom Cothran and actually left his wife to live with Cothran. Tom was extremely well-versed in poetry and he and Bernstein together chose the texts for Songfest. Bernstein could not really live with Tom, it turns out, but, in the meantime, he came out publicly as bisexual, which, technically, I suppose, he was. Cothran did advise him well with the poetry.
It came along at a complex time for Bernstein, both artistically and personally. Mass is a great piece in many ways but very mixed, with a lot of not wonderful lyrics, and in some ways overbearing and didactic. There were also a couple of huge debacles in that general time frame. One was the cocktail party that Bernstein's wife gave to raise money for the Black Panthers. It got skewered in the press, and identified cynically by Tom Wolfe, who, in many ways boosted his career on this, as "radical chic," which was very, very hurtful to the family. As a result, there were pickets outside their building, they received hate mail, and the whole thing wouldn't go away. The event was extremely misrepresented because Felicia actually had good and noble intentions towards the Black Panthers who did need money for lawyers and whose bail was unbelievably high. The fragility of the case against them was demonstrated when it actually came to court; it was thrown out the first day. So, she wasn't in the wrong. And then there was 1600 Pennsylvania Avenue, which lasted for seven performances on Broadway – a Bernstein musical, lyrics by Alan Jay Lerner, choreography by Alvin Ailey – these were major, major, major players – and this was a Hindenburg size flop.
This is happening all somewhat around the same time as Songfest, which was supposed to have had its premiere in 1976 but Bernstein couldn't finish it that year and I think he even had to return the commission money as a result. It was actually originally pledged for The Philadelphia Orchestra, not The National Symphony, but he was absolutely committed to the project, maybe because of Tom Cothran. I think it was one of the last great pieces that Lenny wrote. I think Arias and Barcarolles is also a great piece, but Songfest is very exuberant, has great melodies, and is very embracing whereas Arias and Barcarolles is very imploded; it's all about family and marriage but also in the spirit of questing for answers that don't seem to be there.
The other thing is that Felicia got cancer in the late 1970s and Lenny dissolved in grief and guilt with concern that he might have contributed to causing it by his abandonment of her for Cothran. She died in 1978, right after the premiere of Songfest.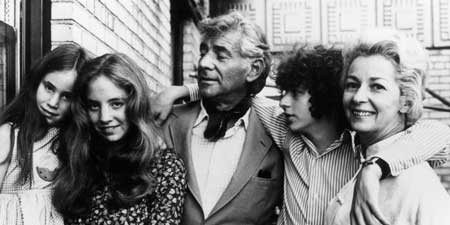 CM: I'm recalling reading somewhere that you had identified Songfest as one of Bernstein's greatest works.
SB: I think it's the greatest vocal work. It's the pinnacle of his music for voice, absolutely.
CM: What is it that makes it that – the exuberance you were talking about?
SB: It has great depth, but it's also extremely available. The first time you hear it you can absorb so much of it. You don't have to hear it ninety times in order to get it. You don't need to say now that I know it by heart I'm beginning to get it with this piece; it's kind of right there for you. It's such a virtuoso turn on Bernstein's part because it's in so many styles, reflective of so many things he could do – hot jazz, cool jazz, Latin. One piece (The Pennycandystore Beyond The El) is completely twelve tone but it also sounds like Miles Davis so it's cool jazz and twelve tone at once! And that whole thing is about what it means to be American in an inclusive way – there're African-Americans, a Muslim, a Latina, and it's also his first real out and out gay piece too.
CM: There are Bernstein pieces like Songfest, or Divertimento for Orchestra, (1980) which I heard the BSO do recently, which have a great combination of what one thinks of as Bernstein exuberance, eclecticism and energy, but are shaped in ways that give them the character of notable works. I know one of the big issues for him – correct me if I'm wrong – was that he was obsessed with the fact that he was not regarded as a serious composer – that his symphonies did not get that much attention and that he thought of the jazzier stuff as lesser in some way.
SB: Parts of Songfest are lighter and parts are very deep. I think it's very autobiographical and I picture Lenny up late at night worrying about aging, about his own sexual adventures and conflicts, about his family, and also about the big philosophical questions. When, as a composer, he dealt with those big questions in a very explicit way – in the symphonies or in the opera A Quiet Place (1983) – his music could get rather ponderous. But when he allowed his music to dance it was absolutely anti-gravitational. In my opinion he sometimes worked too hard to be serious, to be taken seriously, to write something that no one could mistake for something other than serious. A little too long and a little too bloated – like one's great Uncle Shmuel who teaches at a yeshiva, ponderously taking up dinner table time trying to teach everyone. I sense that when Lenny wasn't trying so hard to teach he taught a lot more.
CM: That when he lets his jazzy and longing self hold sway he's the most eloquent…
SB: Exactly. I think What My Lips Have kissed is very eloquent but it's only five minutes long and it's in the context of things which have much more liveliness. For five minutes you feel like you're up with Lenny at four in the morning, but you don't spend a whole program or a whole opera shut up in that very earnest place.
CM: Though Songfest has its heavy moments it also has the kind of variety that one might find in a musical.
SB: One of the original titles was something like Towards An American Opera….
CM: I heard it might have been Six Characters In Search of an Opera. Theoretically there was a second alternate title, A Secular Service and Ballet, which made me think it might have been thought of as a kind of follow-up to Mass – a people's work, deeply felt but without ritual associations.
SB: The piece's emphasis on the theme of America as pluralistic and very inclusive provides much of that sense.
CM: And the music, particularly in the Julia de Burgos piece, gives a lot of the sense of themes in Mass.
SB: Things with 5/8 time often do bring Mass to mind.
CM: And The Pennycandystore Beyond the El has a lot of West Side Story feeling to it.
SB: Sort of like the song Cool. I find a lot of West Side Story in the Julia de Burgos one as well. I think of it as the dance music from West Side Story on meth.
Leonard Bernstein's
Songfest
is comprised of songs set to thirteen poems from different American poets:
1. To the Poem (Frank O'Hara) – sextet
2. The Pennycandystore Beyond the El (Lawrence Ferlinghetti) – baritone solo
3. A Julia de Burgos (Julia de Burgos) – soprano solo
4. To What You Said (Walt Whitman) – solo
5. I, Too, Sing America (Langston Hughes) / Okay 'Negroes' (June Jordan) – duet
6. To My Dear and Loving Husband (Anne Bradstreet) – trio
7. Storyette H. M. (Gertrude Stein) – duet
8. if you can't eat you got to (e.e. cummings) – sextet
9. Music I Heard with You (Conrad Aiken) – solo
10. Zizi's Lament (Gregory Corso) – solo
11. What Lips My Lips Have Kissed (Edna St. Vincent Millay) – solo
12. Israfel (Edgar Allan Poe) – sextet
– BADMan