Interview
Hannes Holm
Writer/Director of the newly released film
A Man Called Ove (2015)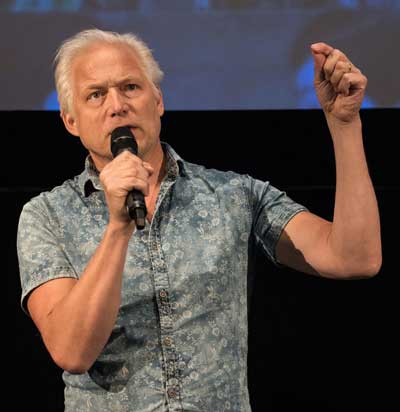 A conversation with the director of the newly released film, Sweden's official 2017 entry for foreign language film at the Academy Awards.
I spoke over the phone recently with Hannes Holm while he was in this country in advance of the opening of A Man Called Ove. The following is adapted from that interview.
CM (Charles Munitz, aka BADMan): A Man Called Ove is a lovely film – sweet, touching and funny in a delightful and poignant way. I gather that you've done a lot of comedic work and that this sort of lightly comedic drama is a bit of a departure.
HH (Hannes Holm): I started with comedy in Swedish TV – my friend Måns Herngren (with whom Holm has partnered on many of his films) and I, two young boys, with a TV station that was more or less our own. We did humor, but I also love stories as well. In the mid-1990s I started to make features. And now that I'm a bit more mature, I want to get more into drama. But I'm a bit handicapped by being a seasoned comedy writer. While I'm writing a script, if a joke pops up in my head, I want to use it. But then my wife looks at the script and says too funny and takes it away.
CM: When I was watching the film, I thought a bit of Harold And Maude (1971), a sweetly poignant but comedic film about someone with suicidal inclinations. Your film also adds a kind of sweetness to a difficult tale through that kind of gentle humor.
HH: It's a balance. Måns comes from a dramatic tradition so we can meet. I really like films like Forest Gump (1994) which incorporate both tragedy and comedy. There is a sweetness when Ove (Rolf Lassgård) is reading the fairy tale to the child in our film, but frankly I was a bit afraid that scenes like the one where Ove longingly smells his late wife's clothes were too sentimental to be interesting. It's really a matter of keeping a balance all the way.
CM: I think of Ingmar Bergman's (1918-2007) films, some of which are delightful comedies at the same time that they're dramatically significant.
HH: There's often a kind of drastic humor in Bergman's films. It's frequently a director's sort of humor, not a joke, but a cut or a U-turn in the story that can make a narrative change which makes it seem funny. I sometimes have this feeling of being professionally handicapped when I see a film – I laugh prematurely because I can see what the filmmaker is about to do to turn things around – I'm usually a small step ahead of the game. In Force Majeure (a 2014 film about a devastating avalanche in the French Alps), I see that the new Swedish director Ruben Östlund is, in many ways, laughing, like Quentin Tarantino does in many of his otherwise dramatic films.
CM: Is Bergman a particular influence for you?
HH: Not really. Satire is more what I've done, and when I was young I more often did spoofs on Bergman films than imitated them. The only similarity I can think of is that he really loved his actors, and I do too. But I sometimes think he really should have put a bit more humor in some of his films.
CM: Some of the great ones are pretty funny – Smiles of a Summer Night (1955), Fanny and Alexander (1982).
HH: In one of them, a couple can't get into their flat, so they have to sit outside all night and they start to discuss infidelity, which they continue to do until morning. That's funny in a way.
I'm going to Tokyo next week with Rolf Lassgård and I'm really curious to hear what they have to say especially about the Japanese traditions of suicide, and Japanese films which touch on it.
CM: Speaking of Japan, do you know the sweetly dramatic films by German writer/director Doris Dorrie, Enlightenment Guaranteed (2002) and Cherry Blossoms (2008), which are both set in Japan?
HH: I work a lot, so I don't have much time to see new films. When I do have time, I wind up looking at twenty-year old films.
A Man Called Ove is about a Scrooge type of guy, which is not such an original theme and a kind of archetype. Originally I rejected the idea of using another person's story (the film is based on the novel of the same name by Fredrik Backman) because I generally write my own material, but I was so impressed by Backman's novel that I decided to go with it.
A Man Called Ove opens in the Boston area on October 14, 2016 at the Kendall Square Cinema in Cambridge.
– BADMan