Play (2016)
by Joshua Harmon
Directed by Paul Daigneault
Speakeasy Stage Company
Boston Center for the Arts
South End, Boston
September 9 – October 8, 2016
With Sara Elizabeth Bedard (Kiki), Jordan Clark (Laura), Greg Maraio (Jordan Berman), Eddie Shields (Gideon, Evan, Roger), Kris Sidberry (Vanessa), Kathy St. George (Helene Berman), Jared Troilo (Will, Conrad, Tony)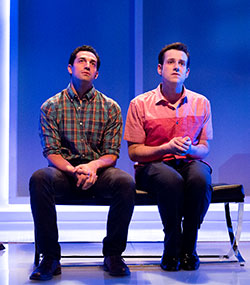 A sweet and very funny play about a thirtyish gay man in New York who faces increasing solitude as his female college friends marry and withdraw from a formerly tight circle.
This very amusing and charming play is about almost nothing, but that seems not to matter one bit as young playwright Joshua Harmon, best known for his recent hit Bad Jews, unwinds the story of Jordan (Greg Maraio), a twenty-nine year old gay man who concurrently searches for love without finding it and loses the immediate companionship of his best friends, three straight women who proceed to marry and establish independent lives.
In a talkback after the show, playwright Harmon, who was in Boston briefly for the production, said that the original drafts of the play seemed like the saddest thing imaginable. In other words, what turns out to be a very funny script had not, in the playwright's original vision, been intended or written as a comedy. It is exactly that quality of very funny dialogue that does not have the brand of intentional humor that makes this play particularly entertaining and captivating.
While Jordan's three close women friends – Kiki (Sarah Elizabeth Bedard), Laura (Jordan Clark) an Vanessa (Kris Sidberry) – proceed to fall in love and marry, he pines after a guy at work, Will (Jared Troilo), and considers, individually and with his friends at some endlessness, how to actually engage with the guy.
Who would think that a series of conversations about hesitant homosexual romance could be so amusing? But here, it is. There are any number of scenes in which Jordan contemplates what to say, what to write, whether to email or not, what to say in the email, and each of his three women friends has a lot to say on the matter.
As well, Jordan visits with his grandmother, Helene (Kathy St. George), who has all kinds of wry and wonderful comments. They look a lot at family photos, many of which Jordan pulls out when his grandmother begins to probe a little too deeply about his social life. It might seem as though this were a kind of tired narrative technique, but the characters and the relationships are so full of fun and raw commentary that the ongoing return to Grandma's house is actually a great source of pleasure. Not all that surprisingly but still effectively, what Jordan's grandmother has to say to him has a lot of effect on his capacity to grow up and become a more emotionally and psychologically resilient character.
This production, well directed by Paul Daigneault, is particularly successful at bringing Harmon's humor into relief, largely due to the quite amazing performance given by Greg Maraio as Jordan. He is a one-man barrel of monkey-shines, full of visual gags and gestures that don't seem forced but which make Jordan into a palpable and vulnerable protagonist, and one with whom it's possible to honestly empathize. This character might easily be annoying, but Harmon's wit and Maraio's embodiment of him make the character warm, funny and lovable, as well as a neurotic mess.
The performance by Jared Troilo, who plays multiple significant others for the women characters (Conrad, Tony), as well as Will, Jordan's dreamboat coworker, is convincingly good. Dressing slightly differently for each role, he conveys these multiple characters in a highly plausible way.
Eddie Shields (Gideon, Evan, Roger), as the overtly gay but not particularly appealing other coworker, is dramatically over the top, appropriately, making an engaging foil.
As Helene, Jordan's grandmother, Kathy St. George is wonderfully gruff and endearing, supportive and nosy in one fell swoop.
Harmon here, as in Bad Jews, makes good comedic use of Jewish cultural references. Jordan has a pair of sneakers that hie holds onto as an emblem of his sought-after love, but when he decides he needs to let go of them he tosses them out of the window intoning the Jewish prayer for the dead. It's a very funny moment, no doubt particularly so for those who understand the reference.
There is a lot of stagecraft which enables the interweaving of multiple scenes in various homes, offices, bars, venues to happen effectively. The set by Christopher and Justin Swader is simple and abstract but offers a template for enough lighting (designed by Daniel H. Jentzen) and staging alterations to make the rapid transitions of scene work quite seamlessly.
Harmon's Bad Jews is a more complex play involving a series of thematic elements that collide in an engaging way. Signficant Other is considerably more simple from a narrative perspective, but, as in Bad Jews, the dialogue is captivatingly funny without being forced. Here, even though not a whole lot goes one, that fluidity of dialogue keeps things rolling along.
According to Harmon, the play emerged from a series of about nine dramatic vignettes on the theme of disappointment in love he worked on while in a writing workshop with playwright Annie Baker (The Flick).
The result of that exercise captivated Harmon and he decided to pull the vignettes together into this play, which turns out to be an effective interlacing of those original reflections, gluing it together with observations on the morphing of friendship and the portrayal of the emergence of a fragile self-reliance. The result of this amalgamation is conveyed through surprisingly observant and honest dialogue, its natural wit capable of drawing one into a story that might otherwise have seemed mawkish and foolish.
– BADMan