Circus, Performance
Director, co-writer and original idea: Vincent Dubé
Music: Frédéric Lebrasseur
Machine de Cirque
ArtsEmerson
Paramount Mainstage, Washington Street
Theater District, Boston
Setpember 21 – October 2, 2016
With Yohann Trepanier (circus artist), Raphael Dubé (circus artist), Ugo Dario (circus artist), Maxim Laurin(circus artist), Frédéric Lebrasseur (Musician-composer)
A terrific, fun, entertaining show of circus acts, some unconventional, with five or so relaxed, hip circus artists and a brilliant musician.
Informality rules in this wonderfully interesting and stimulating show. For most of it, the four circus artists, all men, do a variety of tricks, gags and routines, some of them quite offbeat, but all of it fun.
A single musician, Frédéric Lebrasseur, carries the day with a combination of instruments, mostly percussive, and it is remarkably effective as accompaniment. The music is rich and energetic and Lebrasseur's playing is full of verve.
The series of routines in this show are quite varied. Some of them are relatively casual, involving the circus artists casually scrambling up the vertical poles, or getting bounced up to the second level of the main central platform. Others are focal and awe-inspiring.
A bicycle balancing act done by Ugo Dario, is continually astounding. He dances on the pedals and bars in ways one could not believe while managing the bicycle as it circles onstage. Watching him stand on the handlebars while the bike circles without riding off the stage or simply falling inspiring a degree of awe.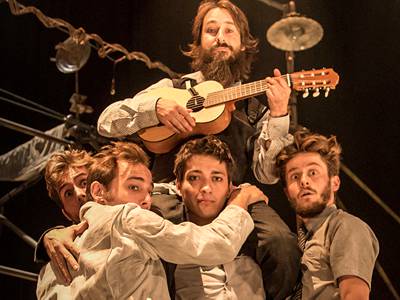 The juggling is terrific.
Starting with a switching hat trick as a brief warm-up, the jugglers then move into full-fledged club juggling involving all sorts of combinations of passing and managing large numbers of clubs in the air. The percussionist sits center stage and at times clubs find their way into his hands and he simply uses them as drumsticks – it's good sound and very entertaining.
There is a routine that goes on for quite awhile involving all the men undressing and holding towels in front of their naked bodies, doing endless variations on twisting bodies and towels to avoid revealing anything to the audience. The passing and folding of towels, the bending of arms and legs one over the other, the dropping and picking up of towels, is done with imagination and artfulness. It's hilarious and suspenseful as one watches in awe as the four men manage not to reveal themselves in the middle of the melee.
The final routine involves leaping off of balanced springboard. Some of the artists swivel and flip in the air, landing with enormous and unbelievable precision.
The entire performance is carried out with a casual air. The guys are all dressed in regular pants and shirts and give of the feeling of hanging out onstage. Though they are incredibly on and energetic, they also have an informal and relaxed demeanor. The overall effect is one of hang-loose and effervescent fun with endless gags and fabulous and distinctive acts that arise quite naturally out of the ongoing scene.
The machine concept is everpresent but not overplayed. The show has this as an underlying theme, but apart from having a kind of Rube Goldberg-esque set of connections and contraptions that sometimes get erected onstage, there is nothing particularly theme-bound about the goings-on. Whatever theme there is provides just enough to hold things together aesthetically without overdoing it.
– BADMan