Play (1597)
by William Shakespeare
Directed by Steven Maler
Commonwealth Shakespeare Company
Boston Common, Boston
July 20 – August 7, 2016
Scenic Design: Scott Bradley; Costume Design: Nancy Leary; Lighting Design: Eric Southern; Sound Design: Dave Remedios; Movement and Choreography: Yo-El Cassell; Production Manager: Leslie Chiu; Production Stage Manager: Kevin Schlagle
With Remo Airaldi (Don Armado), Justin Blanchard (King of Navarre), Jason Bowen (Berowne), Larry Coen (Costard), Jennifer Ellis (Princess of France), Obehi Janice (Rosaline), Ray O'Hare (Moth), Mark W. Soucy (Sir Nathaniel), Fred Sullivan, Jr (Holofernes), Brandon Whitehead (Boyet), Jes Bedwinek (Maria), Rachel Belleman (Jaquenetta), Anthony Cason (Forester), Margaret Clark (Katharine), Dalton Davis (Longaville), Marisa Gold (Ensemble), Cameron Gosselin (Mercade), Nahs Hightower (Dumain), Arisael Rivera (Dull), Grace Trapnell (Ensemble), Matthew Tyler (Ensemble), Colin Wulff (First Gentleman)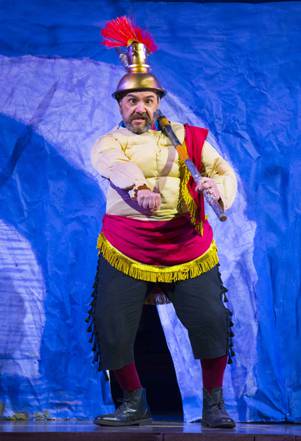 A terrific and very fun production of Shakespeare's early comedy, very high on language play and relatively low on plot.
The story is at once too simple and too complex to go into to any degree.
Suffice it to say that the King of Navarre (Justin Blanchard) has enlisted his associates to take a vow of abstinence from women, food and sleep for three years, but when the Princess of France (Jennifer Ellis) and her retinue show up, things go haywire. Drawn into engagement with the women, the men get ensnared more than they had anticipated. But long-lived love is not to be, at least in the imagined space of this play, which ends with the women being called back to France, and with the sense that love, given extra space and more time, might well be tested and potentially renewed.
There are a lot of fun characters in this play and this inventive and lively production does its very best to bring out their distinctively hilarious qualities.
Foremost among these is Don Armado (Remo Airaldi). Airaldi carries on with such comic abandon in the role of the impassioned Spaniard that its total over-the-topness becomes all consuming. He spins his speech so weirdly and amusingly that every rolled "R" or guttural gasp calls out spontaneous glee from the audience.
Other characters – many of them – are equally hysterical.
Fred Sullivan, Jr., as the pedantic Holofernes, has a demonstrative form of histrionics that also works incredibly well. As the King, Justin Blanchard is endearingly silly, and Ray O'Hare does a great job as Moth, the diminutive liege who has to play Hercules in the final play within the play.
Among the women, Obehi Janice, a wonderful comic actress who, among other things, did a great turn in An Octoroon at ArtsEmerson this past winter, brings lightness, but also a compelling presence, to the role of Rosaline. Her rich contralto speaking voice is a sheer delight to listen to.
Obehi Janice, a wonderful comic actress, brings lightness, but also a compelling presence, to the role of Rosaline.
In the central role as the French princess Jennifer Ellis does a fine job, with a sinuous levity that keeps things moving.
There are many wonderful performances here: Justin Blanchard gives great humorous sway as the King, Jason Bowen is resolutely compelling as Berowne, Larry Coen is a laugh-a-minute Costard, Mark W. Soucy a nerdily uproarious Sir Nathaniel, Brandon Whitehead bustles as the giggle-prompter Boyet, and Arisael Rivera parades a droll Dull with no dullness at all.
The staging is beautifully executed, with intelligent choreography by Yo-El Cassell and all sorts of continuing and eye-catching effects. At one point, the men dress up as Russians and do a hilarious kazatsky-like dance.
The costumes by Nancy Leary are brilliantly conceived, varying from what look like tennis whites to tan military outfits to all sorts of get-ups for the Greek mythological play within a play at the end.
Music, as well, is wonderfully put together by sound designer Dave Remedios – lively and somewhat raucous contemporary classical music that offsets the action perfectly. The play itself is quite abstract in its utter devotion to word play which the somewhat modernist texture of the music brilliantly supports.
The set itself by Scott Bradley is a kind of green fairy-tale adaptation of an academic building, as though Harvard were brought to Popeye-ville, and gives the academic overtones and the endless intellectual banter a naturally bizarre but highly colorful context in which to come alive.
The secret to this production is its endless attempt to make the most of the play's fanatical wordsmithing and to support it with all kinds of histrionics to make it continually framed with antics and visually as well as linguistically stimulating.
At the end, things turn, the silliness subsides and the quiet of a beautifully sobering soliloquy emerges.
At the end, things turn, the silliness subsides and the quiet of a beautifully sobering soliloquy emerges. It's hard to imagine that it surfaces out of two and a half hours of a mad romp, but it does, and does so beautifully and convincingly.
– BADMan