Opera (1905)
Music by Franz Lehár
Book by Lillian Groag after the original by
Victor Léon and Leo Stein
With English lyrics by John Wells
Addition English lyrics by John Conklin, Adrian Ross and
Basil Hood
French lyrics by Gaston de Cavillavet and Robert de Flers
Sung in German, Englsh, French, Italian, Russian and Serbian with projected translations
Conducted by Alexander Joel
Set Designer: John Conklin; Costume Designer: Robert Wierzel; Choreographer: Kyle Lang
Boston Lyric Opera
Citi Performing Arts Center/ Shubert Theatre
April 29 – May 8, 2016
With Erin Wall (Hanna Glawari), Roger Honeywell (Count Danilo Danilowitsch), Andrew Wilkowske (Baron Mirko Zeta), Chelsea Basler (Valencienne), Jesse Blumberg (Jako Njegus), John Tessier (Vicomte Camille de Rosillon), Alex Portenko (Paval Kivowitz)
A multilingual account of the popular operetta and waltzathon, reset a bit forward from the original turn of the century setting to just before World War I.
The plot could be right out of a Marx Brothers film. No doubt The Marx Brothers scriptwriters lifted a lot of their shenanigans from The Merry Widow, which came first.
In this production, the setting is New Year's Eve, 1913, a slight forward adjustment from the original turn-of-the-century setting.
The comic play the opera was based on, L'attaché d'ambassade (The Embassy Attaché), was written in 1861 by Henri Meilhac with the narrative pretense of a German duchy in need of retaining the financial bolstering of a Parisian widow who inherited the fortune of her dead duchy-ite husband. When The Merry Widow librettists Victor Léon and Leo Stein got hold of it forty years later, they decided to recast the needy province in the Balkans – considered more entertaining and stageworthy – and make the time-frame contemporary Paris.
Pontevedro, a fictionalized Balkan country, is in danger of financial default and it needs the vastly wealthy Potevedrian merry widow, Hanna Glawari (Erin Wall), to marry back into its population and stay put in order to keep the coffers filled. Baron Zeta (Andrew Wilkowske), engineering the destiny of his homeland, seeks to pair up Hanna with Count Danilo (Roger Honeywell), who, it turns out, she already has had some previous pairing with.
Before she got married to the gazillionaire from whom she has inherited her fortune, she was just an ordinary gal, in fact, in this retelling, a dancer in the Ziegfield Follies in New York. At that time, she and Count Danilo, who had gone there on a visit, were romantically involved briefly, but his family objected to the union with the impoverished commoner, and and the whole thing fell apart.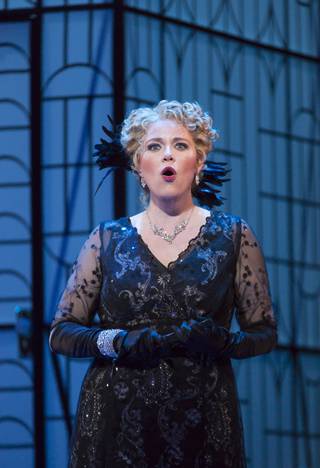 But love is still in the air and somehow, after arguments about faithlessness, and the growing glimmerings of love, things look more positively inclined.
On a second tier of intrigue, Valencienne (Chelsea Basler), Baron Zeta's wife, is flirting dangerously with Camille de Rosillon (John Tessier) and things get very complicated when they wind up in a tight corner and Hanna comes to cover. It's an operetta, so naturally things turn out ok despite Count Danilo thinking in the end that he's marrying a newly impoverished widow, but that turns out ok too – except, in this case, everything is set just before World War I – so, overall, not really.
This production definitely has its moments. The performance I saw started a bit slow – the stage direction didn't quite seem to gel – but by the time Acts II and III rolled around, it was in full swing and plenty of fun.
The history of the operetta is storied and it has gone through so many revisions and variations that it's hard to know what's original and which particular adaptations have come along when. The current production is done in a combination of English, German, French, Russian and Serbian which seems a little incongruous at times, but it certainly gives a flavor of the storied narrative history.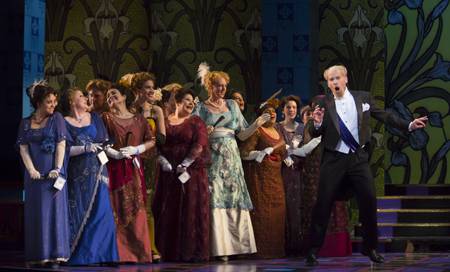 In addition to the action which, in this performance, seemed to take a full act to get warmed up, the voices, which seemed a bit constrained at first, also warmed for the second and third acts. In the end, it was all very satisfying and entertaining, but it did feel like one had to put in a bit of time before the intermission in order to get there.
Erin Wall, as the merry widow, and Roger Honeywell as Count Danilo make a fine middle-aged romantic pair. Wall's voice built as the evening went on, and some of her renditions were particularly lovely, notably Vilja at the opening of the second act. Though Honeywell doesn't have a big voice, he sings competently and acts the role with a good deal of grace and a lively sense of fun.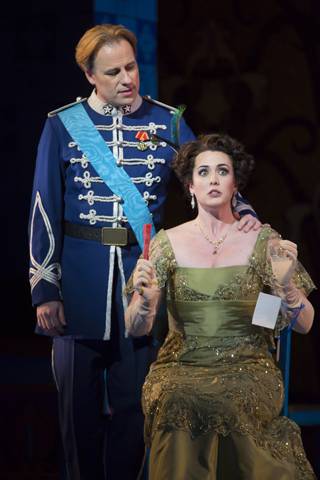 The orchestra played competently, though I was not taken as much with it in this production as in some other recent BLO efforts. No doubt that has something to do with Lehár's score which is light and waltzy, very pleasant, but not too compelling. There were, along the way, however, some notably good cello solos.
This is catchy music, however, and it is easy to go on humming it for days afterwards. The main waltz theme from The Merry Widow is a classic, easily recognizable, and addicting. It gets repeated often enough during the opera in various guises to have it stick indelibly and not unpleasantly, with the truly silly but charming narrative echoing not far in the distance.
– BADMan