Circus
Cirque du Soleil
Suffolk Downs, Boston
May 26 – July 10, 2016
Tickets go on sale 12/17/2015
The circus is coming to town again, this time under the big top with a great new show by the indomitable Cirque du Soleil, asking What if you could alter reality at will?
As described in the colorful spiel on the show's website (itself pretty cool, actually), KURIOS introduces –
A mysterious and fascinating realm that disorients your senses and challenges your perceptions. Step into the curio cabinet of an ambitious inventor who defies the laws of time, space and dimension in order to reinvent everything around him. Suddenly, the visible becomes invisible, perspectives are transformed, and the world is literally turned upside down.Delve into a world where seeing is disbelieving.
Premiered in Cirque du Soleil's home city of Montreal in April, 2014 as its 35th production, Kurios is written and driected by Michel Laprise, a seasoned actor and director who has been with Cirque du Soleil since 2000.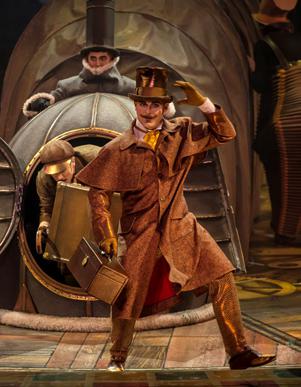 Set in the latter half of the nineteenth century, the title suggests the treasures hidden in a cabinet, the curios that unlock curiosity itself, with a sense of magic, discovery and re-invention.
Naturally, the show contains not only the intrigues of a unique narrative that is embellished with wonderful design, costumes and music, but is filled with amazing circus acts of all sorts.
Critical reviews have been strong:
"KURIOS is Cirque du Soleil's strongest act in years…one of the most amazing things I've ever seen on a stage" (Toronto Star); "KURIOS is the best Cirque du Soleil show in a long time." (San Francisco Chronicle); KURIOS is "Not to be missed on any account." (Chicago Tribune); and The Los Angeles Times made it a Critic's Choice.
Though the show is a few months away, tickets are available now.
– BADMan