Opera
Based on the opera Carmen
by Georges Bizet
Adapted and directed by Mark Dornford-May
Music Arranged by Mandisi Dyantiyis
Original Translation by Rory Bremner
Music Directors Pauline Malefane and Mandisi Dyantyis
Choreography Lungelo Ngamlana
Lighting Chloe Kemward
Isango Ensemble
Arts Emerson
Cutler Majestic Theater
Theater district, Boston
November 10-22, 2015
With Noluthando Boqwana, Mandisi Dyantyis, Thobile Dyasi, Ayanda Eleki, Zamile Gantana, Nontsusa Louw, Sifiso Lupuzi, Pauline Malefane, Bongiew Mapassa, Zanele Mbatha, Siyasanga Mbuyazwe, Sinethemba Mdena, Vancia Mgugunyeka, Snadile Mgugunyeka, Katlego Mmusi, Mhlekazi (Whawha) Mosiea, Zoleka Mpotsha, Siyanda Mcobo, Buisiwe Ngejane, Zolina Ngejane, Sonwabo Ntshata, John Page, Tukela Pepeteka, Luvo Rasemeni, Maris Sharp, Masakane Soyayisi, Ayanda Tikolo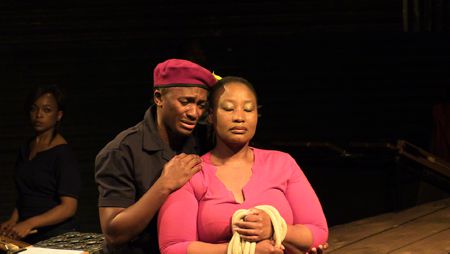 A lively integration of Bizet's opera with South African motifs, supported by marimba orchestra.
The story is the same as in Bizet's Carmen, with a little adjustment for location. Some of the settings, theoretically, are in South Africa, though the whole doesn't quite mix logically, since Escamillo, a Spanish matador, still figures prominently in this version.
In any event, the story of Carmen, the seductress who takes Don José in with her charms then eventually dispenses with him when she is pursued by Escamillo, is familiar.
The Isango Ensemble, which last year brought a rousing and pretty wild version of Mozart's The Magic Flute to ArtsEmerson and this year brings this version of uCarmen along with a version of Benjamin Britten's A Midsummer Night's Dream, which Isango is doing in alternation.
A Midsummer Night's Dream is a bit on the attenuated side, but it, of course, has to contend with Benjamin Britten's music which I like fine, but which might not be the best for this sort of South African marimba adaptation.
Mozart's The Magic Flute is full of notable tunes, rousing and familiar, and, of course, it's Mozart, which means that it is pretty much indestructible.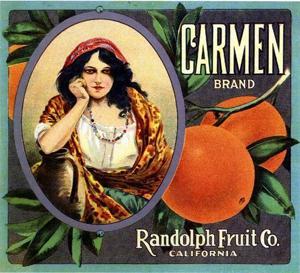 Carmen is full of equally notable themes, which makes it generally a much better bet for this sort of African adaptation. It's also produced in English, which makes the issue of figuring out what's going on less intense than with A Midsummer Night's Dream which is performed largely in tribal language.
There is also ample opportunity here for a bit of energy and effervescne which Britten does not really afford. The cast of uCarmen rises to the occassion with those great recognizable themes, and the marimbas, which play throughout, really give it class.
As I recall, in The Magic Flute, all the marimbas were used throughout, which had a great effect. Here, only three or four play most of the time, making the overall effect a bit thinner. Perhaps the Carmen score provides more complexities than does the Mozart? Or the size of the company had to be reduced for this production? In any event, the use of marimbas is a great turn and makes these productions truly unique.
The singing is, by and large, quite competent, and, of course, tinged with a South African tribal flavor. Notably, the Escamillo has a striking basso.
– BADMan