Play (2007)
by Aaron Sorkin
Directed by Sarah Gazdowicz
Flat Earth Theatre
Arsenal Center for the Arts, Watertown, MA
June 12 – 27, 2015
With Chris Larson (Philo Farnsworth), Michael Fisher (David Sarnoff), Matt Arnold (Stan Wills, et al), Katharine Daly (Pem Farnsworth, et al), Robin Gabrielli (Cliff Gardner, et al), Andy Hick (Leslie Gorrell, et al), Justus Perry (Harlan Honn, et al), Korinne T. Ritchey (Lizette Sarnoff, et al), Noah Simes (George Everson, et al), Sophie Sinclair (Agnes Farnsworth, et al), Dale J. Young (Bill Crocker, et al)
A tight, inventive, intimate production of Sorkin's play about the controversy about who invented television.
Philo Farnsworth (Chris Larson), a country boy from rural Idaho, showed incredible scientific promise as a youth and went on to demonstrate an unequaled capacity to solve the problem of transmitting images via radio waves. With determination and creativity, he and a small team essentially provided the technology that David Sarnoff (Michael Fisher), the power behind RCA and NBC, made use of to create a telecommunications empire.
This beautifully rendered production of an ingenious history play relies on Farnsworth (brilliantly personified by Chris Larson) and Sarnoff (a compellingly staunch Michael Fisher) to narrate the tale in alternation. Wittily, Sorkin has each of them tell the other's story, so that one gets a sense of both major personalities on stage throughout, but, through this narrative device, one also gets a full rendition of the plot.
That plot is fairly straightforward: Farnsworth, an off-the-grid genius who grew up in rural Idaho, comes up with most of the technical ideas on which television is based, beating out the rest of the teams, including Sarnoff's, that are wrestling with it at far greater expense. With an element of corporate espionage, Sarnoff essentially steals some crucial tricks in Farnsworth's approach and has them added it to his own, producing a combination of technical result and business backing that can't be beat.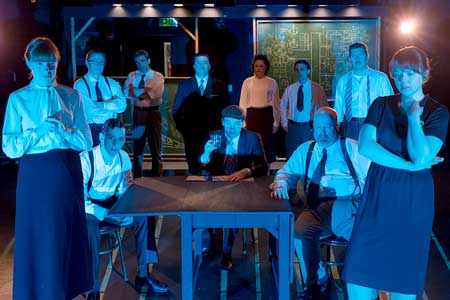 This wordy, scientifically and legally interesting, and quite gripping personal account of the story is classic Sorkin. Having managed to seduce a televsion audience into the details of White House policymaking through seven seasons of The West Wing (1999-2006), and then done something similar with broadcasting in The Newsroom (2012-2014), Sorkin upped the ante on what one can consider entertaining, as well as intellectually dense, dialogue.
That being said, suffice it to say that the play, despite its witty and detailed account, contains historic inaccuracies. Whereas the play indicates that Farnsworth lost rights to the patents involving his inventions re television, the story is considerable more complex and nuanced. He did win some rights and apparently received a million dollars out of the deal, not an insignificant amount of money at the time.
But, in Sorkin's view, the play condenses rather than dissimulates, rendering a sense out an outcome in which Farnsworth lost more than he gained.
"There were many lawsuits, appeals and counter-suits that covered years. Farnsworth won some of them and lost some of them. The final result—certainly in the context of the play I'd written—was a loss. Farnsworth died, as Sarnoff says at the end, 'drunk, broke and in obscurity' and whether or not it was the result of corporate espionage or theft was the subject of the play. That's a long of way of saying I conflated many lawsuits into one."
—Aaron Sorkin (quoted in a Wikipedia article that references Sorkin's Facebook page)
Apart from the curiosities and suspense surrounding the account of Farnsworth's scientific ideas about the creation of an image in a magnetized cathode ray tube, there is a lot here about patents. How Farnsworth could have come up with all of this and not be credited more than he was with the intellectual ownership of the ideas is one of the focal elements of the play and, despite the condensation of detail and some misrepresentation of facts, Sorkin does a compelling job of trying to display a sense of the details, and of the outcomes, of the legal cases involved.
Much as he had done in his script for The Social Network regarding the way in which Facebook co-founder Eduardo Saverin was, for a time, edged out of stock ownership by a deft dilution of shares, Sorkin is able, with enough nod to detail in financial and legalistic matters, to give the outline of the fairly dry patent issues involved here, in The Farnsworth Invention, without making it seem dry.
This production is so well directed that it takes the Arsenal Black Box by storm, fills out its space and keeps it charged for the two hours of its duration. There is a fairly large cast, and much of it doubles up on roles so that the population before one's eyes in this small theatre seems quite large. The result is intimate but totally engaging.
Though there are many good performances in this show, Chris Larson's as Farnsworth is noteworthy. He conveys, with a seductive intensity, the intelligence, charm, enthusiasm and self=destructiveness of this fascinating character. There is a little goofiness in his characterization, seemingly quite appropriate, but a drive and intensity that are infectious. He communicates a sense of inventive genius with deftness and allure.
This is a notable directorial effort, and a great production from one of Boston's small theatres to keep an eyes on.
– BADMan