Concert
Bishara Haroni, piano
Yaron Kohlberg, piano
20th Annual Gessner-Schocken Concert
in honor of the 100th birthday of Ruth Gessner-Schocken
Longy School of Music of Bard College
Cambridge, MA
Franz Schubert
Fantasie in F Minor for piano four hands
(1828)
Avner Dorman
Karsilama (2011)
Sergei Prokoviev arr. Terashima
Symphony No. 1 in D Major, Op. 25 "Classical" (1916-1917)
Dimitri Shostakovich
Concertino for two pianos, Op. 94 (1953)
Sergei Rachmaninov
Suite No. 1 for piano four hands, Op. 5 (1893)
Encore:
Darius Milhaud
Scaramouche, Suite for Two Pianos, Movement 1 (Vif)
A stirring and exciting display of virtuosity by a pair of exquisite musicians and committed humanists, one Israeli and one Palestinian.
I recently had the opportunity to interview Yaron Kohlberg and Bishara Yaroni, in anticipation of this concert, and was most impressed by their personal story: a pair of piano virtuosi in their early thirties who began, several years ago, to perform together, and who, in their years together, have forged not only a successful artistic partnership, but, as well, a deep and committed friendship.
Their concert was testimony not only to their technical virtuosity but to wonderfully participatory musicianship and a sense of communicative chamber playing in an instrumental arrangement which does not so easily lend itself to that. A piano with a a couple of violins and a cello is one thing, but to achieve chamber intimacy with another piano is quite another, and these guys really managed it. It's a testament not only to the native quality of their playing but to the spirit of their whole enterprise. If there is something like postmodern musicianship – a spirit of cultural sensitivity which informs the articulated medium – then this is a wonderful example.
Here are a few notes on the performance:
Franz Schubert
Fantasie in F Minor for piano four hands (1828)
An exquisitely nuanced performance of the beautiful classic for four hands. Plaintive and lyrical, the piece lends itself to the expressive intimacy cultivated by these two players. Kohlberg is the more gestural and Haroni the more laid back, but together their participation in creating the recapitulated nuances of this heartbreakingly beautiful theme is heartbreakingly beautiful in its own way.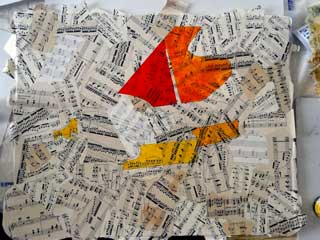 Avner Dorman
Karsilama (2011)
Playing separate pianos, Kohlberg and Haroni commence with pulsating gyrations that are followed by energetic, syncopated spasms. Interlaced reverse chromatic scales descend, the two pianos in perfect coordination. Interchanged plunks punctuate the spaces between gymnastic jazz rhythms. It's almost like Gershwin's Rhapsody in Blue with a Slavic twist, bursting into syncopated wildness that ends up aright.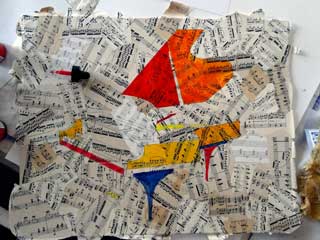 Sergei Prokoviev arr. Terashima
Symphony No. 1 in D Major, Op. 25 "Classical" (1916-1917)
The first part of this piano adaptation of Prokoviev's immensely popular and charming first symphony is a little cloudy, though Kohlberg and Haroni pull it off adeptly. The real pizzazz comes in the last movement, which is a virtuosic tear, totally thrilling in the hands of these guys.
Allegro: An energetic prelude, providing a nice opportunity to hear the exchange of themes between the two pianos. Particularly beautiful in the slight minuet, there is a moment of distinctive unison. It is fascinating watching Kohlberg's face, continually full of emotive gesticulations.
Intermezzo: A stately dance, this provides a sense of wandering and delicate groping throughout.
Gavotte: Fun, like a Scherzo.
Finale: A delightful race that really sounds like duelling pianos. Interchanges of the main theme, all done at amazing speed, permeate the movement. This wonderful arrangement divides the effort between the two pianos supremely well, conceived delicately enough to allow a playful interchange between the two players throughout. Both pianists show off their incredible virtuosity in the fabulous race to the finish, the unison building forcefully to a speedy exchange of themes in the grand finale.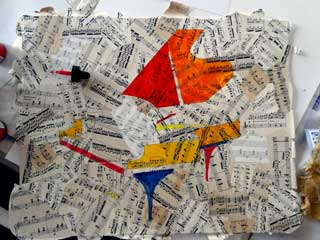 Dimitri Shostakovich
Concertino for two pianos, Op. 94 (1953)
Haroni provides a dramatic introduction, with basso rumbling, followed by Kohlberg's quietly hued tonal theme. Haunting rumbles by Haroni persist, complemented by Kohlberg's gestures of ideality in tonal explorations. Suddenly things erupt into a rambling scherzo-like section, breaking into Shostakovich's classic circus ride with dominantly playful themes that are thrown by Kohlberg and caught by Haroni. All of this increases to a point of heavy mutual tremolo. Then the scene shits, and a plaintive treble meditation hovers, carried off sweetly by Kohlberg, allowing Haroni to then insert an introspectively probing theme, but not for long. Haroni breaks into a playful, and speedy, prance, followed by Kohlberg, with wonderfully exchanged ripples. A quiet chorus settles in briefly before the final romp.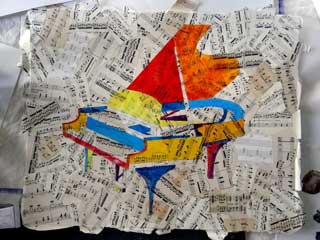 '
Sergei Rachmaninov
Suite No. 1 for piano four hands, Op. 5 (1893)
1 – Romantic probing by Kohlberg, painting a desert scene, so reminiscent of the composer's piano concertos, real
Lawrence of Arabia
music. This devolves somehow into French cafe music, somehow embraced by the lingering atmosphere of the desert. Beautifully, delicately, Kohlberg paints in delicate tones in the upper registers. Haroni enters with lovely impressionistic treble swaths. The two reveal amazing coordination in hovering treble tremolos. Kohlberg emerges from nowhere with a beautifully lush theme which Haroni continues to paint in the delicate treble tremolos. This desert is lush and mysterious, a perfect image for these two pianists from the Middle East, here, with a bit of Rachmaninov Romanticism, a touch of
The Little Prince
, idealistic, landing his plane on a charmingly lonely landscape replete with possibility.
2 – A meditative opening builds to a robustly tonal wash. Amazing running swirls by Haroni, at which Haroni dramatically stands up above his keyboard to emphasize the phrase. Together they end with searching, coordinated runs, devolving into peace.
3- Kohlberg begins with a repeated ascending sequence of haunting notes, while Haroni fills in the canvas with harmonic coloration. All of this erupts into a descending finale, based on the orignating note sequence, by Kohlberg, while Haroni settles beautifully into the tonic, creating a settling pause in the forest of lush runs.
4 – Kohlberg breaks into Chinese-sounding chordal reverberations that he then passes to Haroni. This exchange expands into a full two-piano fanfare, proud and glorious. We have finally reached the other side of the desert! There is a great exchange of themes at the end, a dramatic and moving finale.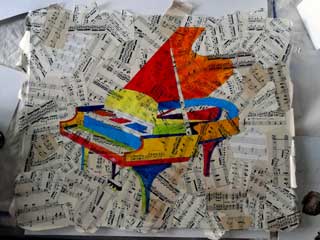 Encore:
Darius Milhaud
Scaramouche, Suite for Two Pianos, Movement 1 (Vif)
I wondered – is this Gershwin, or what? It turns out that this lovely, playful jazz piece is by the great modern French composer, Darius Milhaud (1892-1974). It offers a great exchange of whimsical themes, showing off Haroni's and Kohlberg's adeptness, lyricism and a rhythmic sense of fun, a wonderfully upbeat coda to this penetrating and inspiring evening.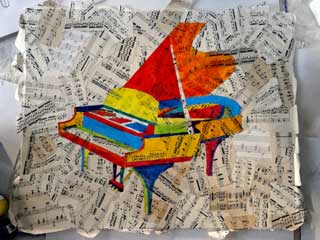 – BADMan