Film (2011)
Written and directed by Hiroyuki Okiura
With voices of Karen Miyama, Yuka, Daizaburo Arakawa, Toshiyuki Nishida, Kôichi Yamadera, Cho, Amanda Pace, Stephanie Sheh, Fred Tatasciore, Dana Snyder, Bob Bergen
Animation by Masashi Ando, Hiroyuki Aoyama,Takeshi Honda, Ei Inoue, Toshiyuki Inoue, Tetsuya Nishio, Hiroyuki Okiura
Music by Mina Kubota; Cinematography by Kôji Tanaka; Film Editing by Junichi Uematsu; Art Direction by Hiroshi Ohno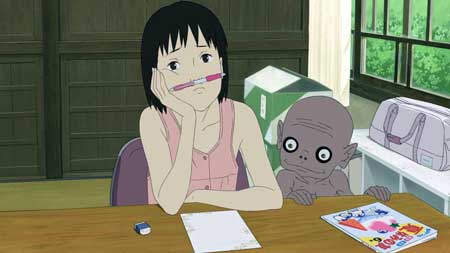 A Japanese anime feature about a young girl, Momo, and her mother, who go to live on a remote island where Momo encounters some exotic, challenging and ultimately quite interesting otherworldly creatures.
After a death in the family, Momo and her mother move to live with elderly relatives on a remote island. Before long, Momo finds herself in the company of a bunch of funny, but self-indulgent, goblins who only she seems able to see. Dealing with grief and the adjustment to a new location, Momo is hard-put to adapt to life with still more pressures, but gradually she comes into her own and faces the goblins and her other, grief-induced, demons.
There are many charms in this portrait of a young girl and her mother accommodating to one another in the face of loss. Though this is more than light cartoon fare, its two hours of running time seems a little long for what is, for a long stretch, a pure goblin fest. When the goblins surface, there are a lot of shenanigans and the middle part of the film occupies itself with Momo chasing after them, trying to pick up their messes, and then trying to explain to her mother, with some difficulty, the source of all the confusion.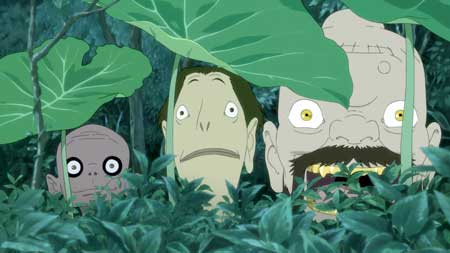 But the goblins, it turns out, are more than just random spooks. They are, in this film deeply infused by Japanese spiritualism, protective deities of some sort, dutifully obliged to follow the dictates of their realm while, at the same time, cutting up mercilessly in terrestrial abandon. That mythic foundation justifies some of the narrative length of the film. The attenuation of the story involving Momo's unresolved guilt about her father and fear of losing her mother makes more sense in this context.
Some of the animation is graceful and beautiful – Momo and her mother are rendered in a lovely way – and some of it seems more automatic. Anime is a rough-cut form of animation, sometimes pleasing in its simplicity, but a little bland.
Japanese dialogue on the soundtrack provides a seductive stimulus. Some of the sound effects – particularly the omnipresent high-pitched girlish giggles – are less seductive.
This species of psychologically dramatic spirit-tale offers a distinctive twist, representing an interesting alternative, in the world of anime, to the animated fare of Disney and Pixar. The latter tend to produce films that are far more graphically sophisticated, but with energetically catchy narratives that have zip and verve but which do not tend to cultivate the subtle psychological terrain that this anime drama, minus its goblins, conveys with deliberately muted tenderness.
– BADMan