Prints by Annie Silverman
In tribute to Boston area musician Evan Harlan (1953- 2014)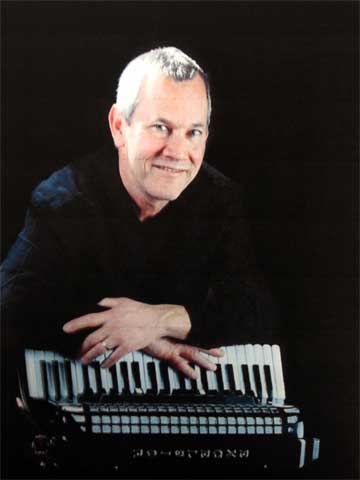 Long-time Somerville-based printmaker Annie Silverman's tribute to her late accordion teacher, Evan Harlan, a noted local musician.
Annie Silverman, who has resided in Somerville and worked as an artist and teacher in the Boston area for many years, realized a hidden passion for learning the accordion some years ago and sought out Evan Harlan, an accomplished musician and teacher in the area, for instruction. She studied with Harlan for several years before his untimely death at the age of sixty this past February.
Silverman has created a print that honors Harlan's memory and is offering it for sale. She pledges to donate three-quarters of the proceeds to the Adult Brain Tumor Research Fund at Dana-Farber Cancer Institute, one of the designated recipients for donations in his memory.
For those who might be interested, independently, in donating, here is the information:
Adult Brain Tumor Research Fund
c/o Patrick Wen, MD
Dana-Farber Cancer Institute
450 Brookline Avenue
Boston, MA 02215
Here is Annie Silverman's statement about the print and her connection with Evan Harlan:
SWINGIN on a STAR- Tribute Print Series
In memory of
My Accordion Teacher
EVAN HARLAN
October 8, 1953-February 27, 2014
Evan Harlan was my accordion teacher for 4 years. He took me on as an adult beginner, even though he also taught people at the New England Conservatory. I never thought he would want to be my teacher, but he taught all levels and types of music. I started with him in February 2009 with "Doe A Deer", from the Sound of Music.
"Swingin' on a Star " was a tune I learned in the winter of 2013. It is an old Jazz tune from the 30's that I remembered from a Little Lulu cartoon when I was a child. I will donate 3/4 of the proceeds of the sale of is series of 5 prints in Evan's memory to the Adult Brain Tumor Research Fund under Dr. Patrick Wen at the Dana Farber Medical Center .
The prints are multiple plate polyester plate lithographs , which have gone through the printing press at leaast 10 times. The Swing is embroidered in cotton. The paper that the prints are made on is KITIKATA, a Japanese paper that is 16" x 20"
I wish I could say that I was a talented accordion student, but Evan said that my enthusiasm and practice regime were what carried me through. He is sorely missed.
Annie Silverman
www.anniesilverman.com
If you might be interested in purchasing one of Annie Silverman's prints, you can drop a note to Boston Arts Diary with contact info and we will pass it along to her.
Here is a photo of a construction – a sculptural dioramic theater – made by Annie Silverman (not for sale), which includes images of her, on the lower left, and Evan Harlan on the lower right:
A detailed account of Evan Harlan's career can be found here. There is a memorial celebration of his life and work on May 11th at the Somerville Armory. Details are here.
– BADMan