Film
Directed by Tim Jackson
Premiere benefit screening of
WHEN THINGS GO WRONG: ROBIN LANE'S STORY
A New Film Directed by Tim Jackson
Including a Post-Screening Q&A and
Performance by Robin Lane & The Chartbusters (and friends)
Friday, April 4, 2014, 7pm
Regent Theatre, Arlington, MA
Tickets are $22 in advance and $27 day of and are available at
http://www.regenttheatre.com/
or by calling 781-646-4TIX.
Proceeds raised will help secure publishing rights to Robin Lane songs featured in the film.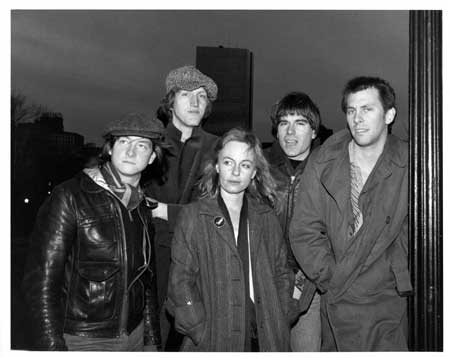 An advance benefit screening of a new film by Somerville-based filmmaker and polymath extraordinaire Tim Jackson, based on the life and work of Robin Lane, a talented singer-songwriter and distinctive female presence in the early punk music scene of the late 1970s.
Tim Jackson, filmmaker, film critic, professor, professional musician, and a few other things, was the drummer in the punk band Robin Lane and the Chartbusters in the late 1970s. He has made a documentary about Lane, and specifically about the challenges women faced in the rock 'n roll world of that era. It is also about artistic endurance and the capacity for talent, over time, to find expression in manifold ways.
As part of The Chartbusters (he's on the far left in the photo above), Jackson got to work and travel with Lane for the four years of the band's active touring schedule and has maintained contact with her since that time.
This is Jackson's third documentary.
The current screening is a premiere benefit, designed to raise funds to help push the film forward through its next stages of release. Jackson will be on hand, as will Robin Lane and the Chartbusters, who are scheduled to perform. Don't miss it!
Look for an interview with Tim Jackson about his earlier work and about this film, coming very soon in Boston Arts Diary.
– BADMan