In Memoriam
The noted film and stage actor died in New York at the age of 46 from an apparent drug overdose.
It was heartbreaking to hear recently of the sudden death on February 2nd of Philip Seymour Hoffman, the endearing and greatly talented stage and film actor.
In 2003, I ventured to New York to see Hoffman, as Jamie Tyrone, in a landmark production of Eugene O'Neill's Long Day's Journey Into Night, also featuring Vanessa Redgrave, Brian Dennehy and Robert Sean Leonard. Hoffman fit into his role deftly and convincingly, conveying a combination of easygoing charm and psychological desperation that gave it incredible power. The final act of that epic dramatic journey blew the roof off the theatre that night due, in no small part, to Hoffman's tragic and alluring intensity.
My favorite Philip Seymour Hoffman film roles are as Jon in The Savages (2007) and as Andy in Before The Devil Knows You're Dead (2007).
In The Savages, Hoffman plays opposite Laura Linney, a brother and sister who are tending to their dying father played by Philip Bosco. Hoffman, an unkempt but loveable academic, manages to cultivate a loose-fitting warmth that perfectly rides up against Linney's anxious tautness. The endurance of this challenged sibling relationship owes its believability to a large degree to the way that Hoffman's character, for all his flaws, conveys basic human generosity.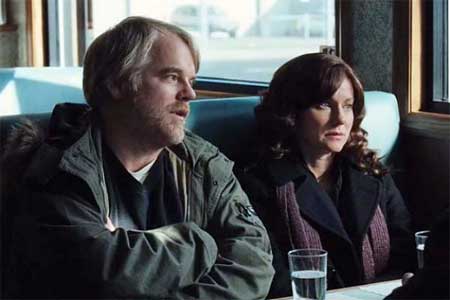 As Andy, in Before The Devil Knows Your Dead, Hoffman plays a dark, difficult and manipulative character. The drug dependency of that character demonstrates, in an unsettling way, striking similarities to the circumstances of Hoffman's actual demise. Hoffman creates a convincingly creepy portrayal, varying astutely his depiction to make his easy smile, so endearing in other roles, truly haunting.
Hoffman's startlingly convincing embodiment of Truman Capote in Capote (2005) won him an Academy Award for Best Actor.
His eerily compelling handling of the character inspired by Scientology's L. Ron Hubbard, Lancaster Dodd, in The Master (2012), demonstrates, as in Before The Devil Knows You're Dead, how well Hoffman could meld his seductive affability with undercurrents of creepy deviousness to create a fascinating blend.
Mozart died at 35, Spinoza died at 44. In such short spans they gave us great gifts, but one can only wonder what such great geniuses might have accomplished during a full lifetime.
As we treasure the gifts that Philip Seymour Hoffman, in his 46 years, gave us, we can now only dream about what this greatly talented actor might have accomplished had he lived decades longer.
And, surely, we must continue to wonder how we, collectively, can better identify and address the sorts of quiet desperation, as Henry David Thoreau identified it, that haunts the lives of so many, even those who would seem, on the surface, to have so many reasons to feel otherwise.
– BADMan