Poem
by Gary L. Whited
A poem by Gary Whited, Boston area poet, philosopher and psychotherapist, who grew up on a ranch in Montana.
He reads from his new book, Having Listened, this Sunday, January 19, 2pm at the main branch of the Brookline Library in Brookline Village.
To Fencepost
It knew my breath
and knew my cheek.
It was yesterday,
a long time ago,
when I stood alone
next to any old fencepost
and waited before I knew
I was beginning
a practice of listening to what stands still
a long time.
Today, standing anyplace,
that yearning might come
for a way in
to where fenceposts stay without ceasing,
each one a priest of stillness.
Any day this is so––
on a hillside where wind trembles the grass
stands a quiet gray weathered post,
crust of golden lichen
glowing
on the shadowed side.
A boy leaning against the post watching the prairie, listening closely to what it offers, frames the beginning.
Yesterday and a long time ago fuse together, an emblem of the collectively broad and narrow distance traversed to intimately vivid memories.
And then, after the immediacy and intimacy of breathing on and leaning against the post that stands so close, the poem declares that it really is any old fencepost that shapes the memory, not a particular one, potentially stretching that intimacy across a line of posts as far as the eye can see.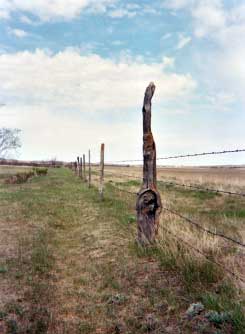 There emerges subsequently a crafty ambiguity whose meaning works both ways:"I was beginning / a practice of listening to what stands still / a long time." The first meaning, of listening to something that stands still a long time weaves together with a practice of listening that goes on for a long time, the two polar meanings twisting together into a single shimmering uncertainty, both of them plausible, and perhaps most significant when taken together.
The wisdom learned early on now gets applied to standing anyplace with a yearning… for a way in, and, with a slightly altered description of their durability, notes where fenceposts stay without ceasing.
Whereas those fenceposts of childhood stood still for a long time, now it appears there is a touch of the eternal about them and each is a priest of stillness. The poem calls to the intimate, vividly physical, lessons of youth and brings now a framing that has quietly religious overtones and an oblique noting of the relation between that which endures a long time and that which does not cease.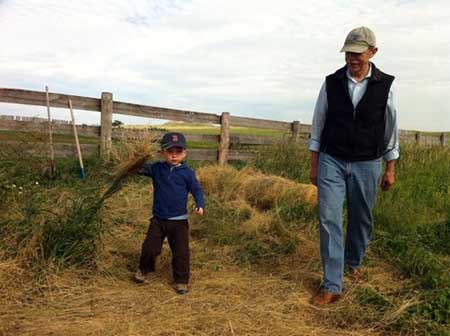 Lest the poem become too ponderous with its developed meditation on the relation between time and eternity, it returns, in its coda, to color, life and the ephemeral, pointing out the "crust of golden lichen / glowing / on the shadowed side " of the "quiet gray weathered post."
It is a momentary reminder of that movement of breath and cheek from childhood, a intimate engagement between living lichen and plucked tree post, a little dance between long quiet attention given to long-standing things, and the vitally deliberate engagement which finds a place to settle upon them, then rises up, robustly alive, in clear air and full sunlight.
– BADMan